It's a long time since I enjoyed the luxury of a full week of mountain biking with guides, transports, accommodation and meals arranged. And this time in countries I've been to so many times but never seen from the saddle; Czech Republic and Poland.
One decisive factor this time was to be able to reach the destination by car from Sweden. After covid it's a mess flying, and we wanted to avoid lost luggage. Early on I came across Chech MTB Holidays
A great homepage made by great people. It's all there and I can tell you; also 100% according to what you get. From the very first contact Jan was fast in replying, clear in communication and with that wonderful spirit and attitude that makes it all so easy and fun booking your precious week in the saddle. The other guy behind the company is Radim, our guide to be for the week. And around them I bet a number of people and small businesses making it all happen. Radim is a natural born, as well as formally educated to be that guide that you really want. He knows the places, the people, how to organize things, has the biking skills, but above all he just such a wonderful person. Caring for real, curious, lots of humor and super flexible in making your trip the best. Kudos!
You can read all about them, the trips and how they organize it on their homepage, so I will focus more on us; me. Micke and Ian and our experience. Others in the group where Janne, Lucian and Andrei.
We had chosen what is called the Bohemian Tour: North. Biking happens out of two different locations: Nové Město pod Smrkem and Trutnov.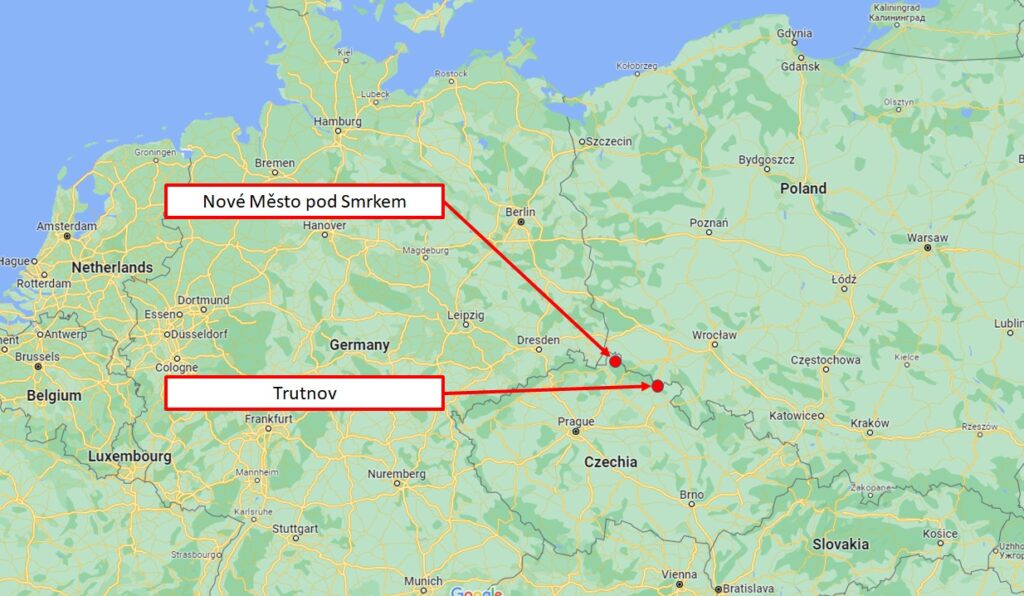 Day 1 – Afternoon XC session
We Check in at the hotel in Nové Město pod Smrkem, get our bikes ready and get to know Radim and the others in the group. And off we go. This whole place is known for all the single tracks and it's all very well organized and marked. The area is on the boarder to Poland so many trails are in and out of the two countries.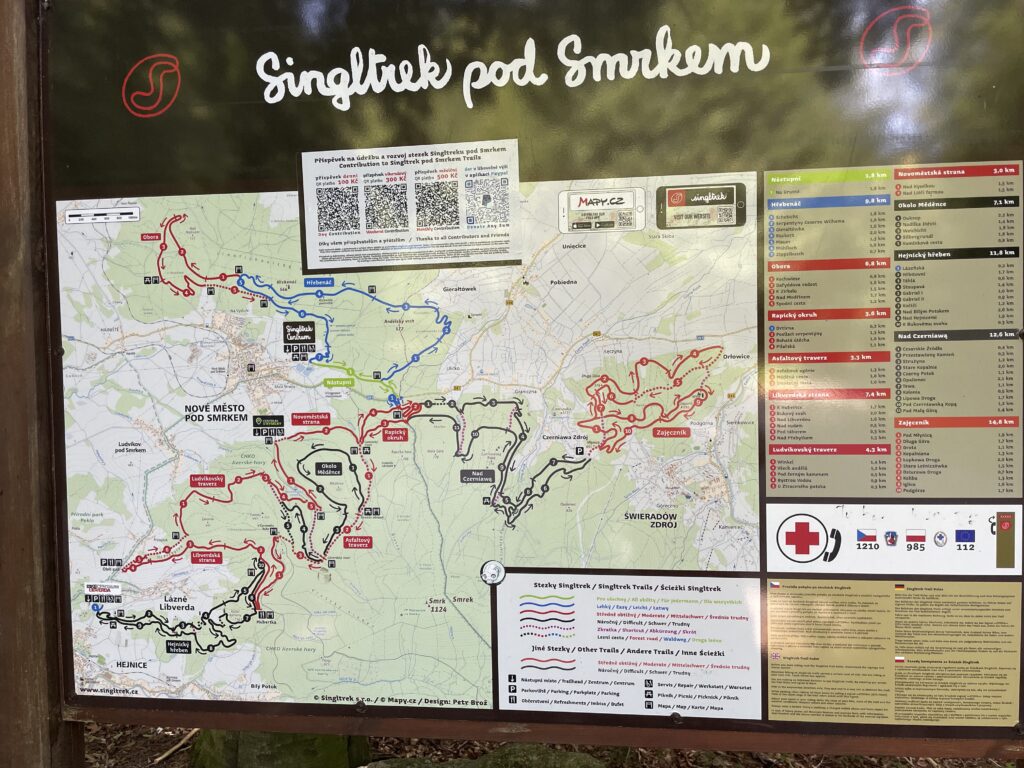 Today we stay in Czech: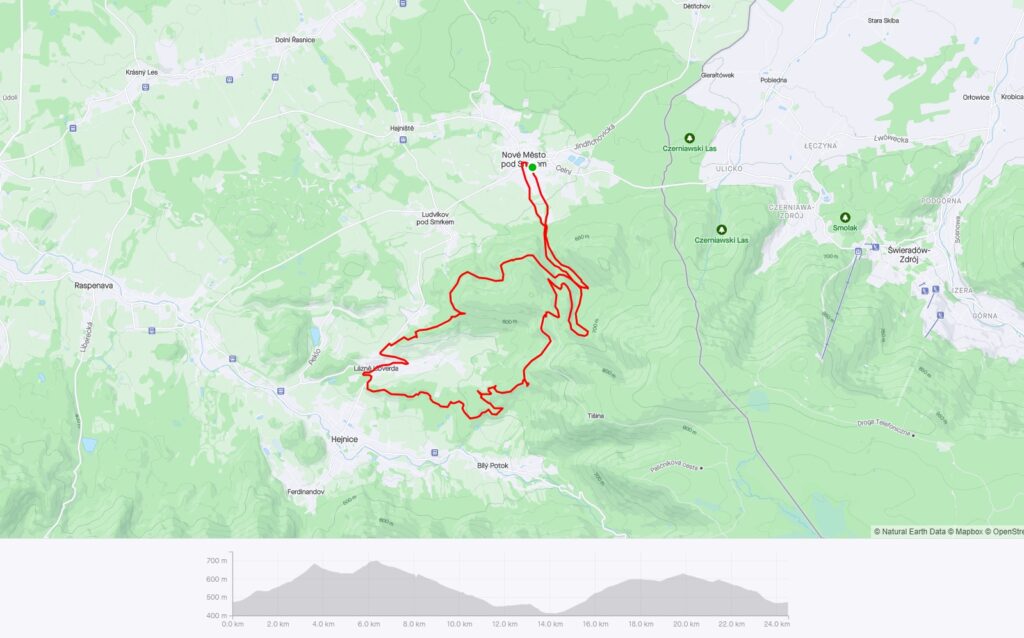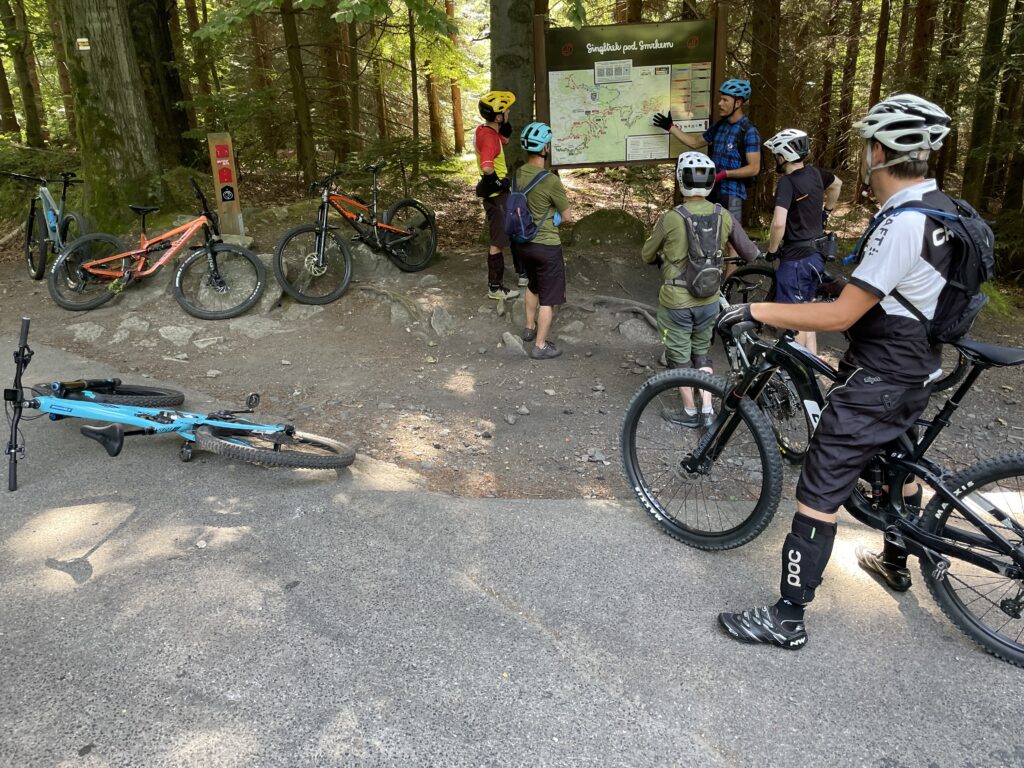 A small climb and we get to a viewpoint – the three amigos: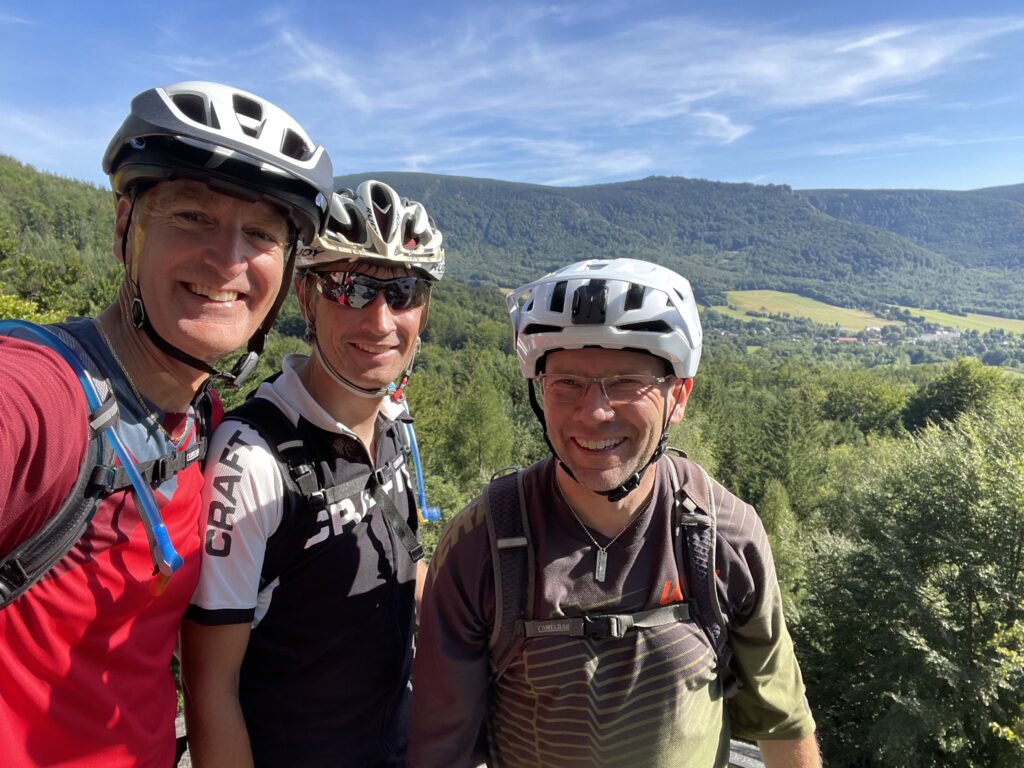 And the group to be for the week: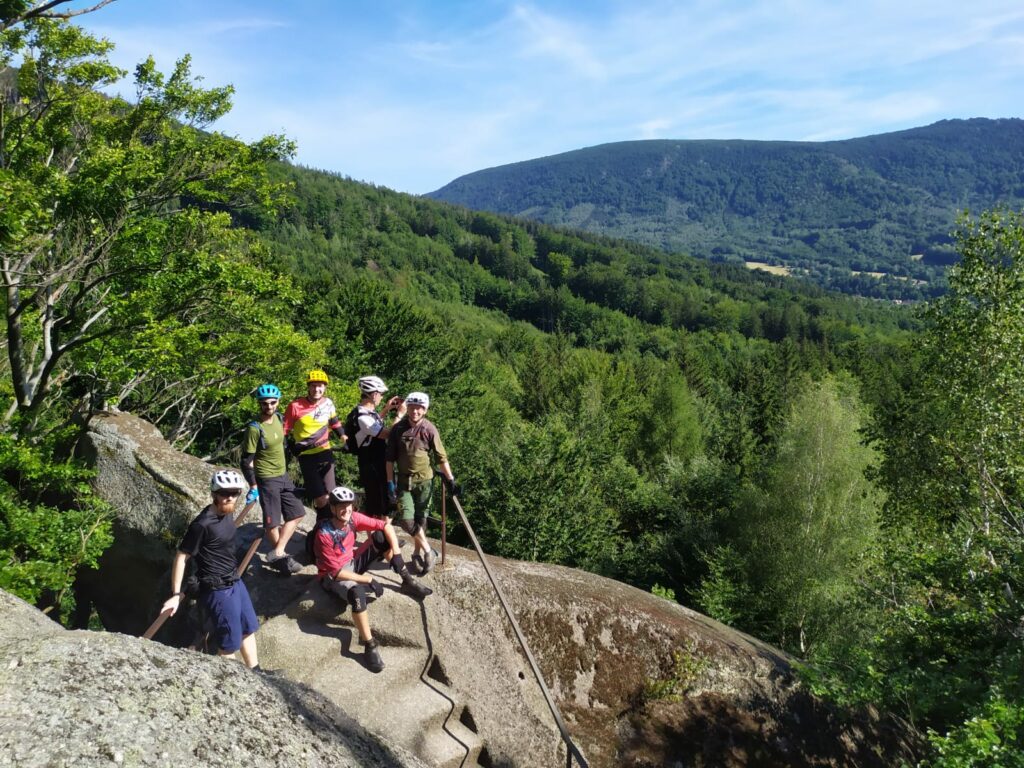 XC is not really what gets us high, but these trails are just so flowy, smooth and well built. What a fantastic start of the week.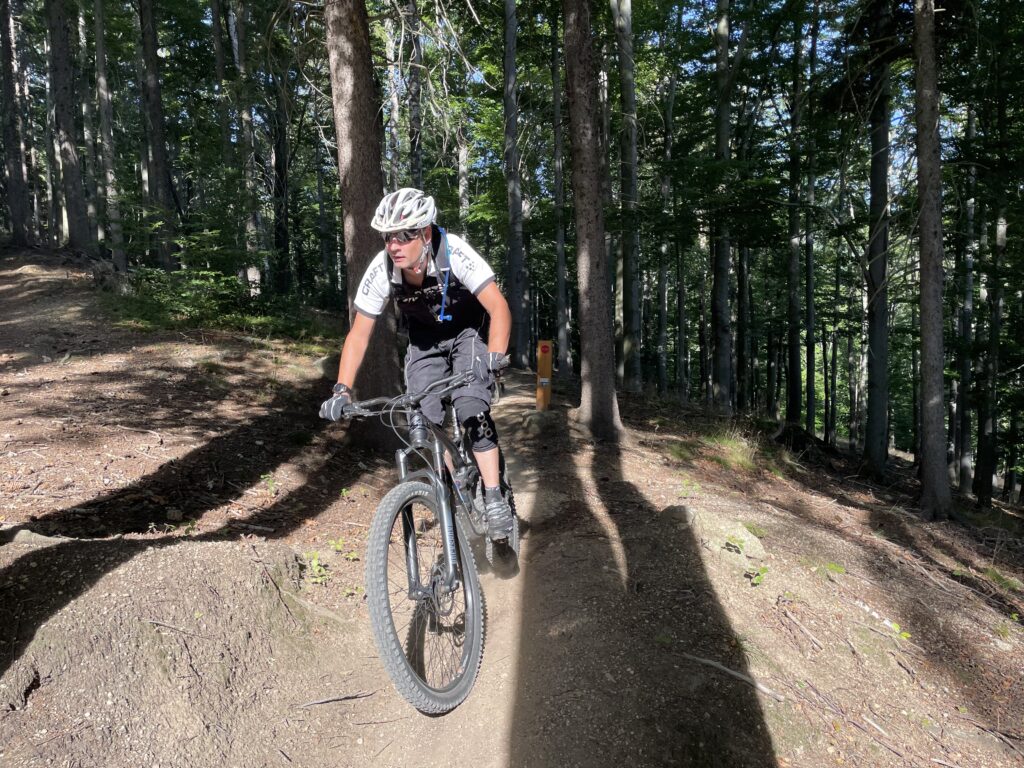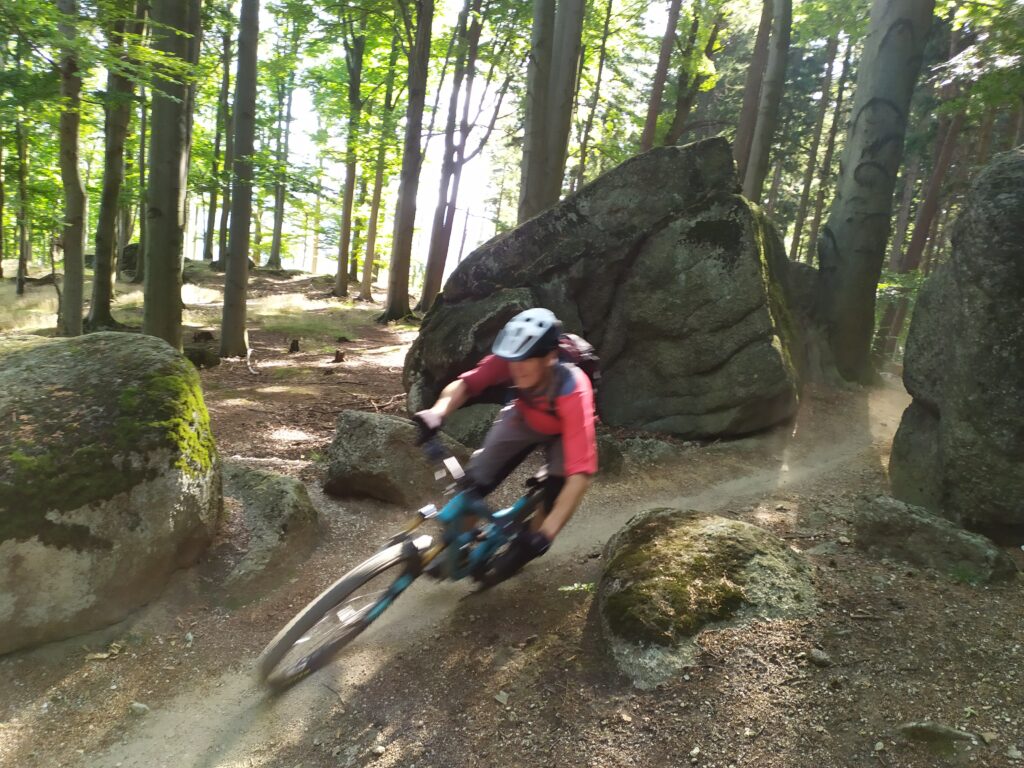 We stop by at the natural springs in Lázně Libverda. The water is naturally sparkling. Not my taste, but truly amazing.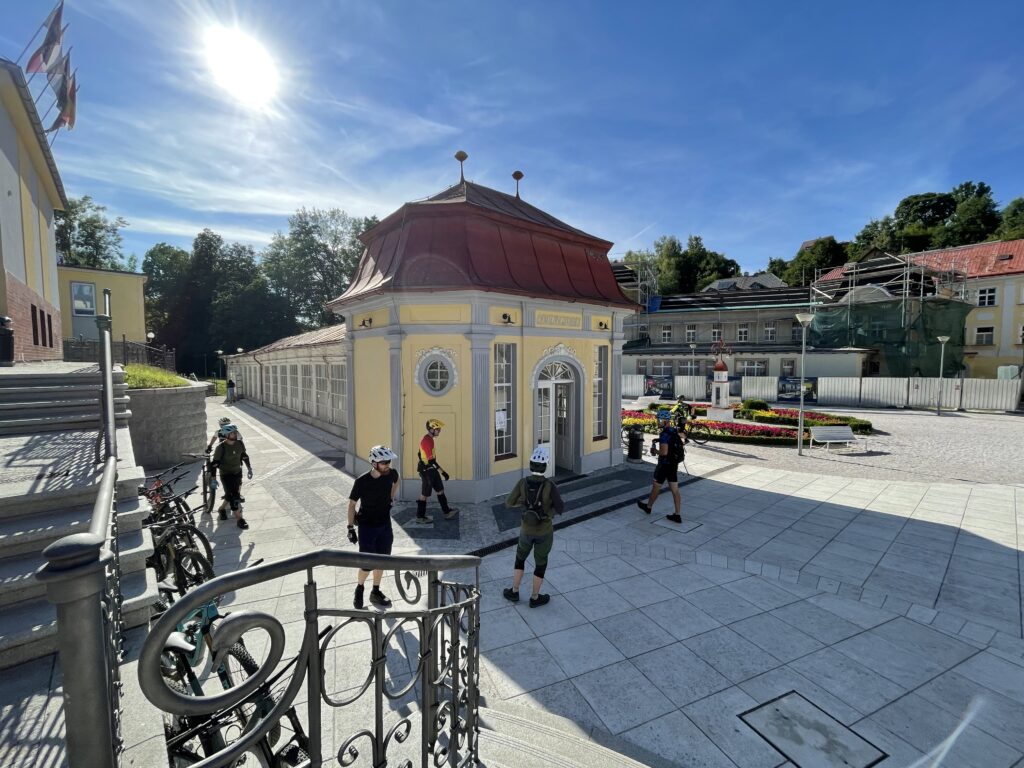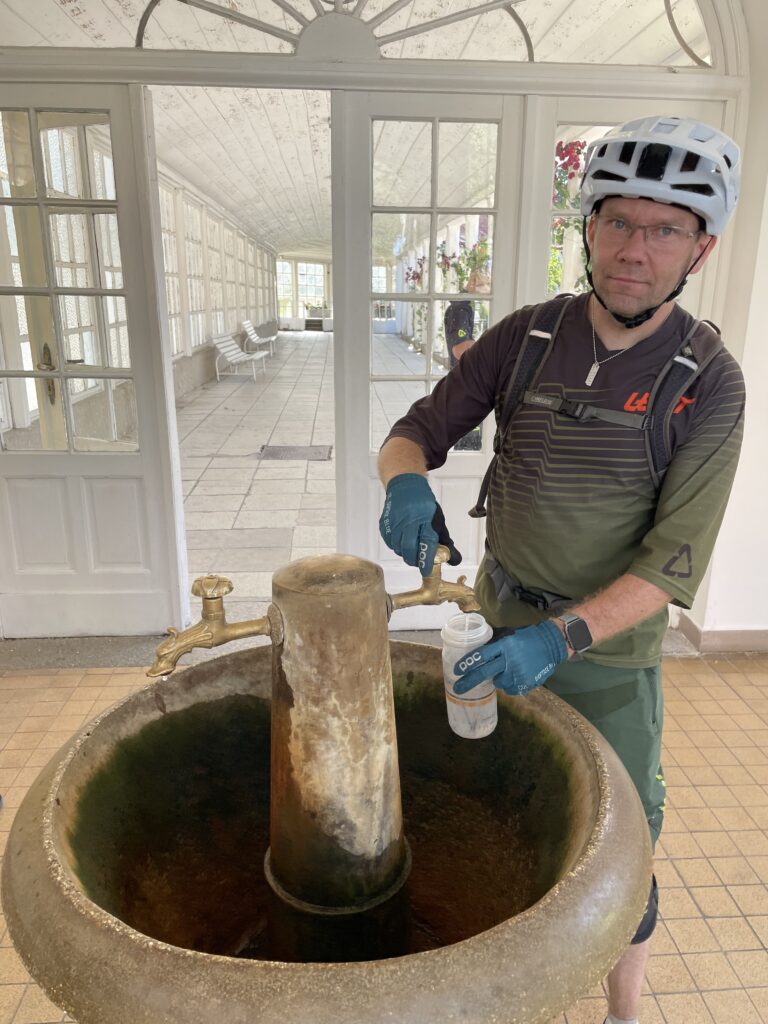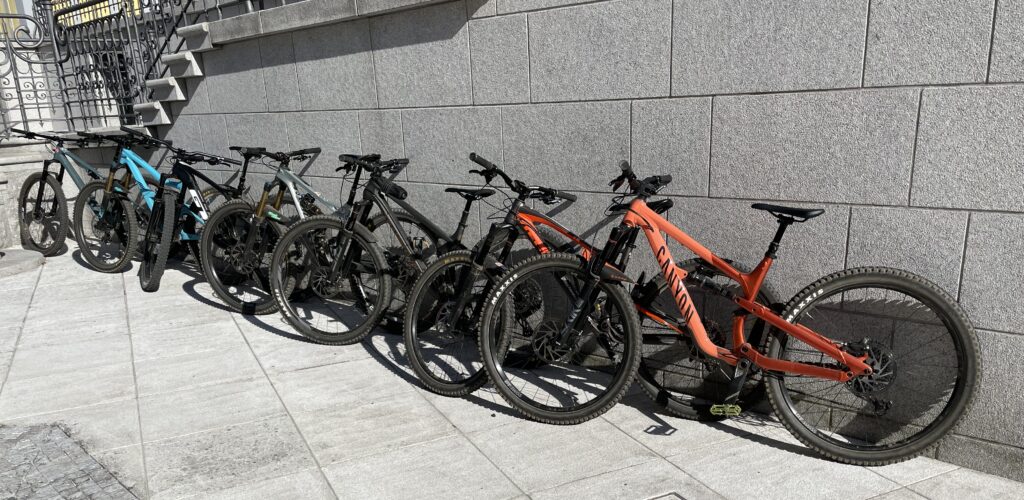 We continue back and get our well-deserved beer. The first one out of an almost ridiculous number of beers drunken in one week.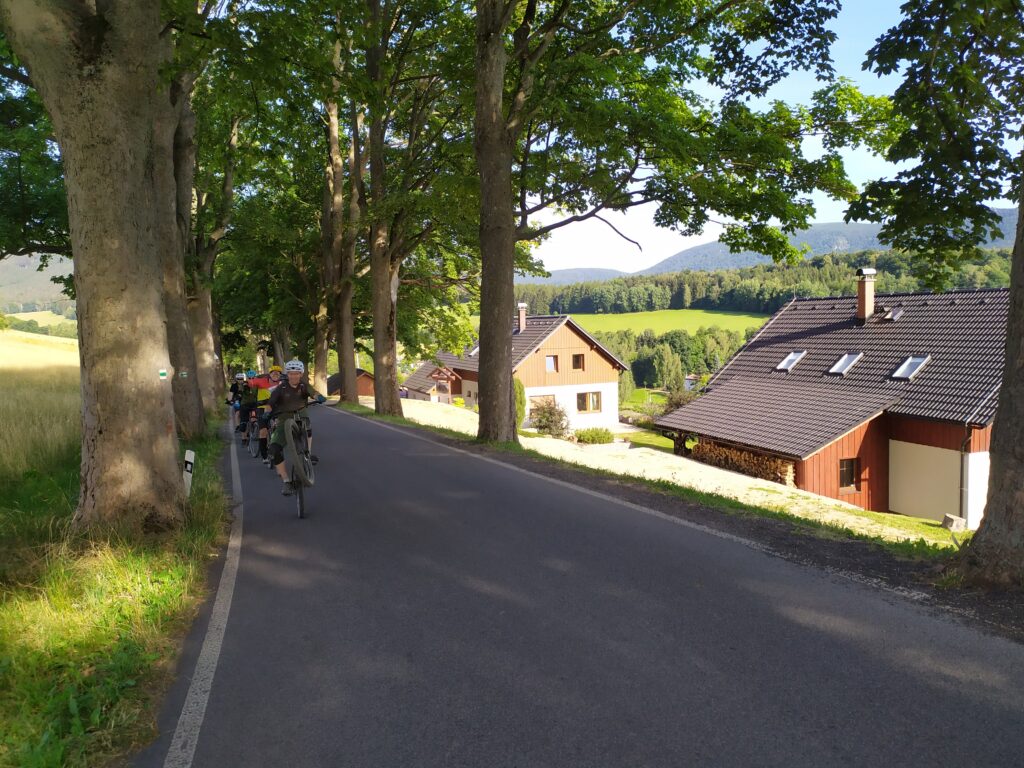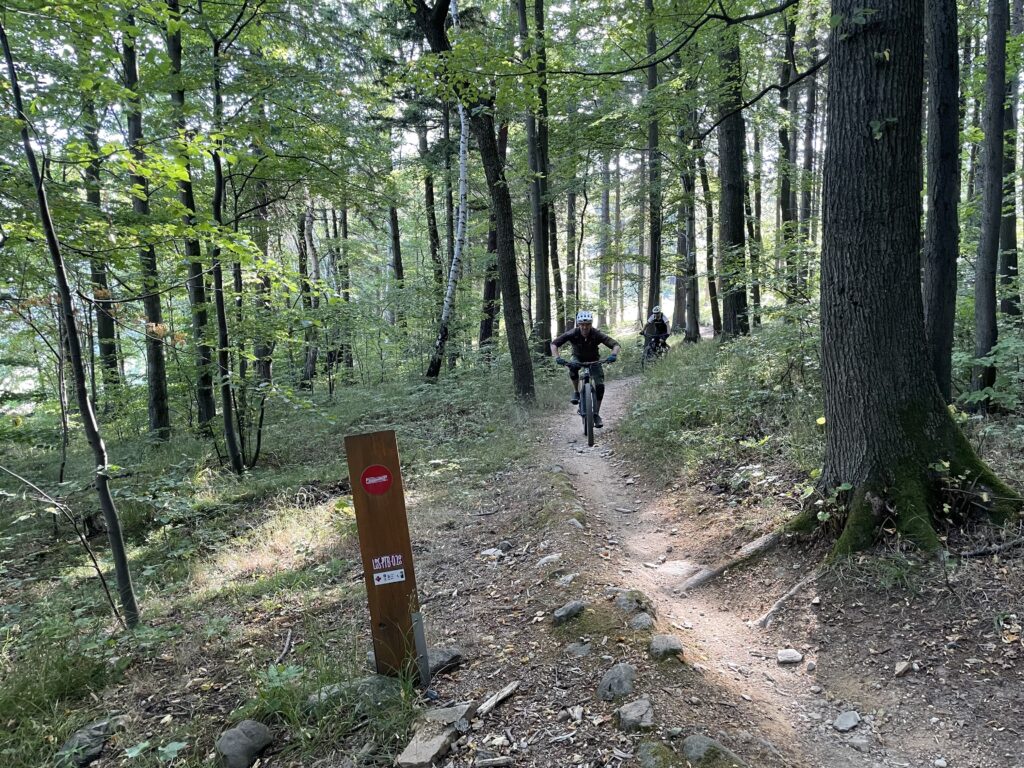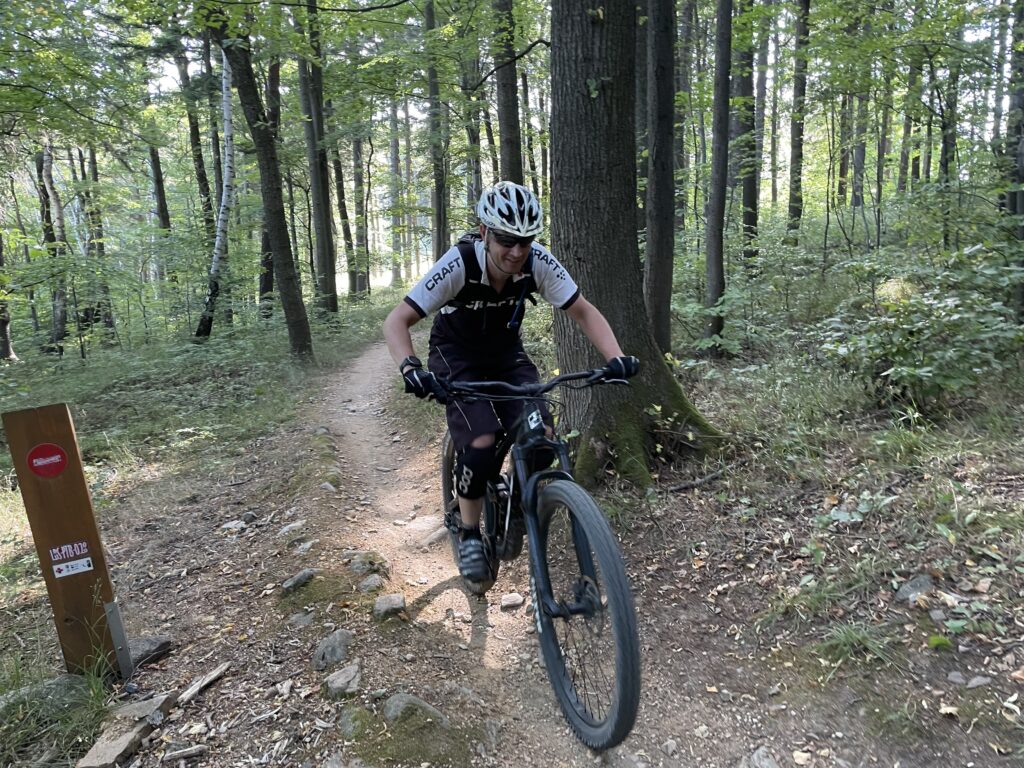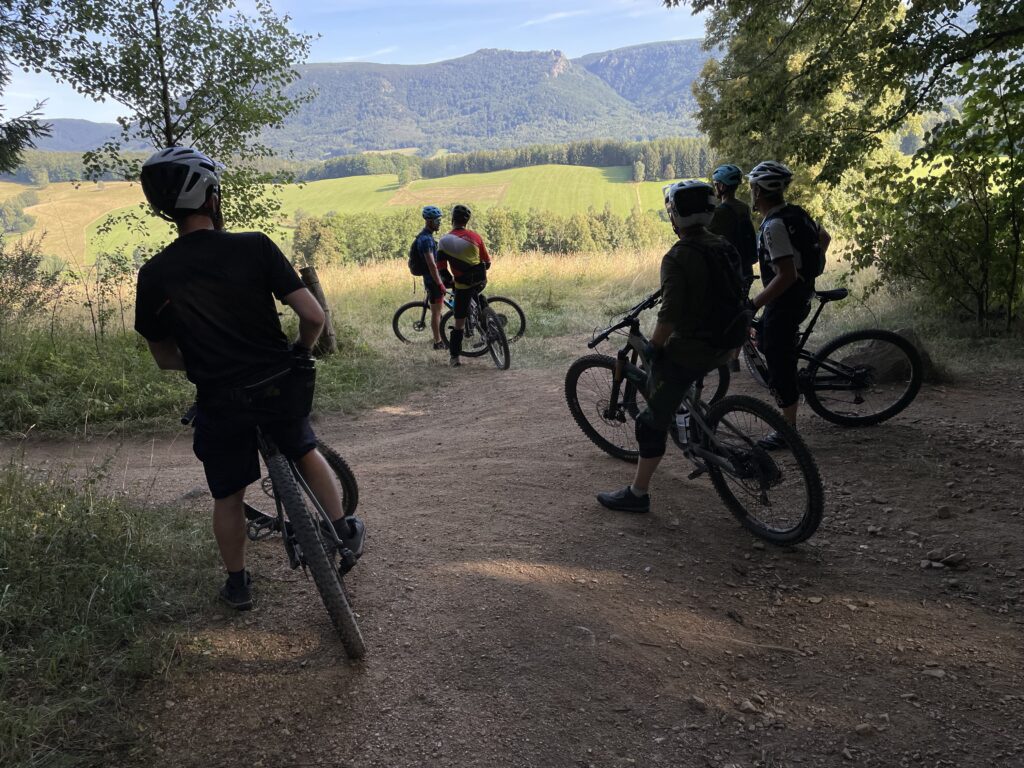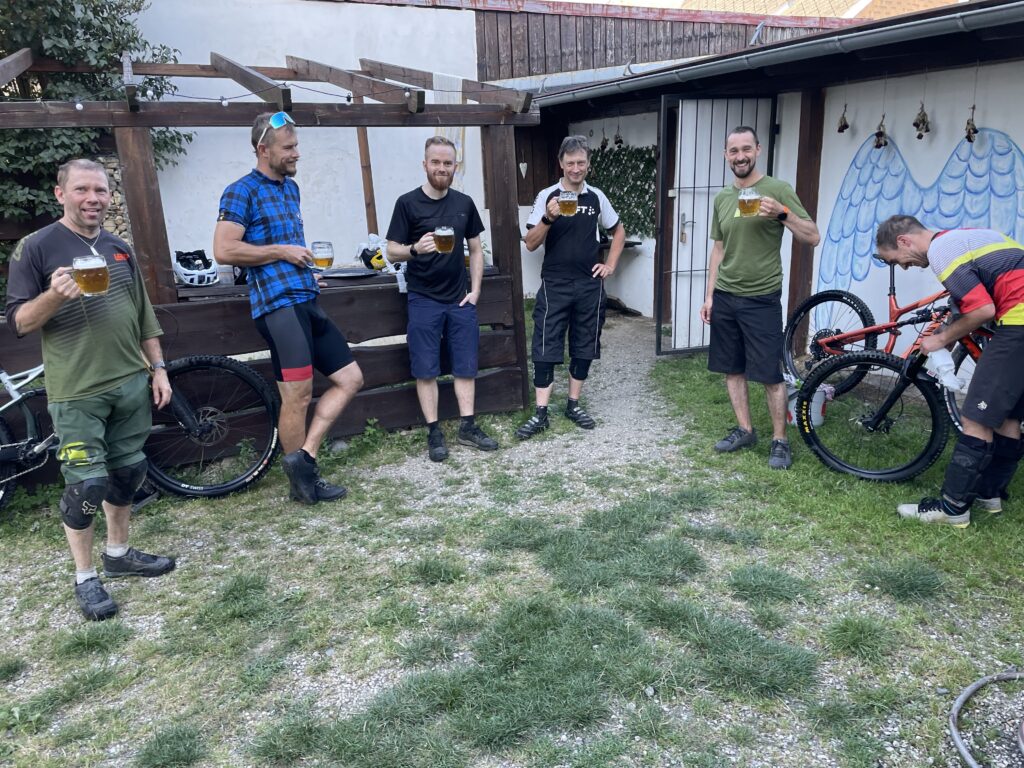 Day 2 – Świeradów-Zdrój, Poland
We start in Nové Město pod Smrkem, but basically spend the whole day in Poland.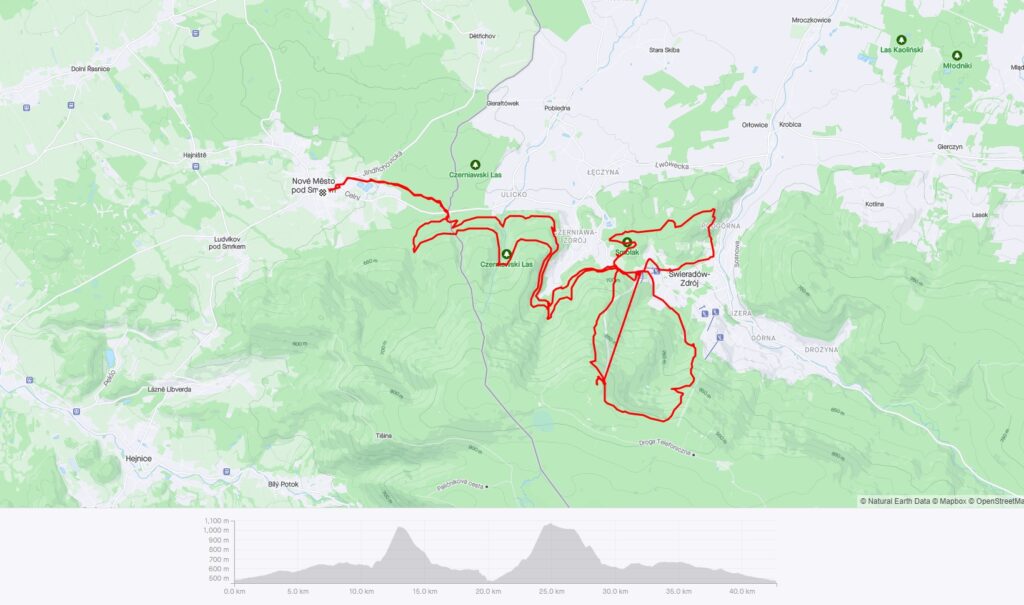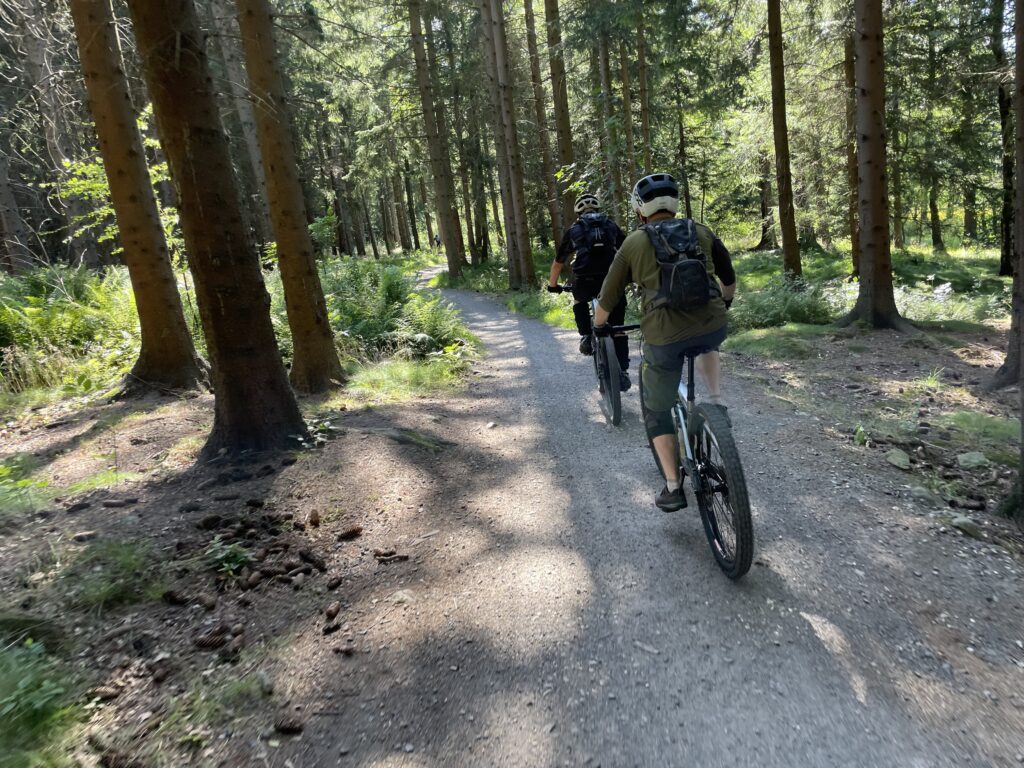 Suddenly Radim stops and walks back to me – I'm riding as the last one in the group for the moment. He shakes my hand and congratulates. I don't get it at first, but after some seconds. The thing is that I told him I've been biking in 29 countries and Poland would be number 30. We are in Poland!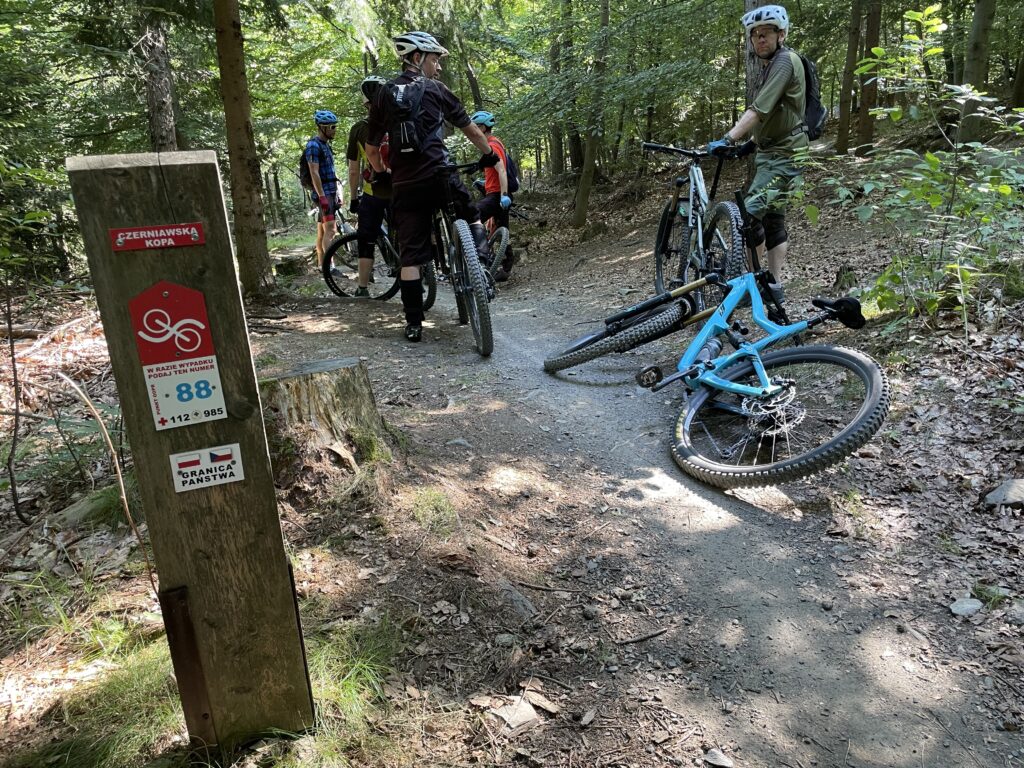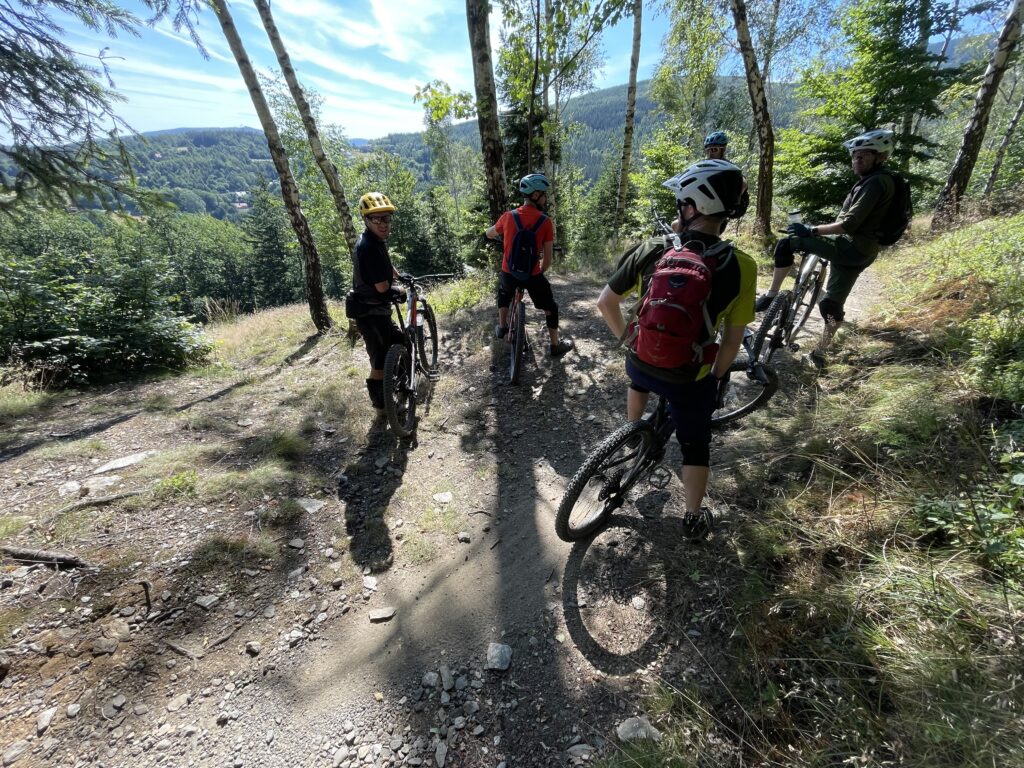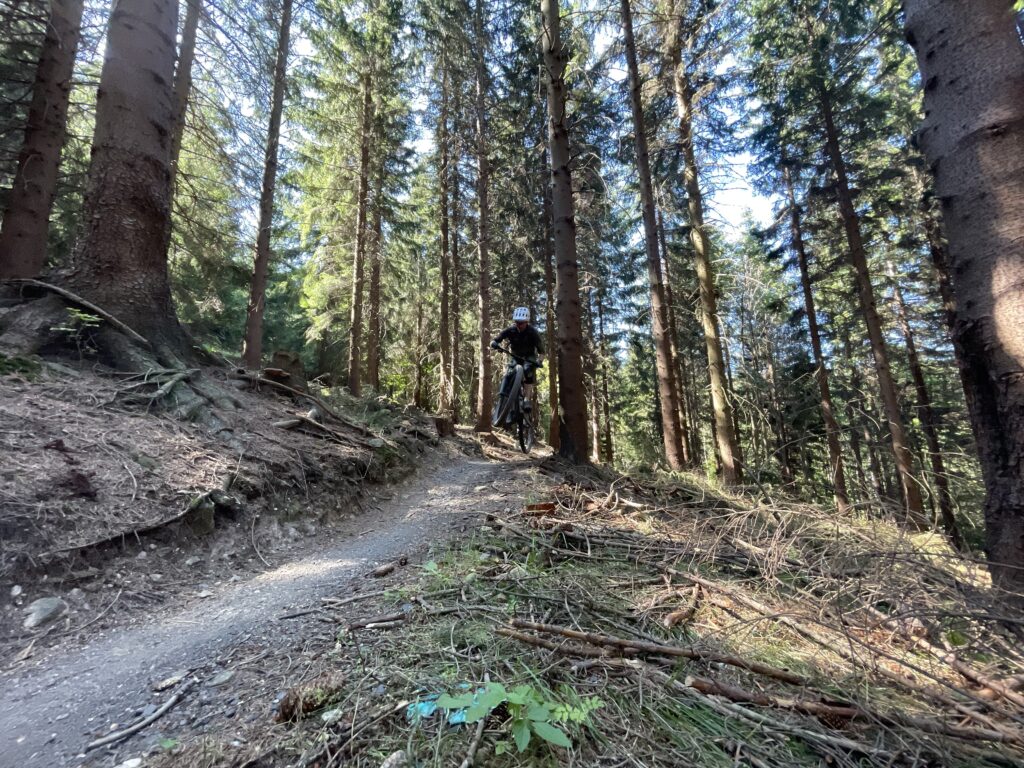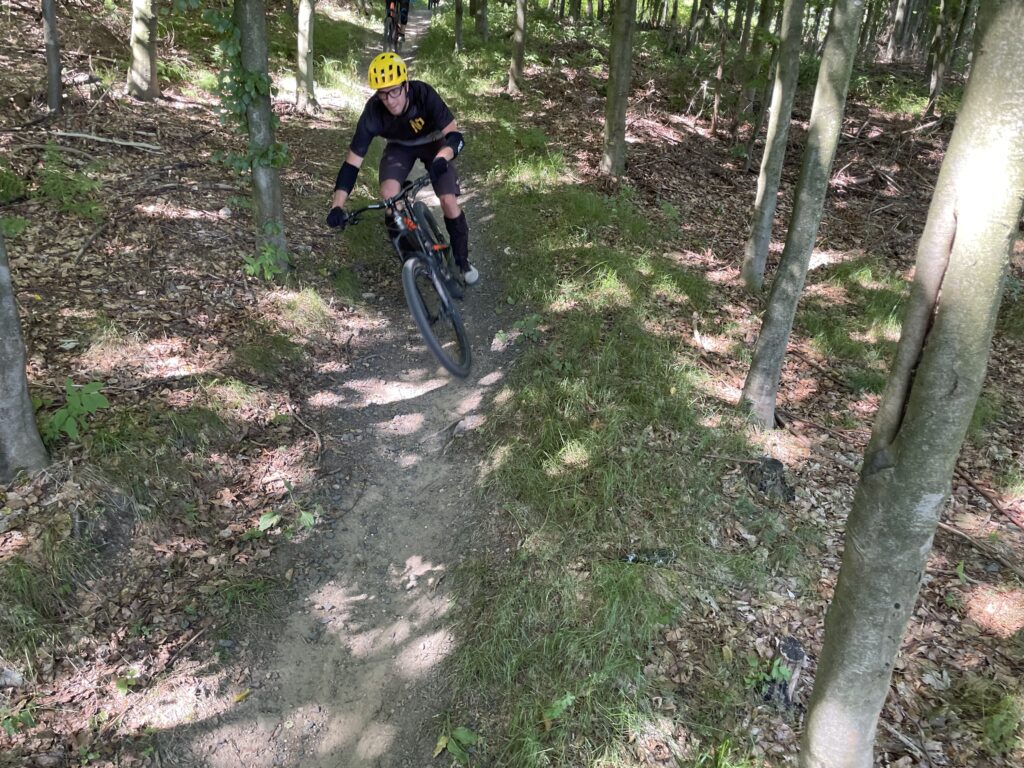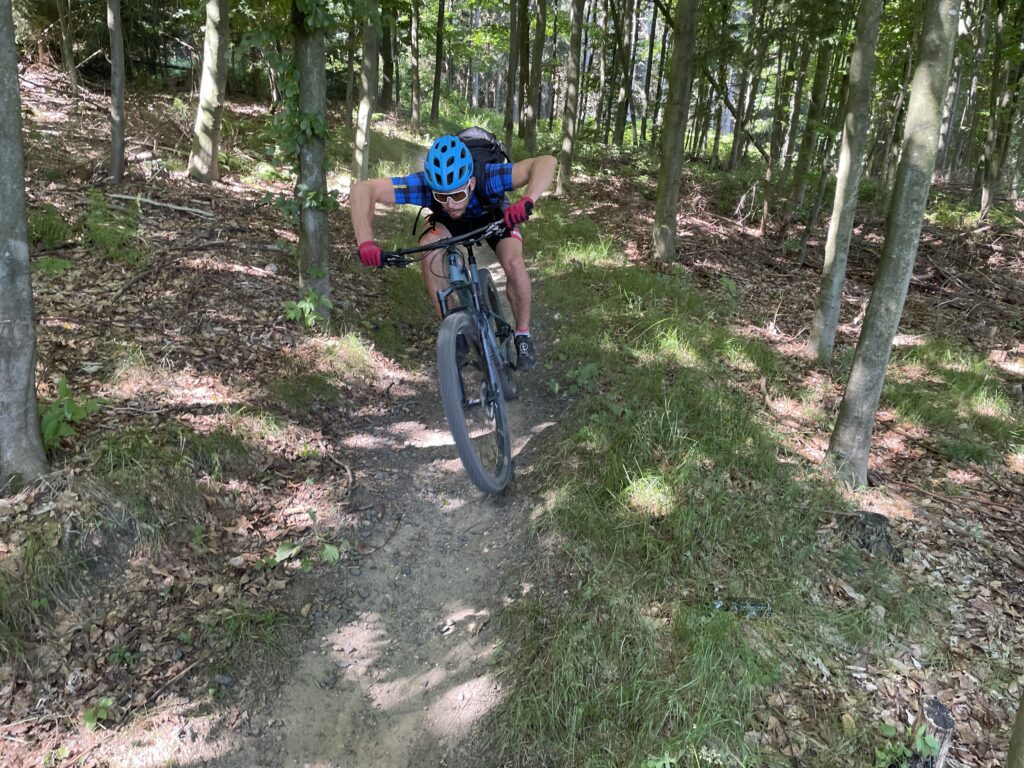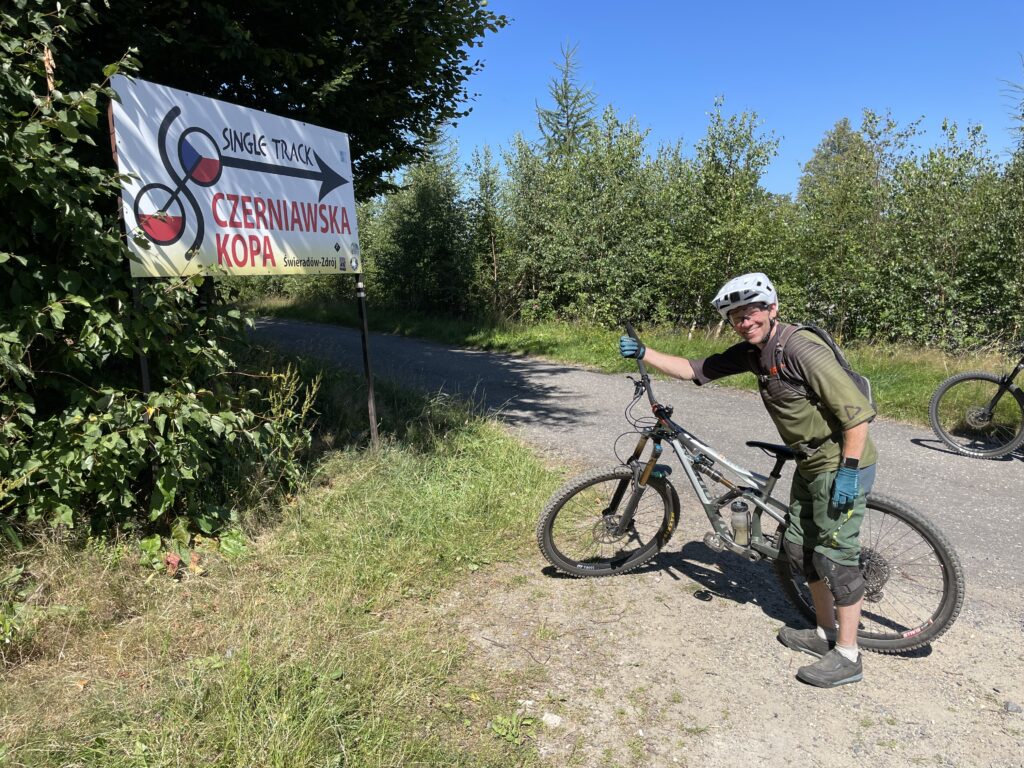 We use the gondola some 400 meters of climb up the Stóg Izerski mountain – twice 😊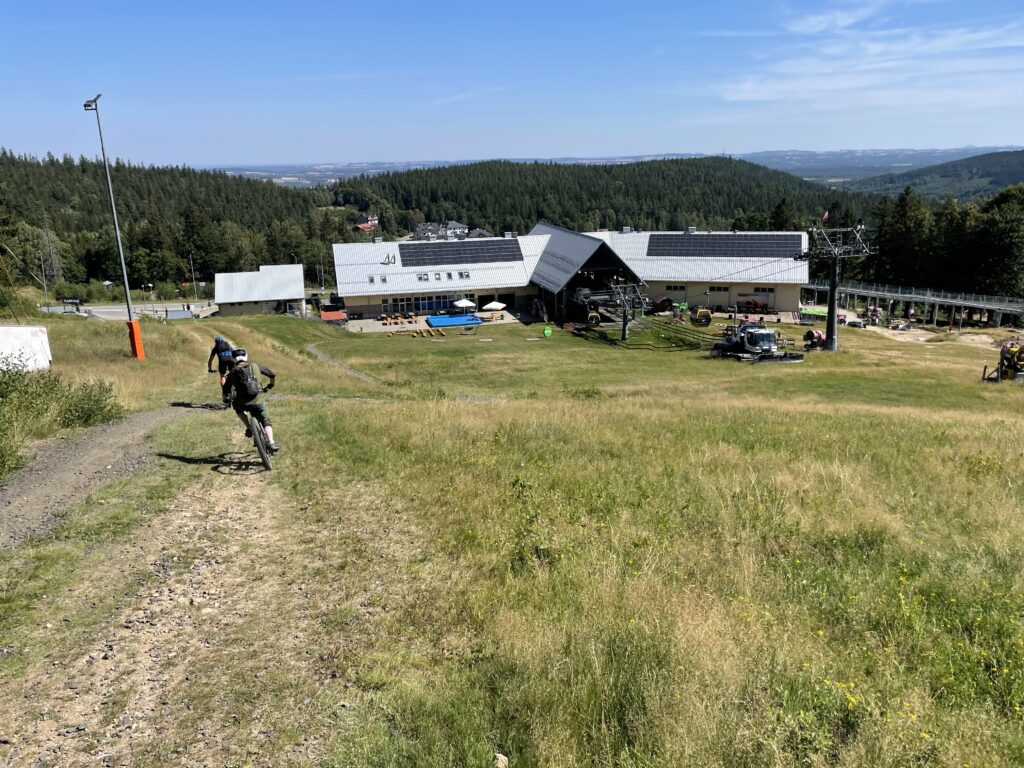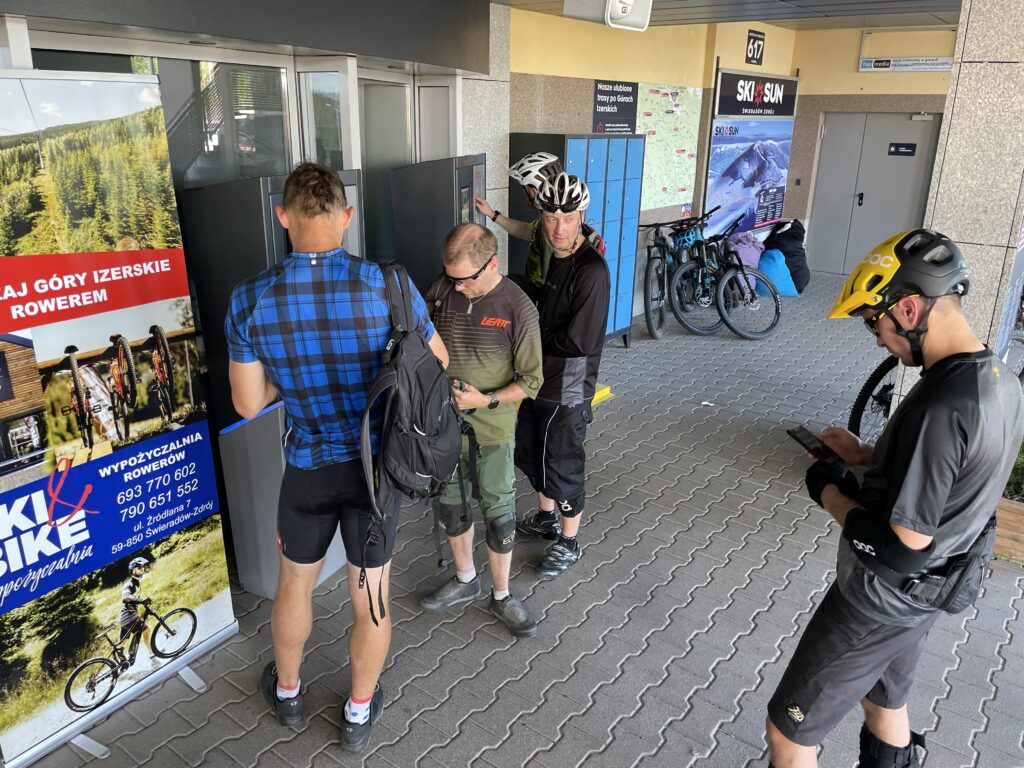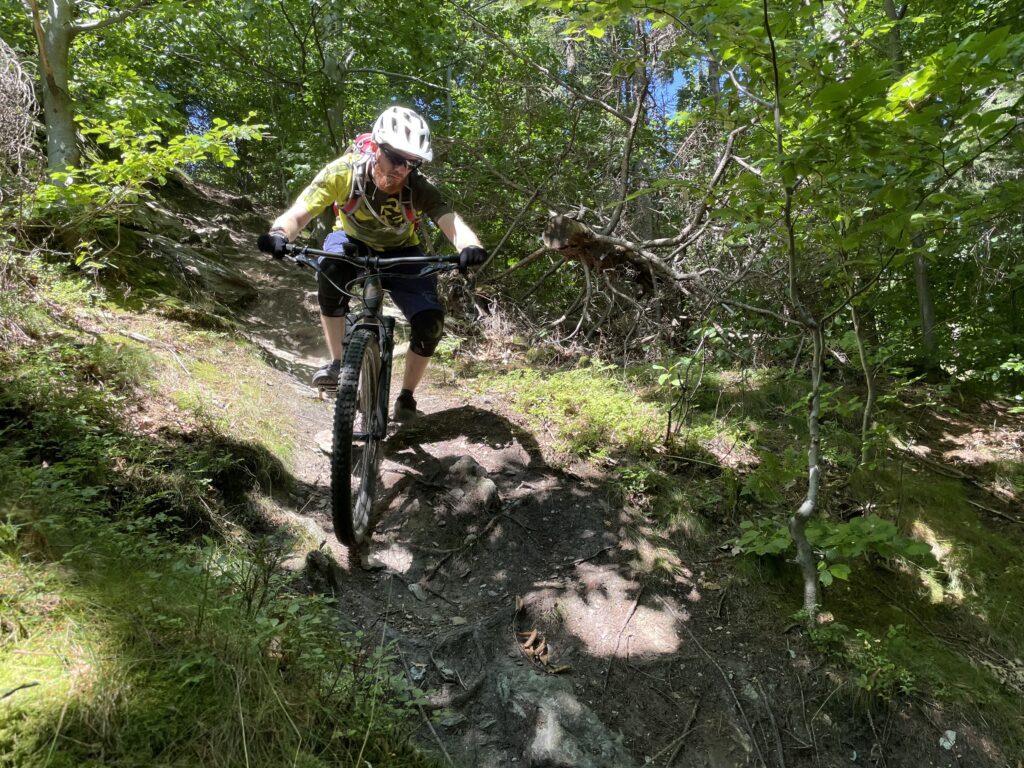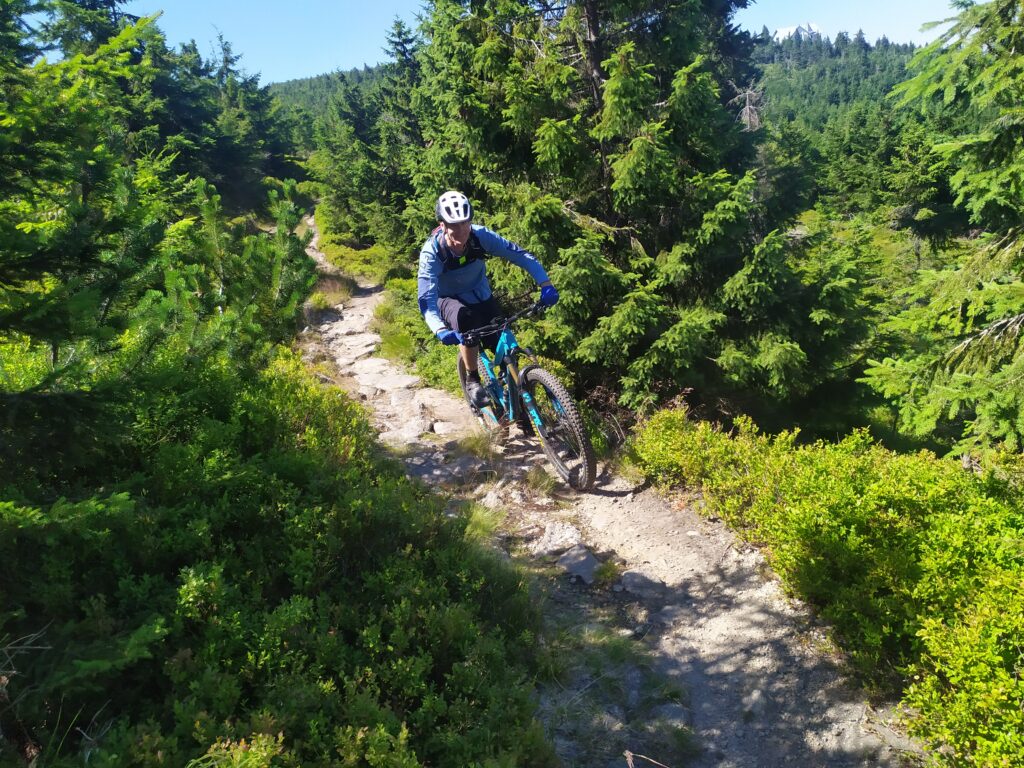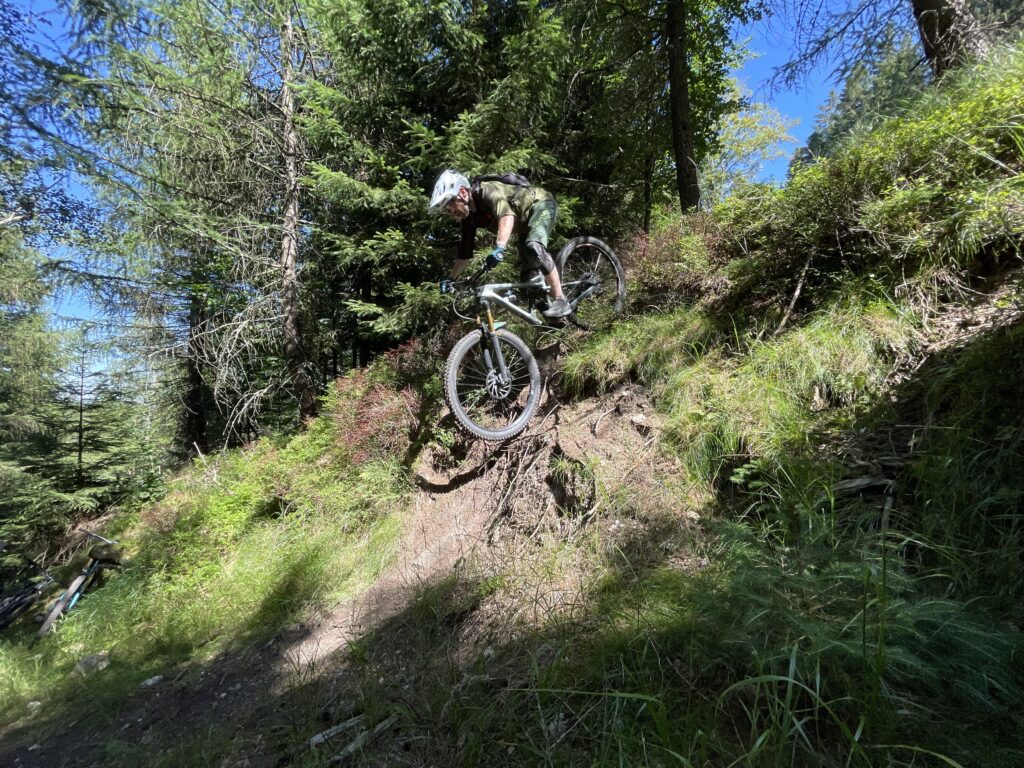 The riding has been absolutely great. Well built flowy sections where you almost think it's downhill but you're actually pedaling uphill. High alpine like trails with views and Enduro trails with full speed. We're getting into it and love it already!
Back in Nové Město we get our beer and Kofola – the black soft drink that we came to drink and like a lot during the week. Don't mistake it for Coke – it's something completely different I'd say.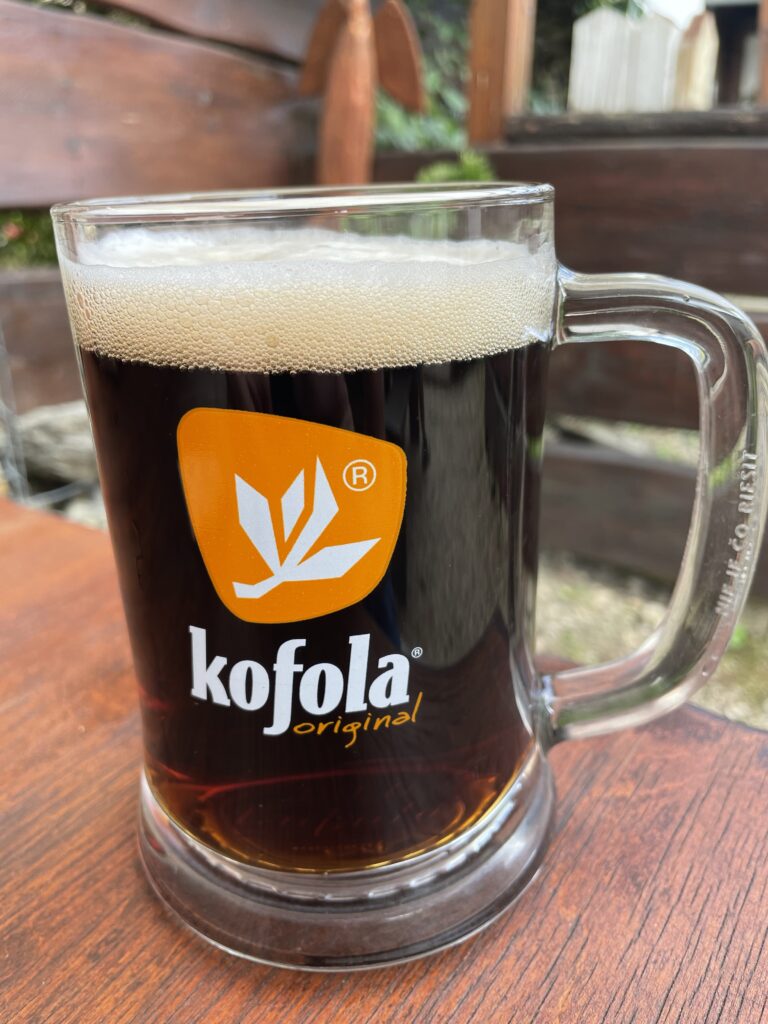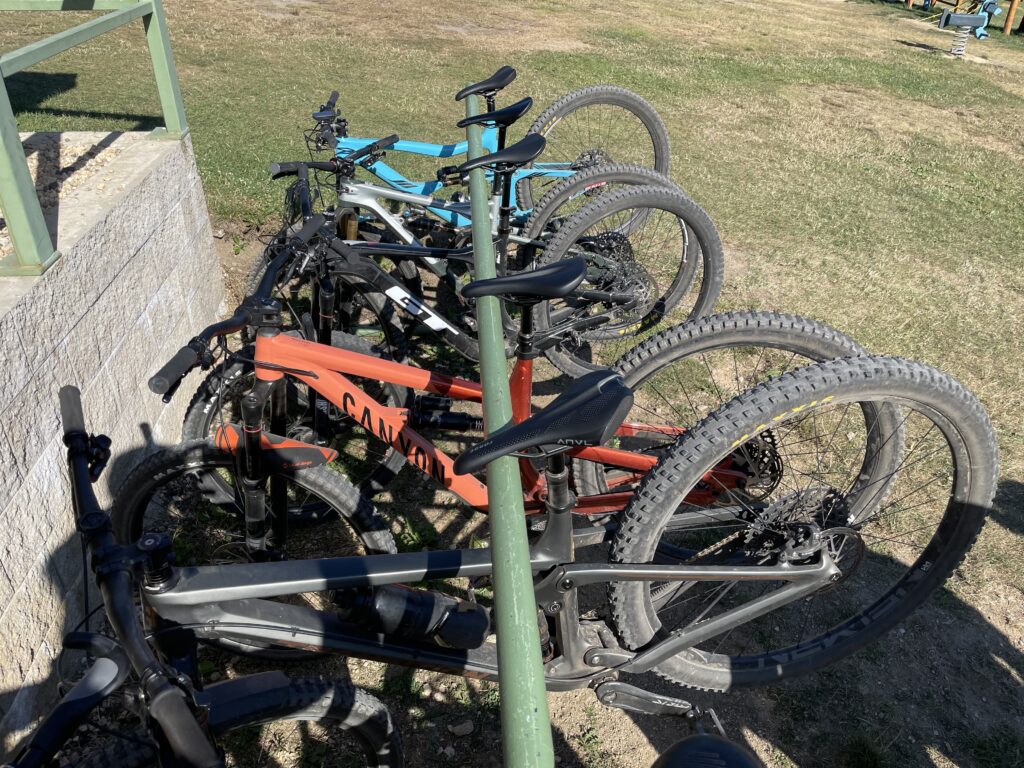 The heat wave the last weeks has cause wild fires – one of them in the "Bohemian Switzerland National Park". Unfortunately, it has become the biggest fire in Czech history. The smoke from the fire is approx. 45kms away as the crow flies but still coloring the sky.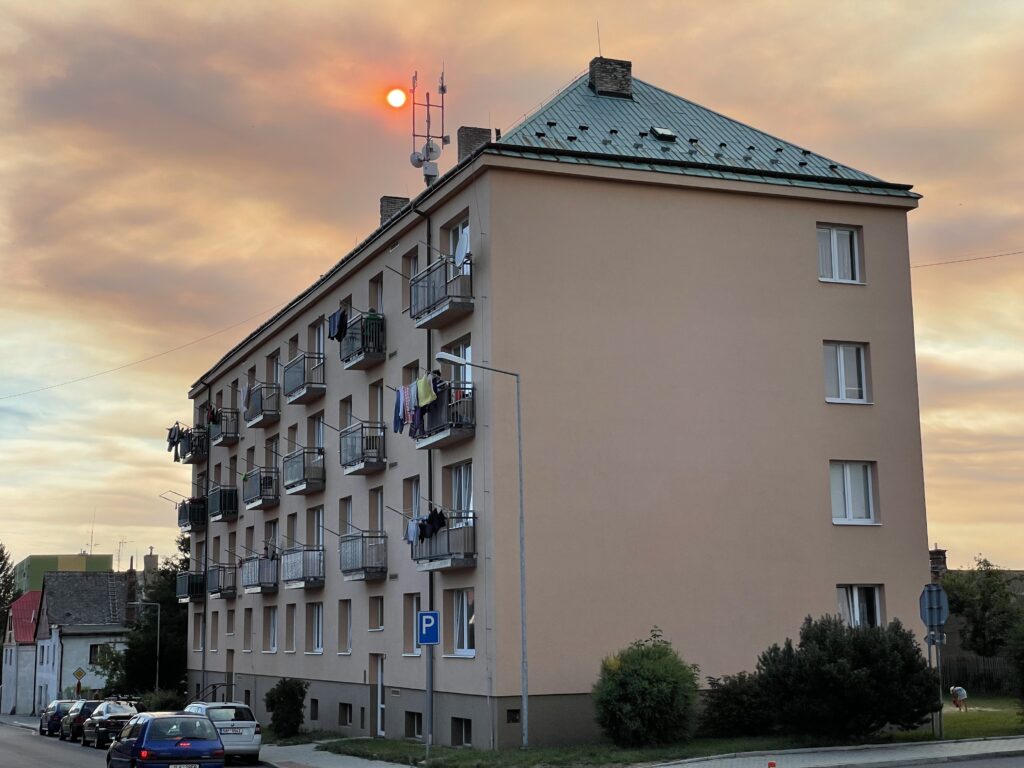 We enjoy dinner and table tennis at a super nice castle like place: Zámecký dvůr Černousy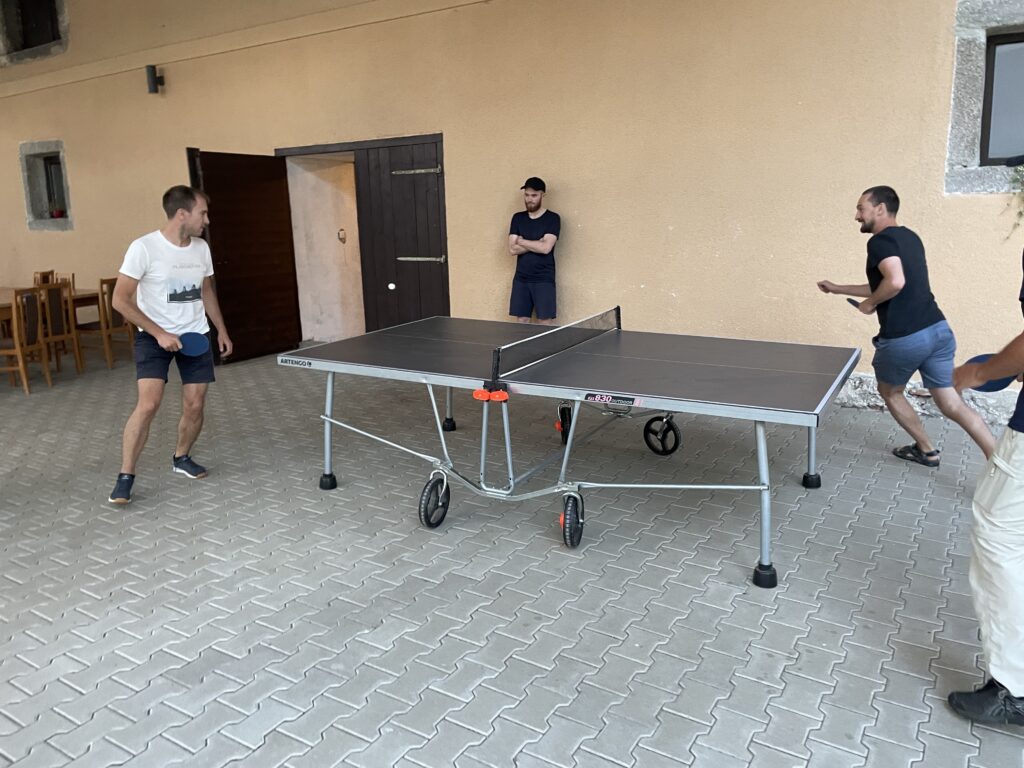 And on the way home we pass the castle of Friedland – Zámek Frýdlant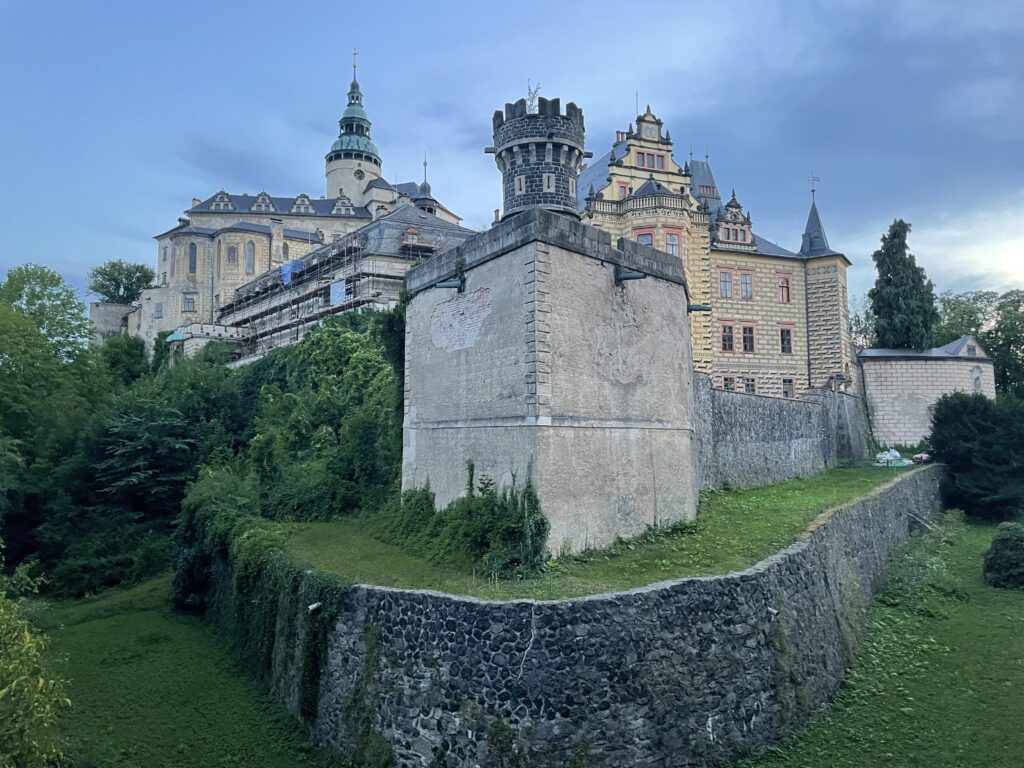 Biking has been superb and these nice treats gives that little extra to the day – and makes you sleep tight…
Day 3 – Świeradów-Zdrój, Poland and Nové Město pod Smrkem, Chech
Today We use the van and trailer to Świeradów-Zdrój and explore new trails and bike it back to Nové Město.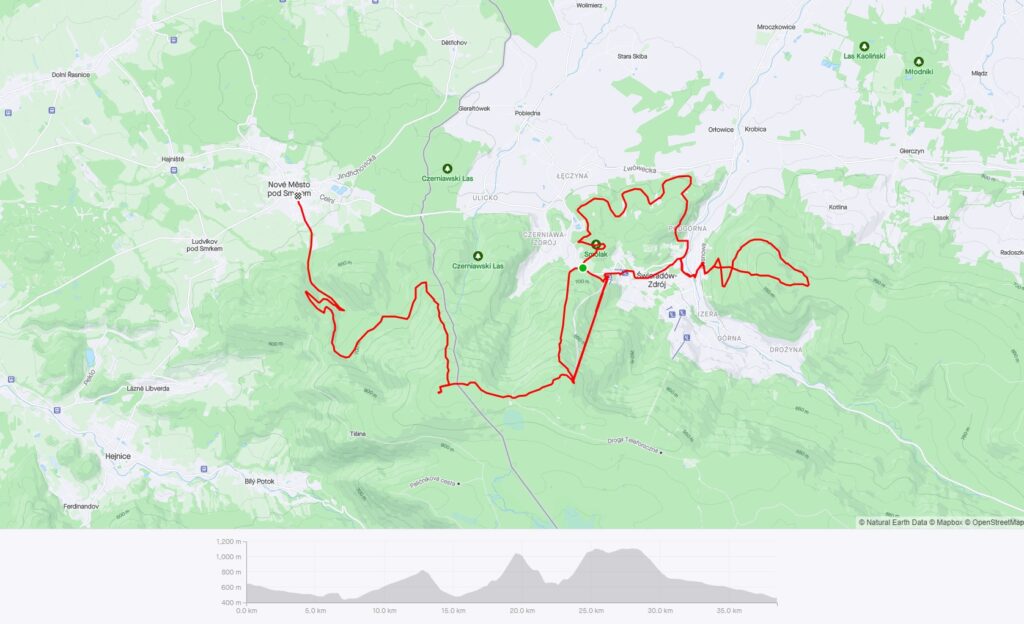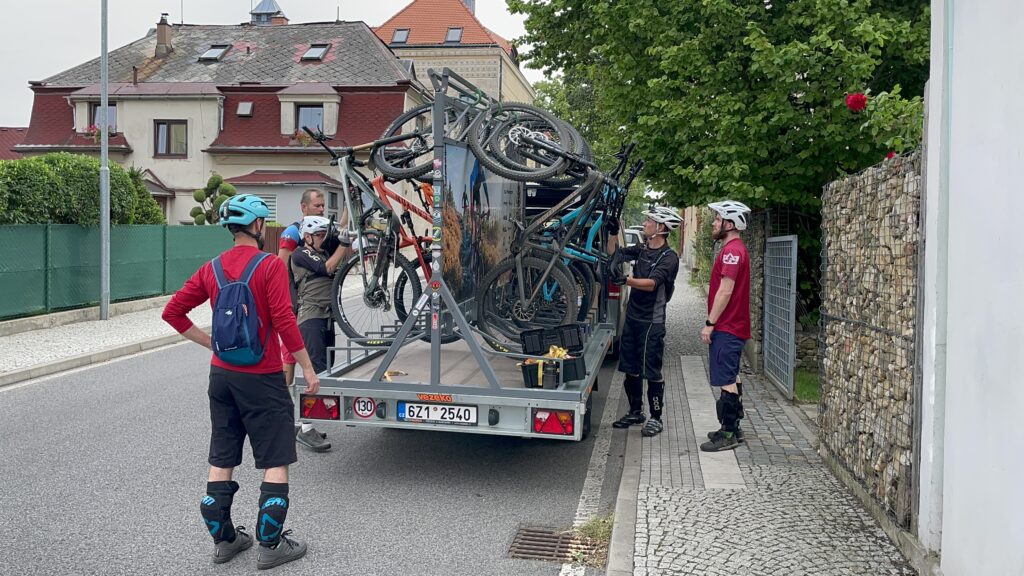 We split up in two groups where we choose to explore Sępia Góra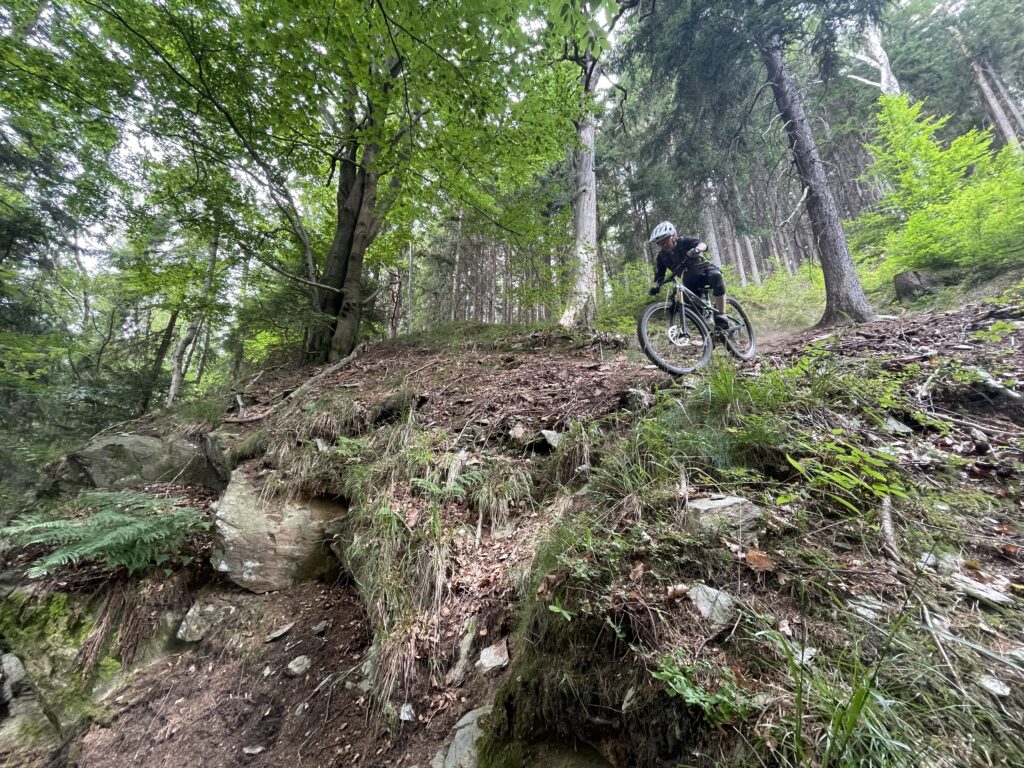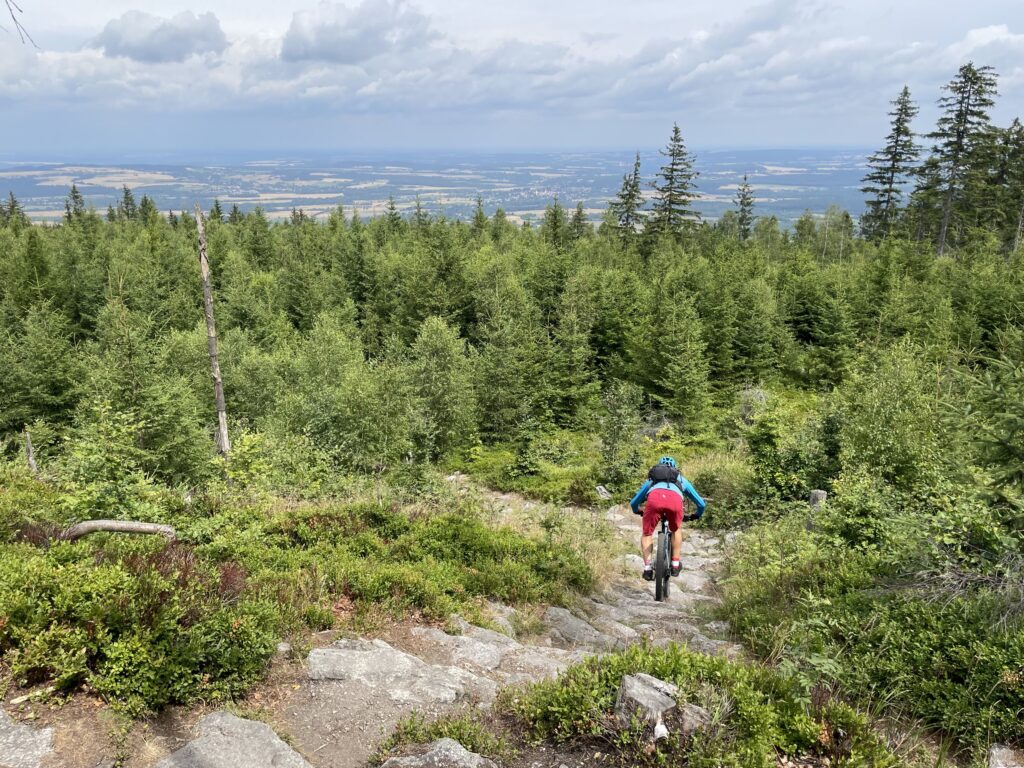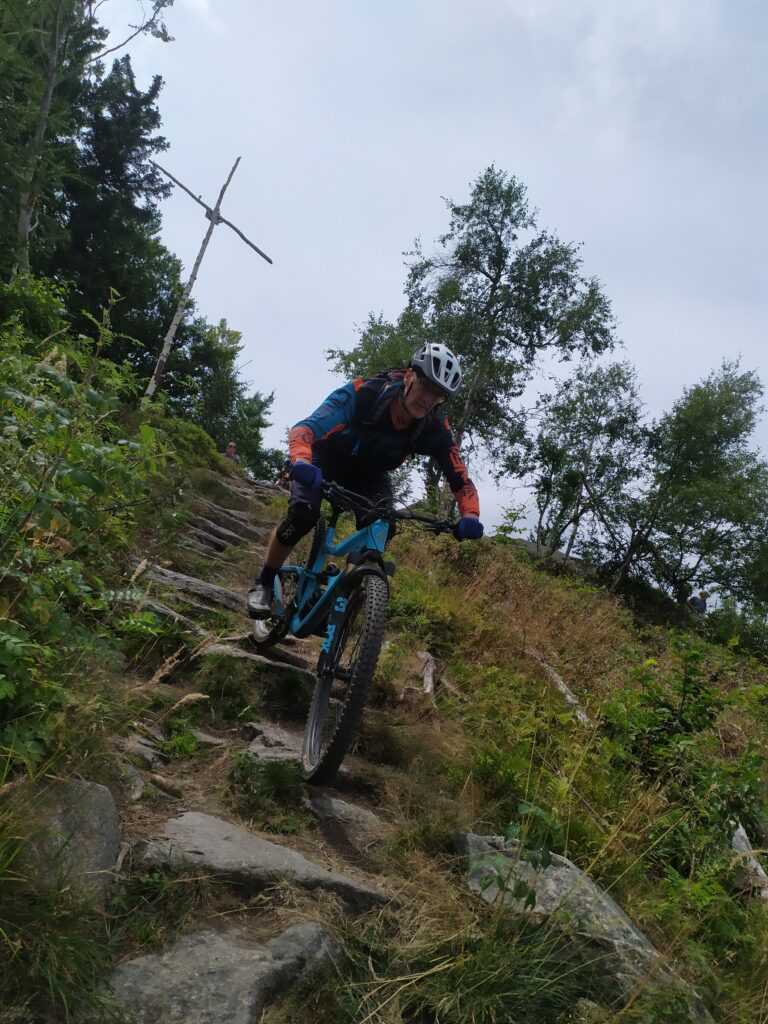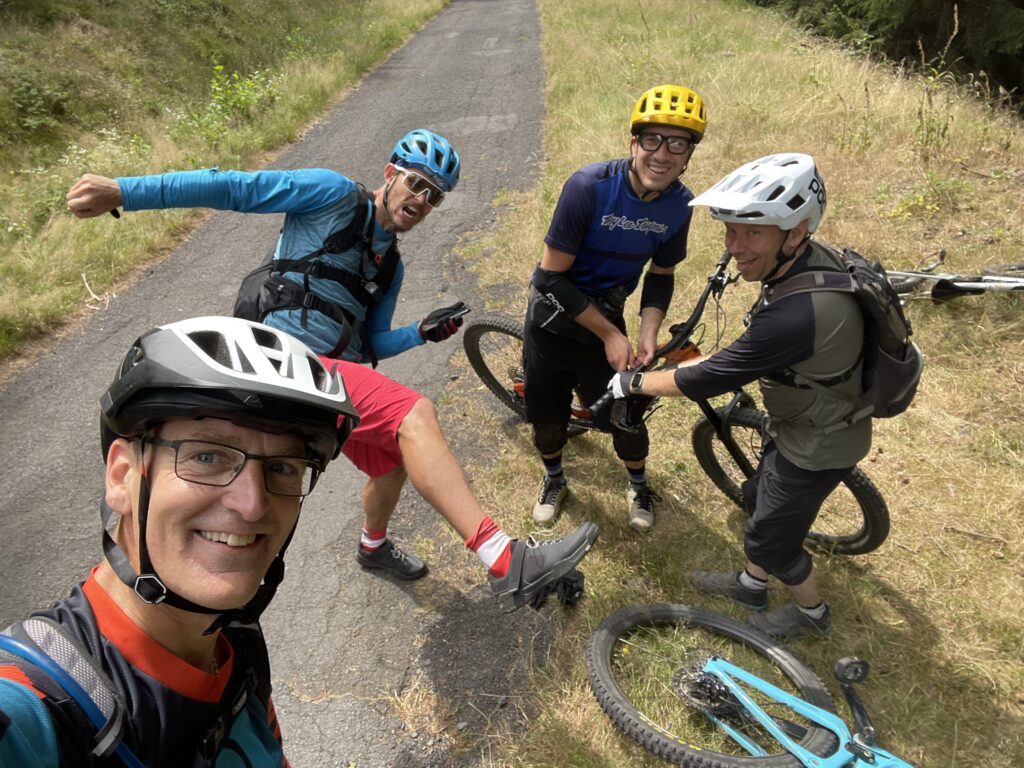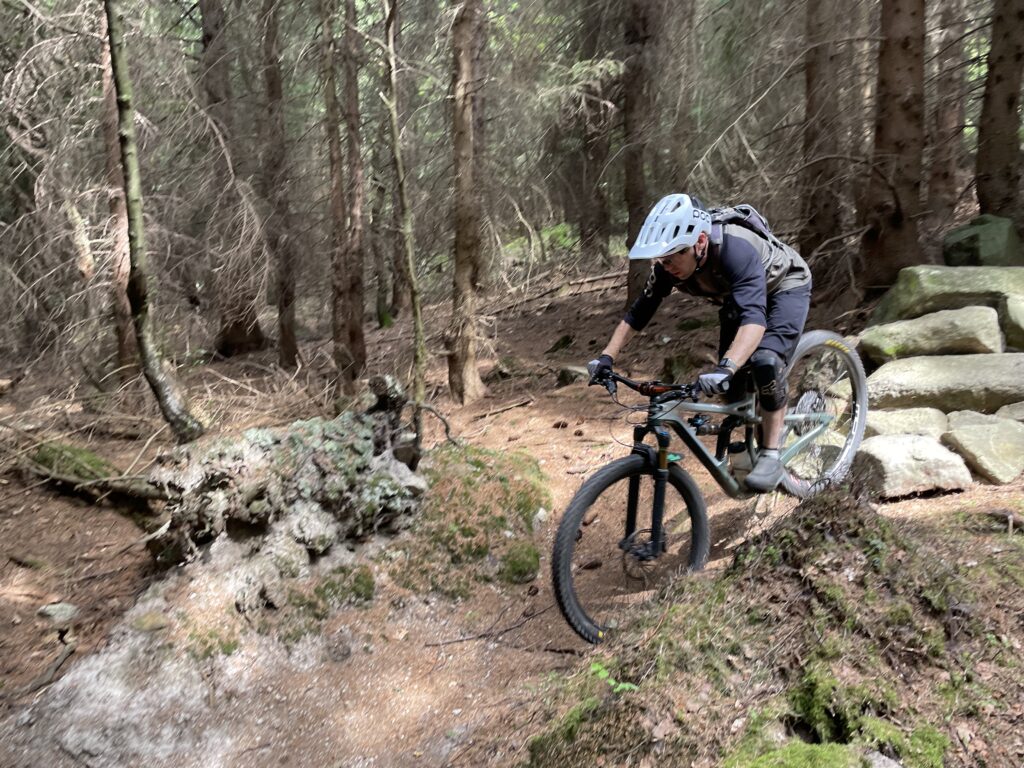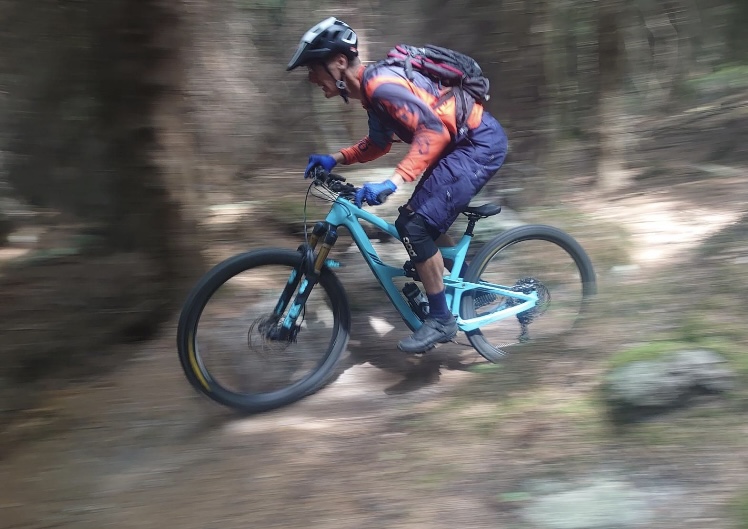 The Polish tractor company dating back to late 18-hundreds.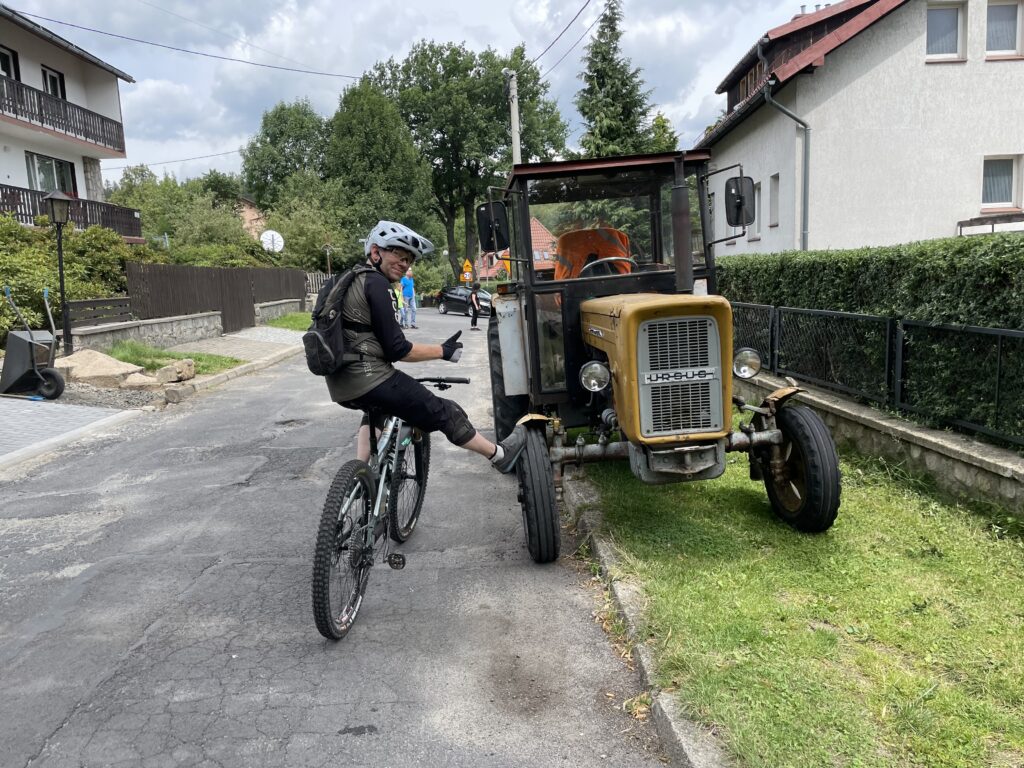 One minute swimming in the pond next to the restaurant, the next in our stomach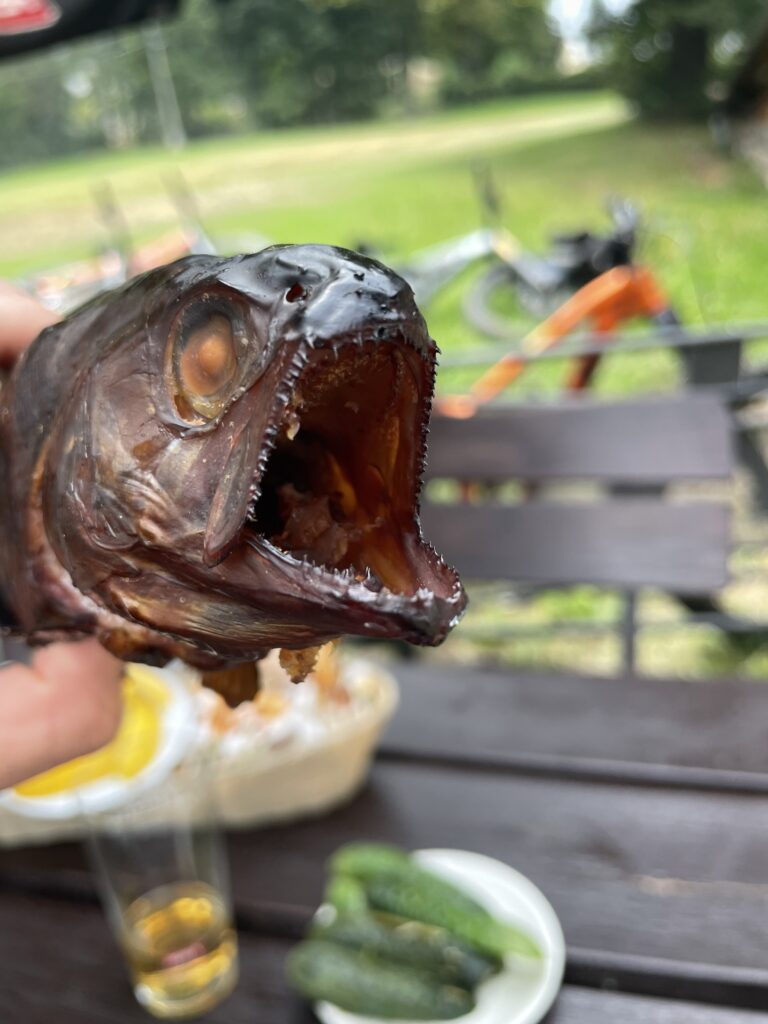 Twice the gondola today again 😊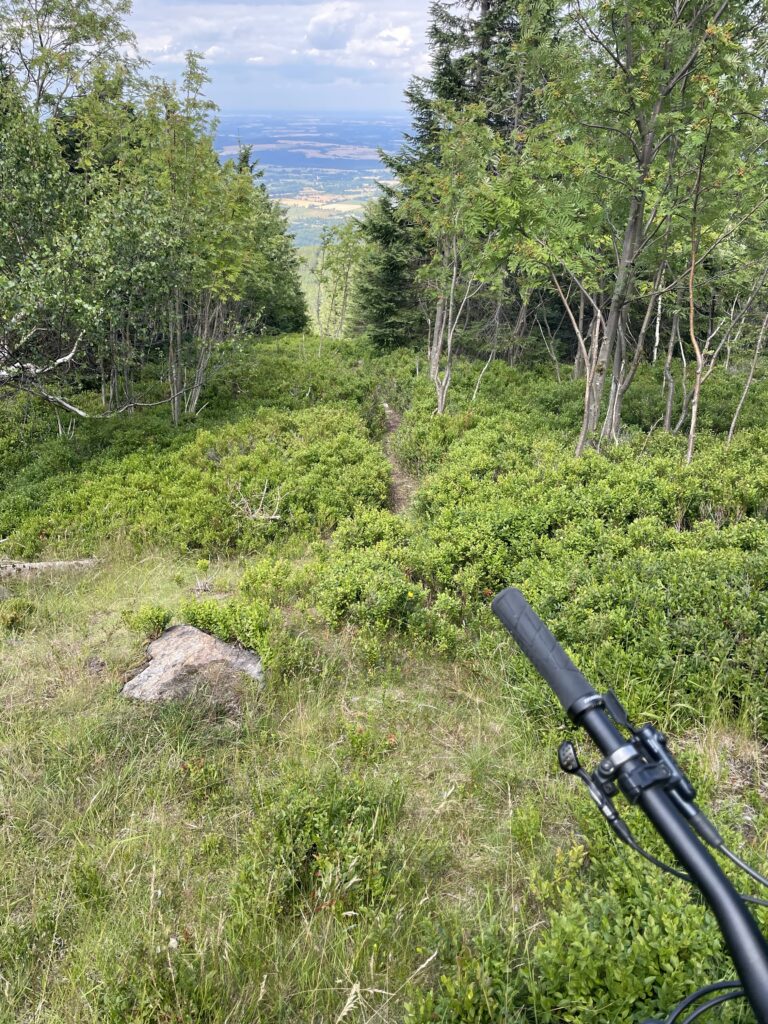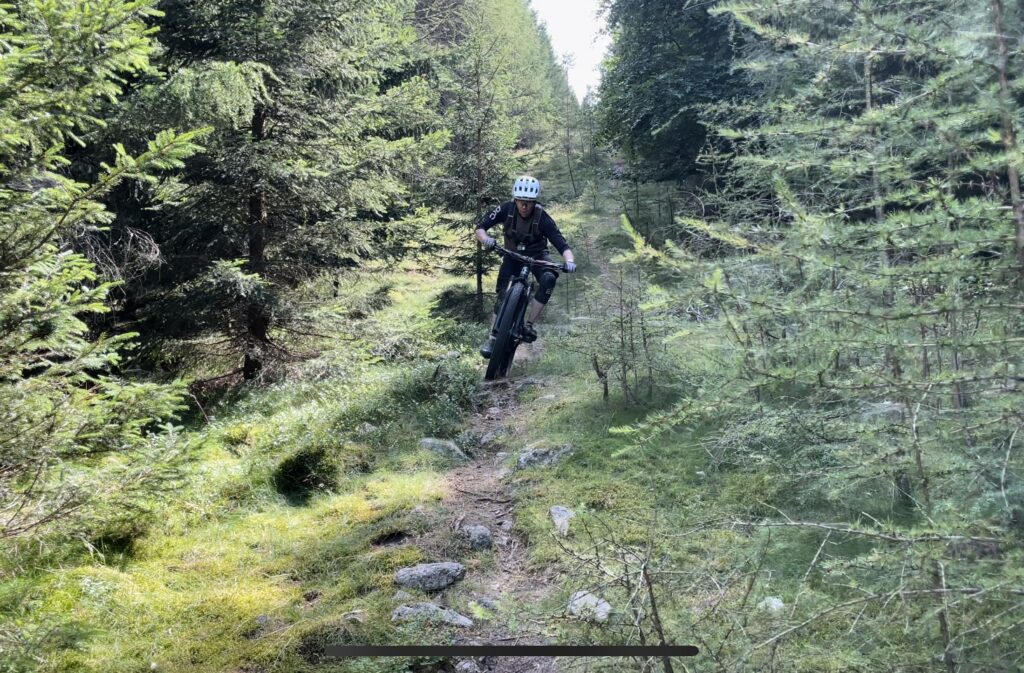 Second time with the gondola in order to make it over the two peaks Stóg Izerski (Poland) and Smrek (Czech) to get back home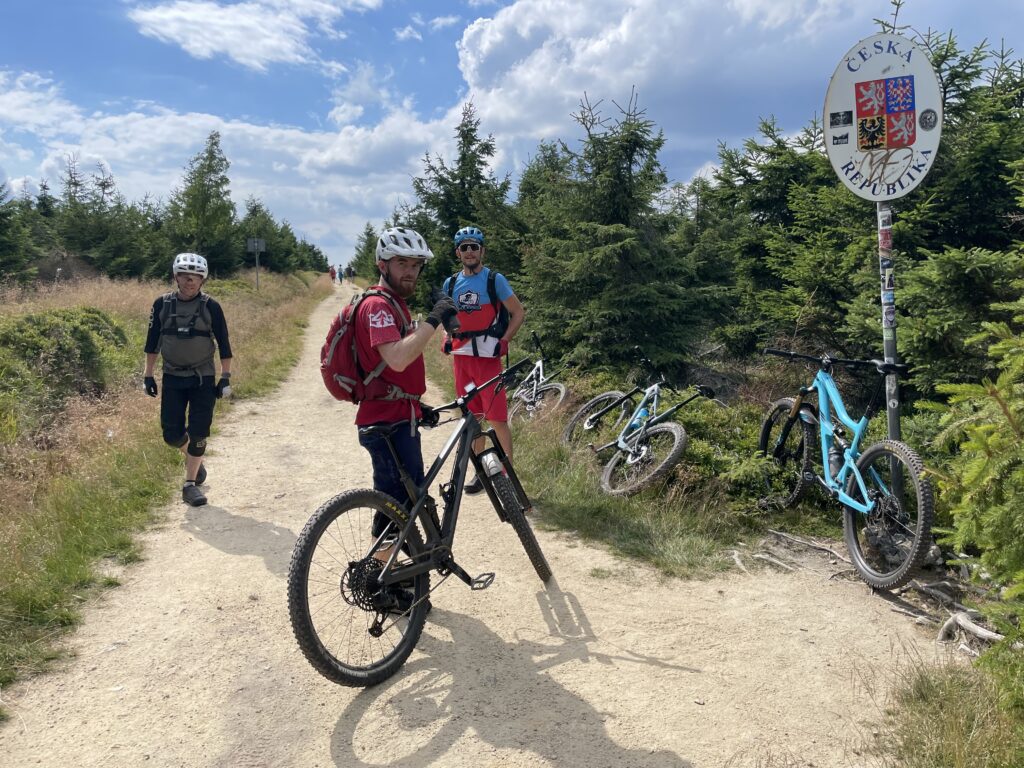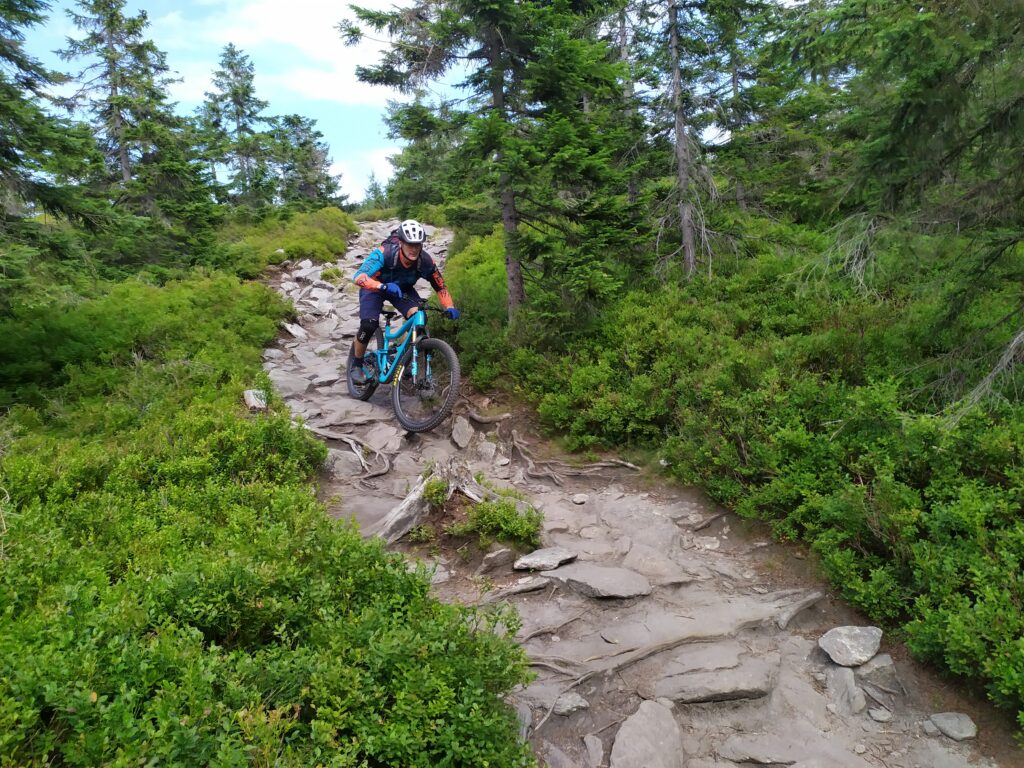 The view from the tower at the Smrek peak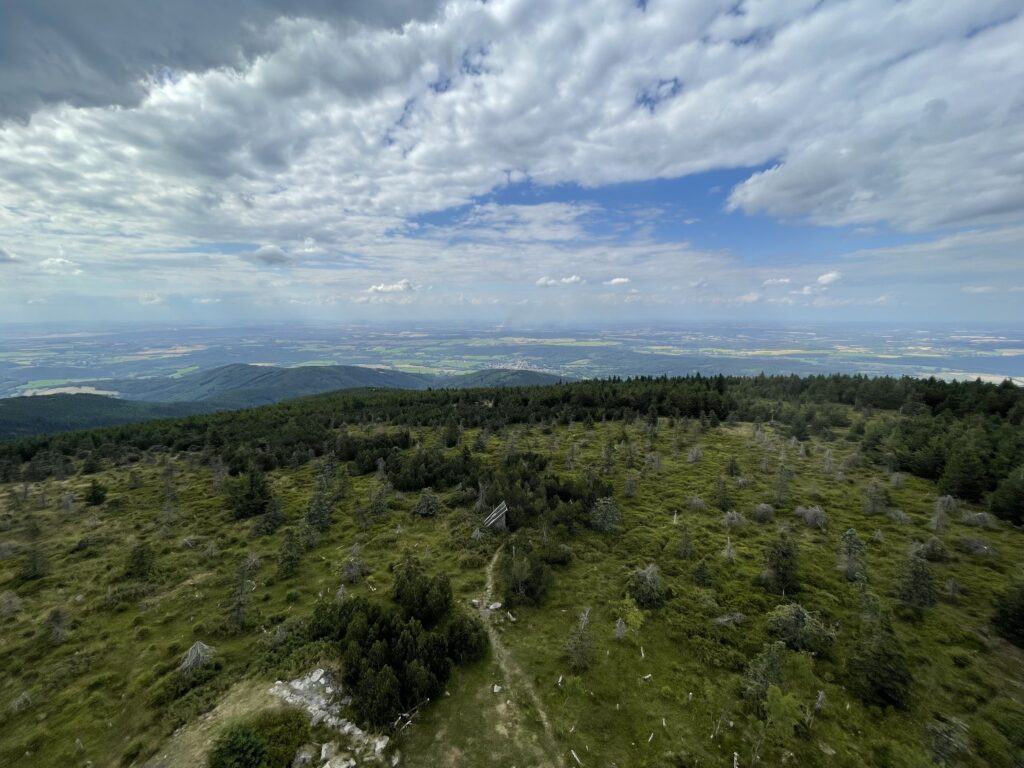 The view from a bench outside the hotel 😊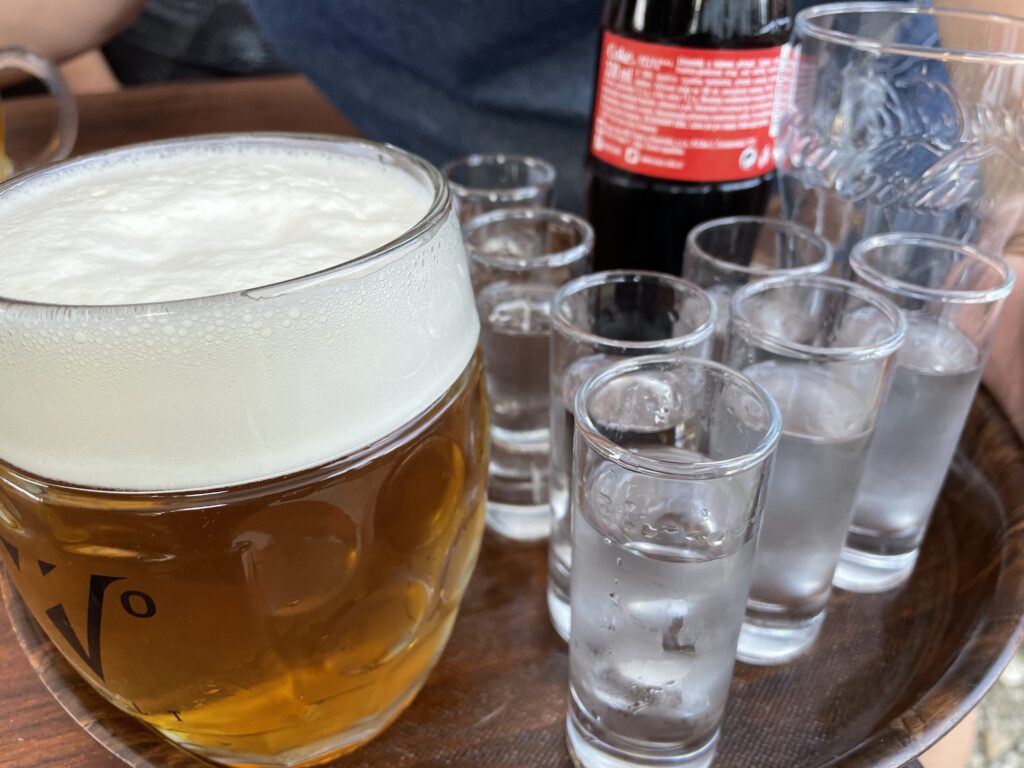 Day 4 – Resting day. For some… 3 times the Gondola in Świeradów-Zdrój for me and Micke
The others depart for a hike in a nice area. Myself and Micke felt that we wanted to go a bit faster on those Enduro trails on the Polish side. So we take our car and knock ourselves out on three rides. What a blast!!!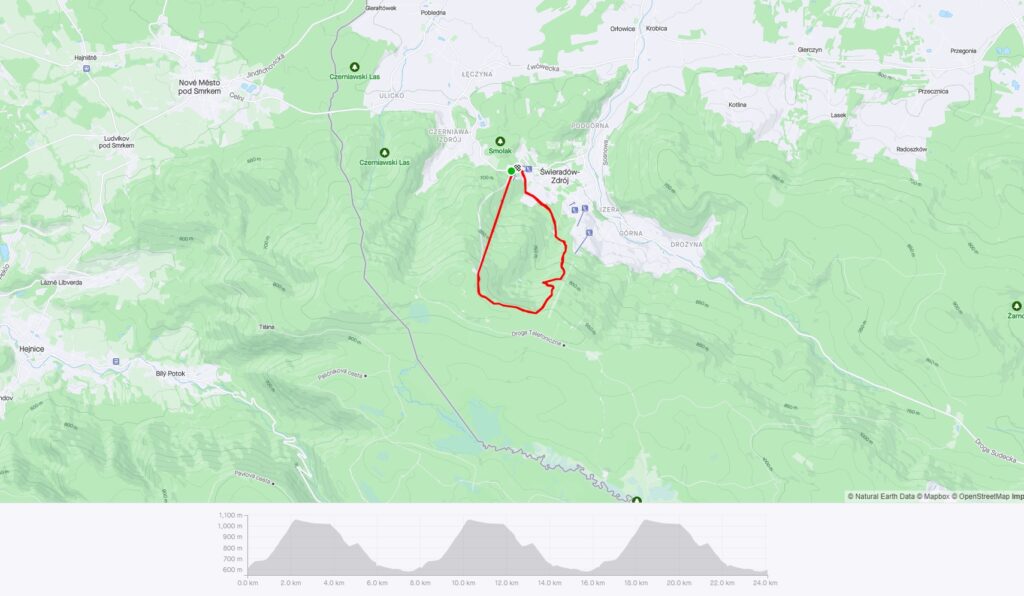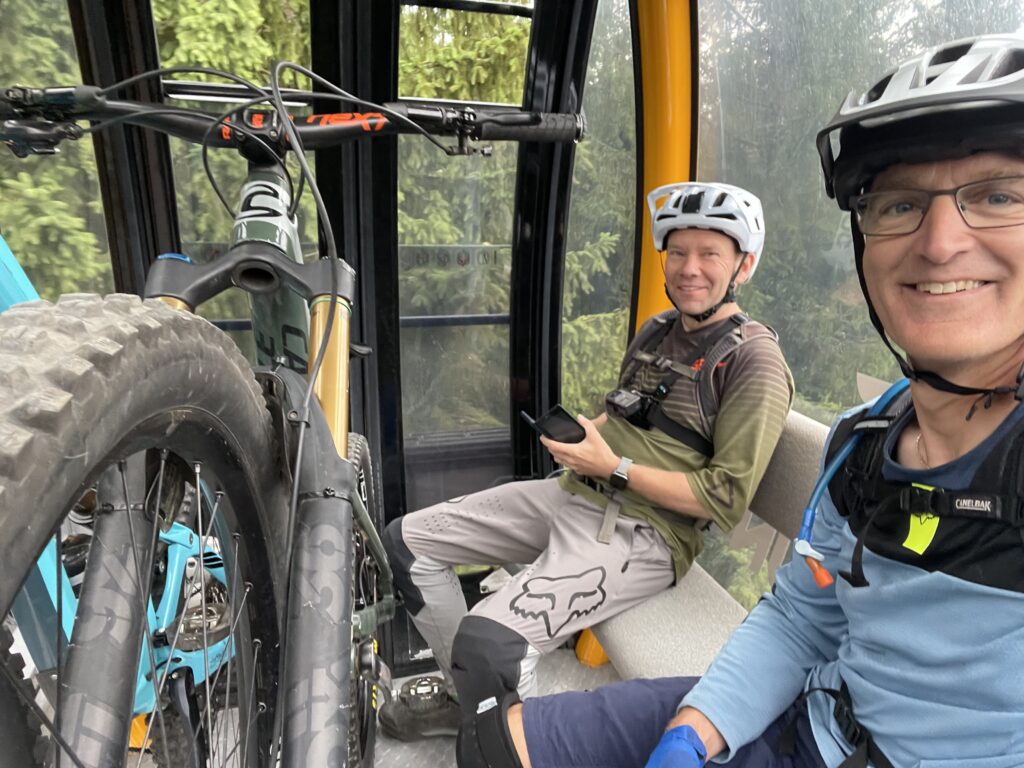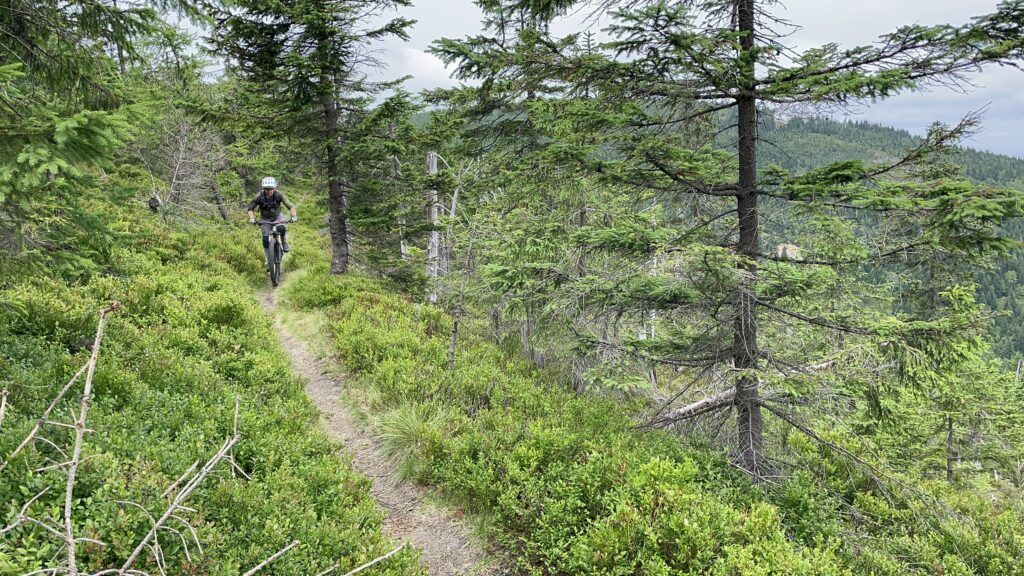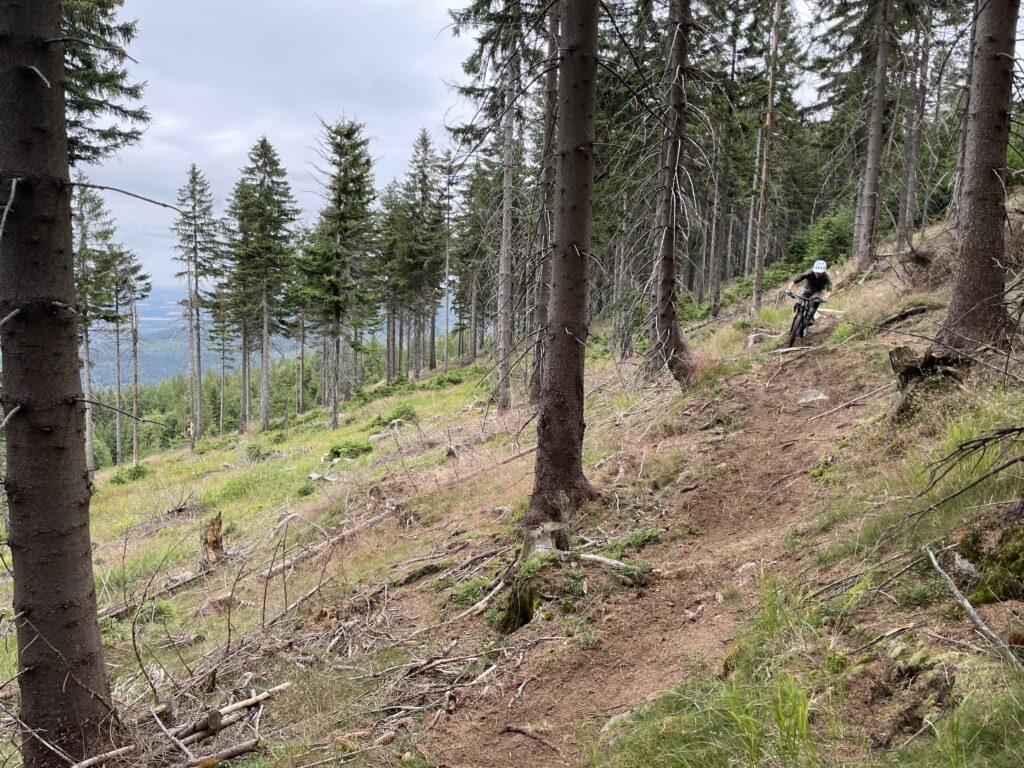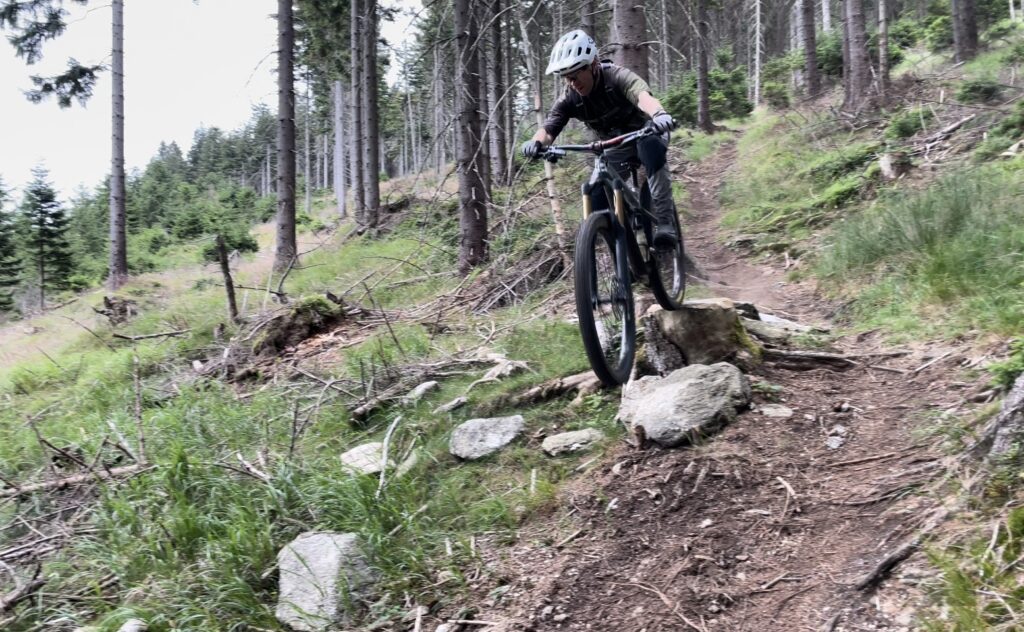 Well my dear X2 rear shock had a blast too. It survived the rest of the trip but that oil was apparently leaking because of a small crack in the outer body. Got a new on warranty a couple of months later…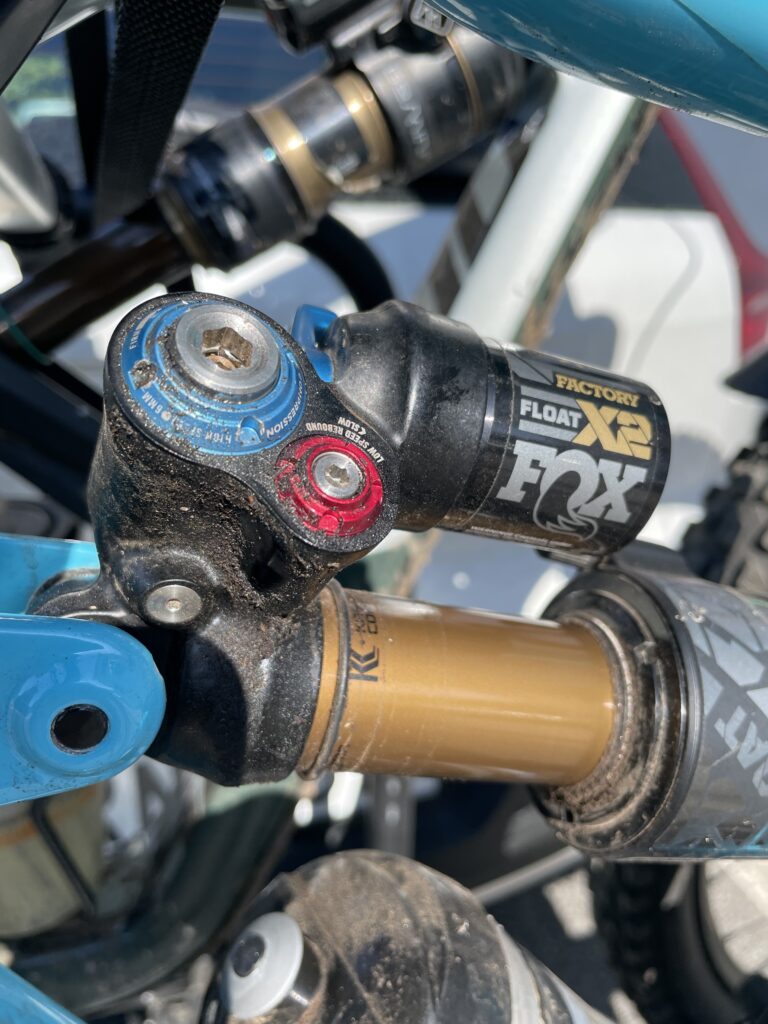 Anyway. We manage to meet up with the guys at a restaurant in Frýdlant and together we go for a sauna / pool session.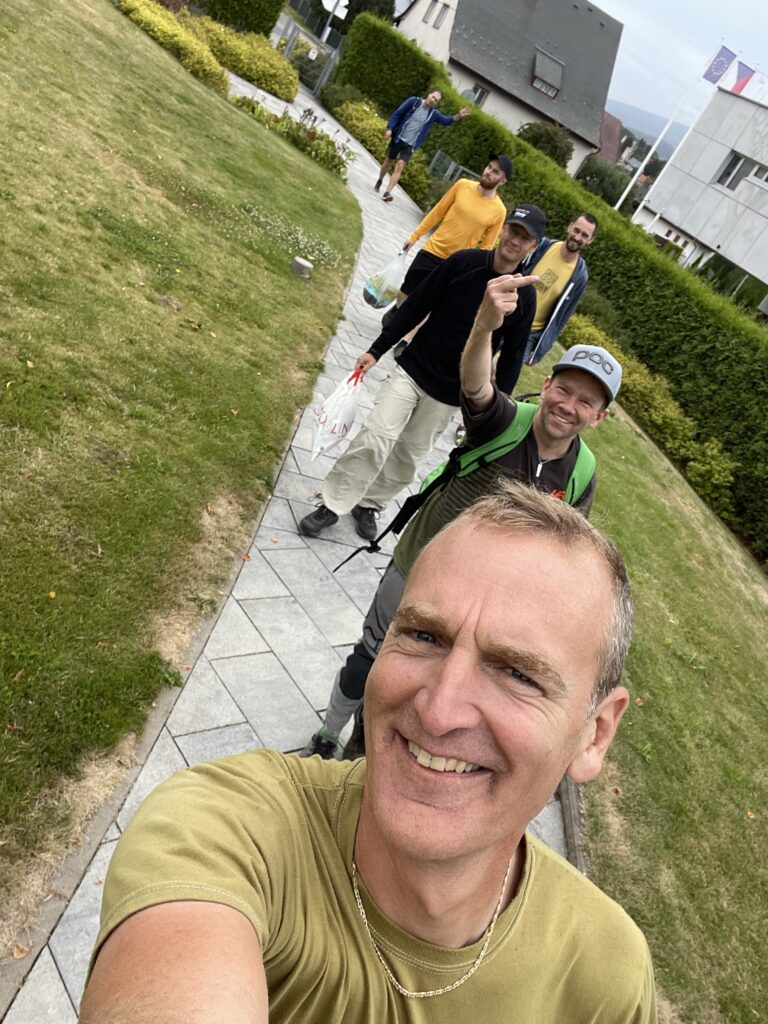 I have to admit that I've never liked sauna but Radim is getting me into it. He has studied this at the university, and it makes sense. Feels fantastic after a couple of loops of: sauna, cooling of in suuuuper cold water for some minutes and then resting 25 minutes.
After that we transfer a couple of hours by car to Trutnov. The landscape is gorgeous.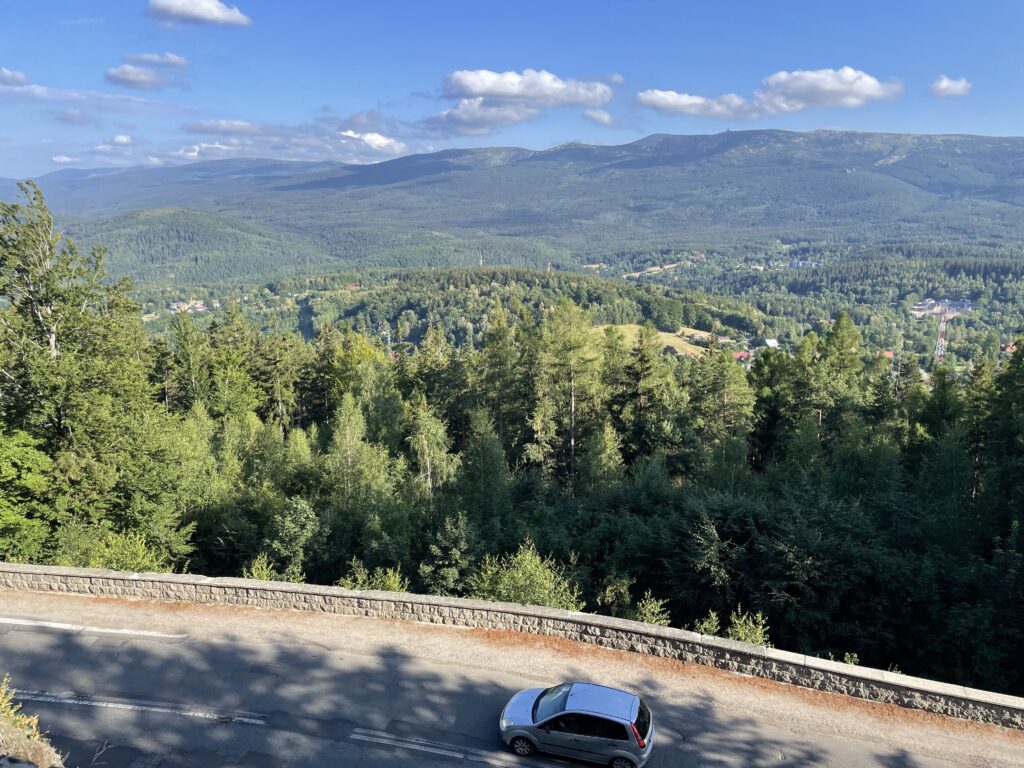 Check-in in Trutnov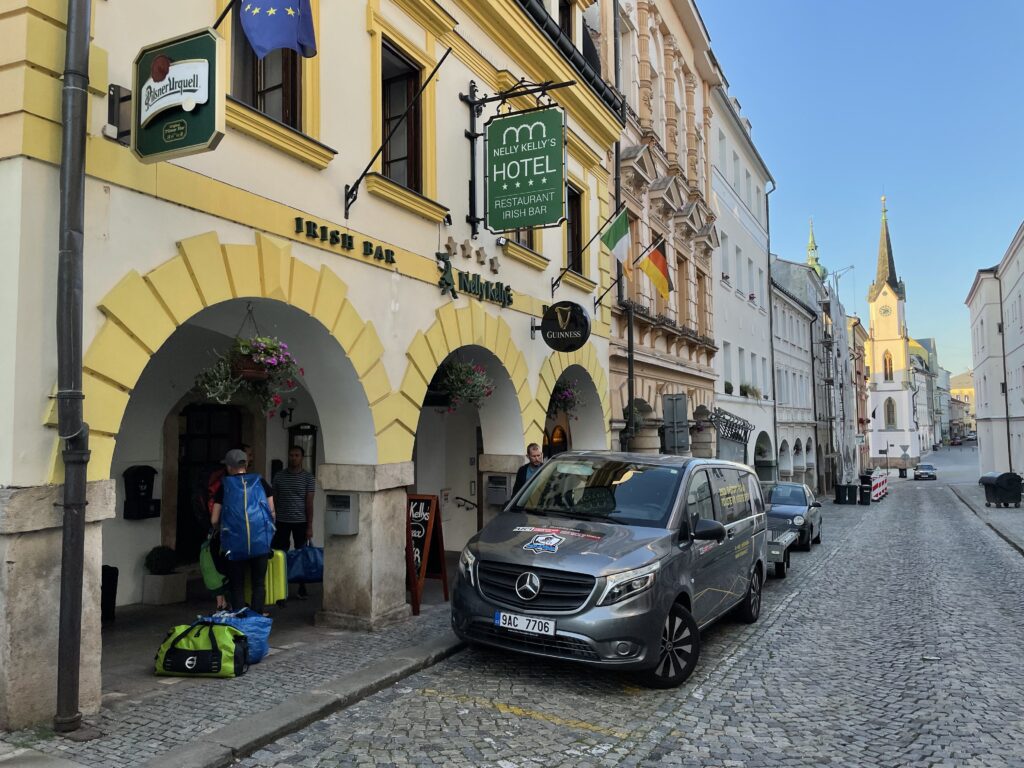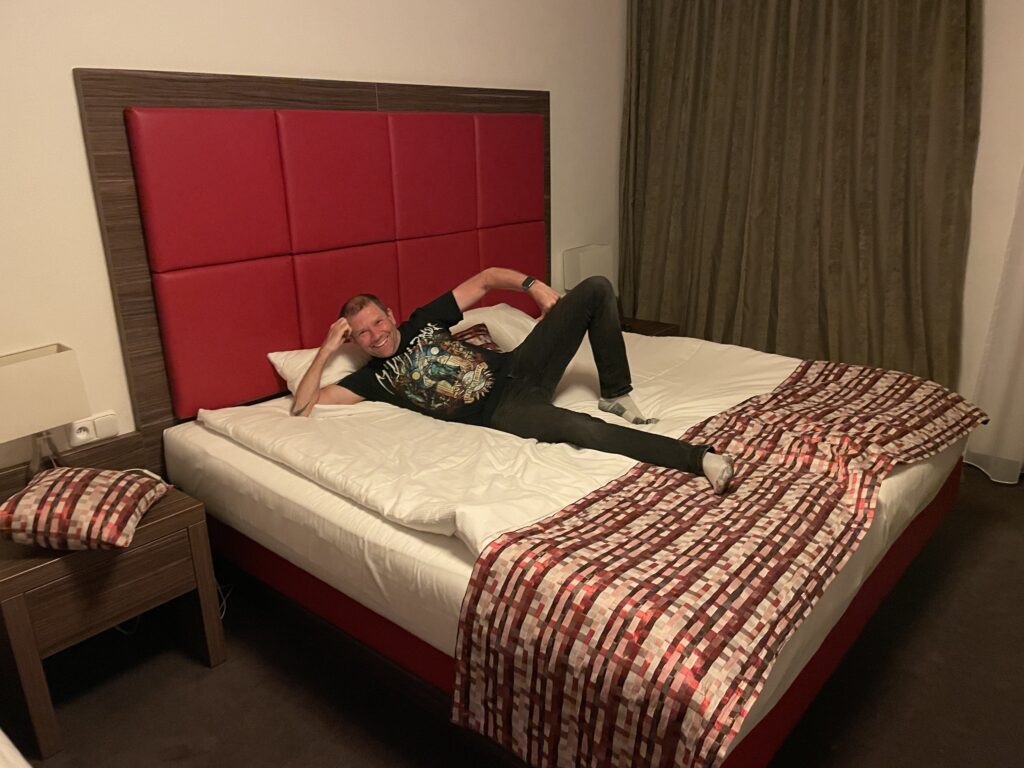 Day 5 – Trutnov
You think you've had the best riding ever and then you arrive to the Mountain Bike Paradise on Earth – Trutnov Trails. Jan (everyone is Jan in Czech Republic…) is the main man behind this absolutely fantastic place on earth. But there is a crew around him all working very hard and dedicated to shape something that is different to everything we've ridden before. Good flow made possible through fields of huge boulders. Super technical stuff where you do not want to fall. Flowy where you want the speed. And almost every inch of it built without machines! This is a place you have to ride!
We wake up to another sunny day in the middle of the town and take off with van and trailer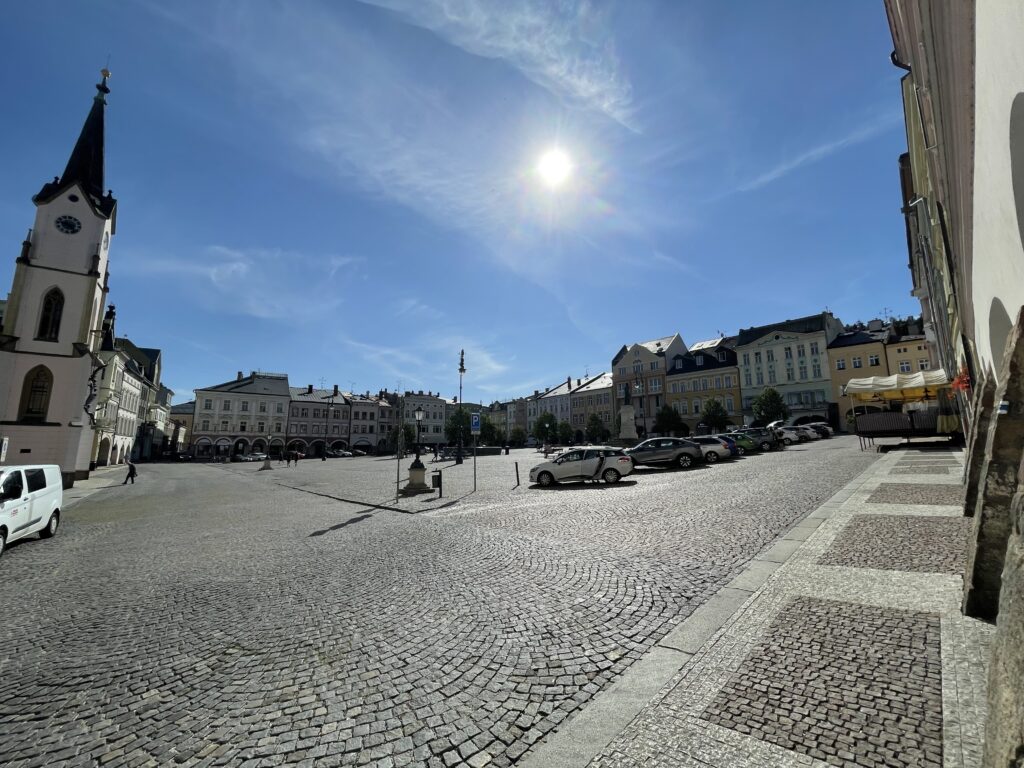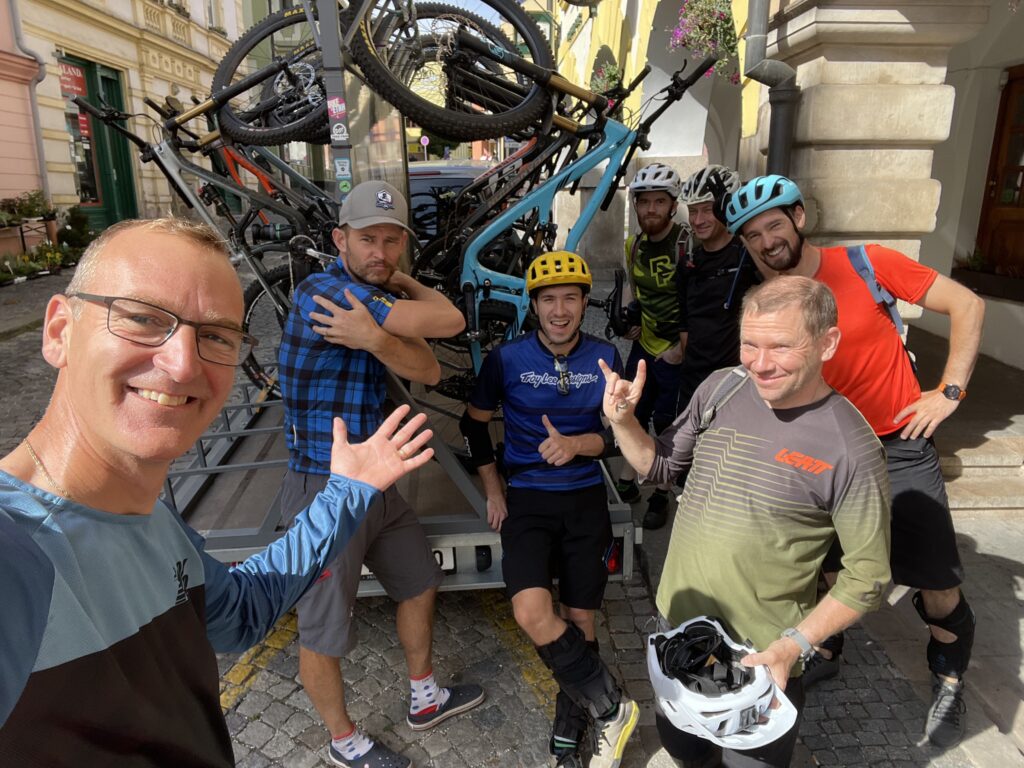 At the trail center we meet up with another Jan and get going for one hell of a ride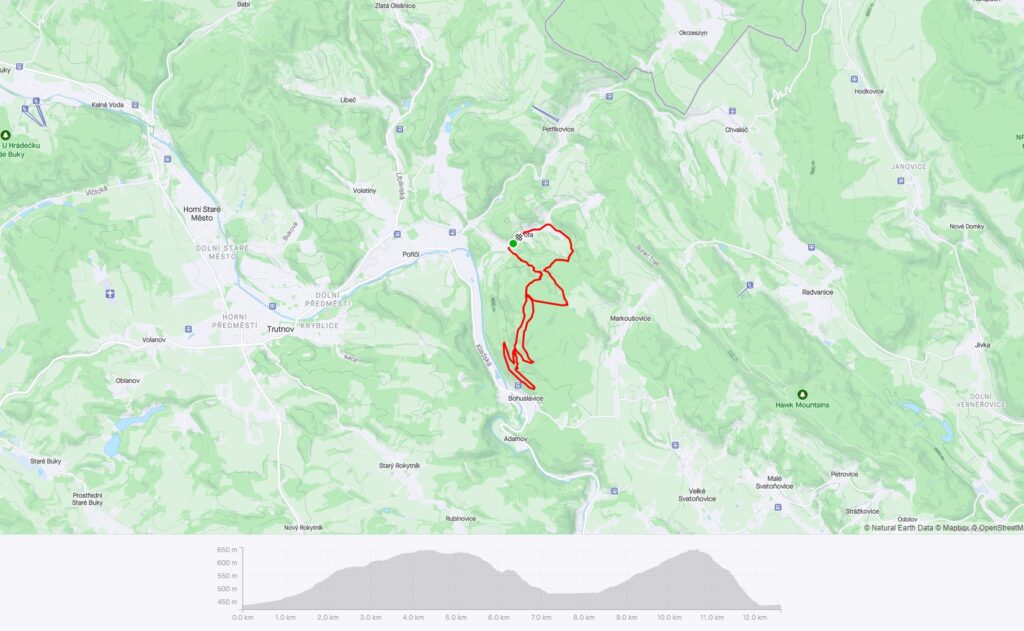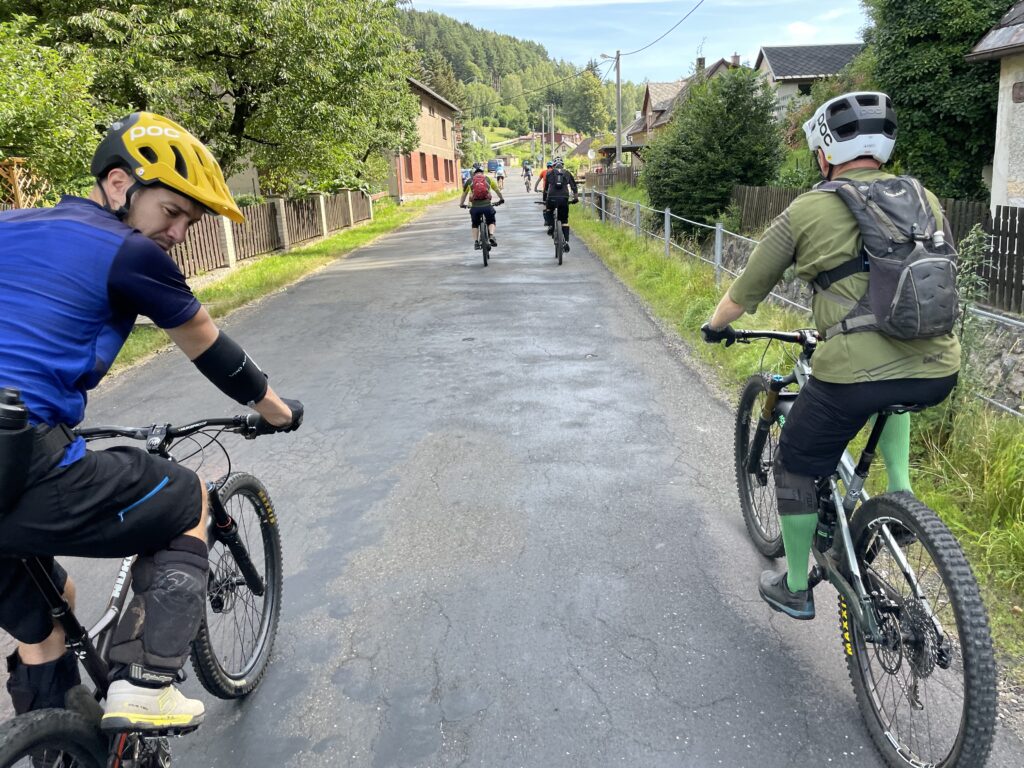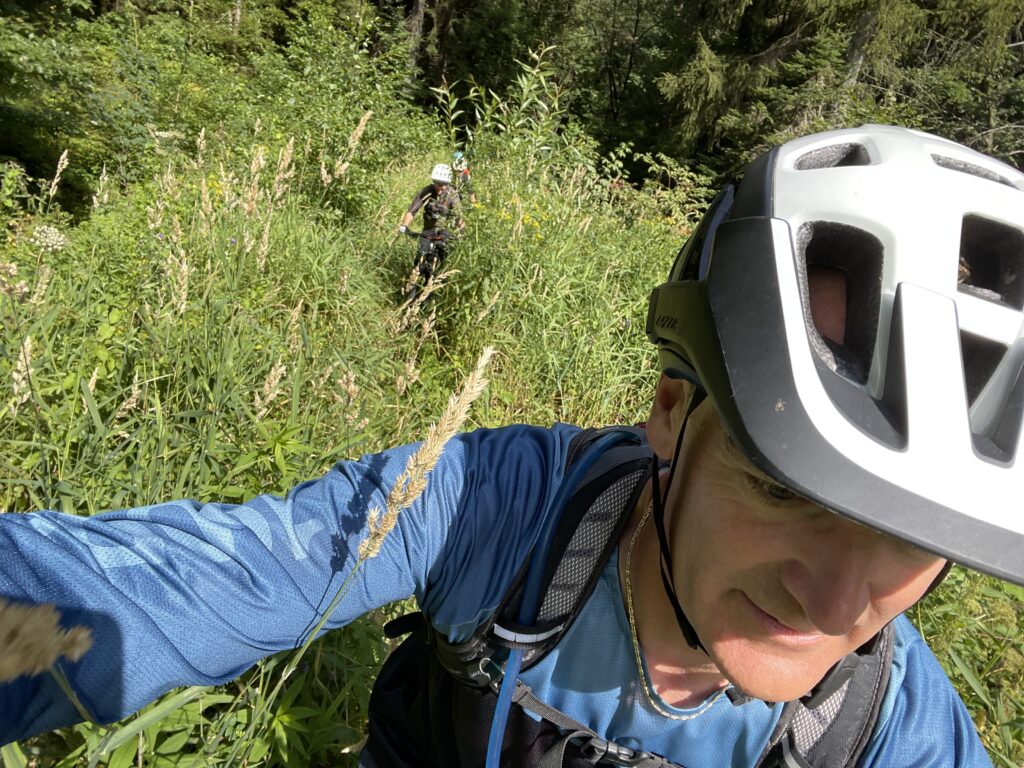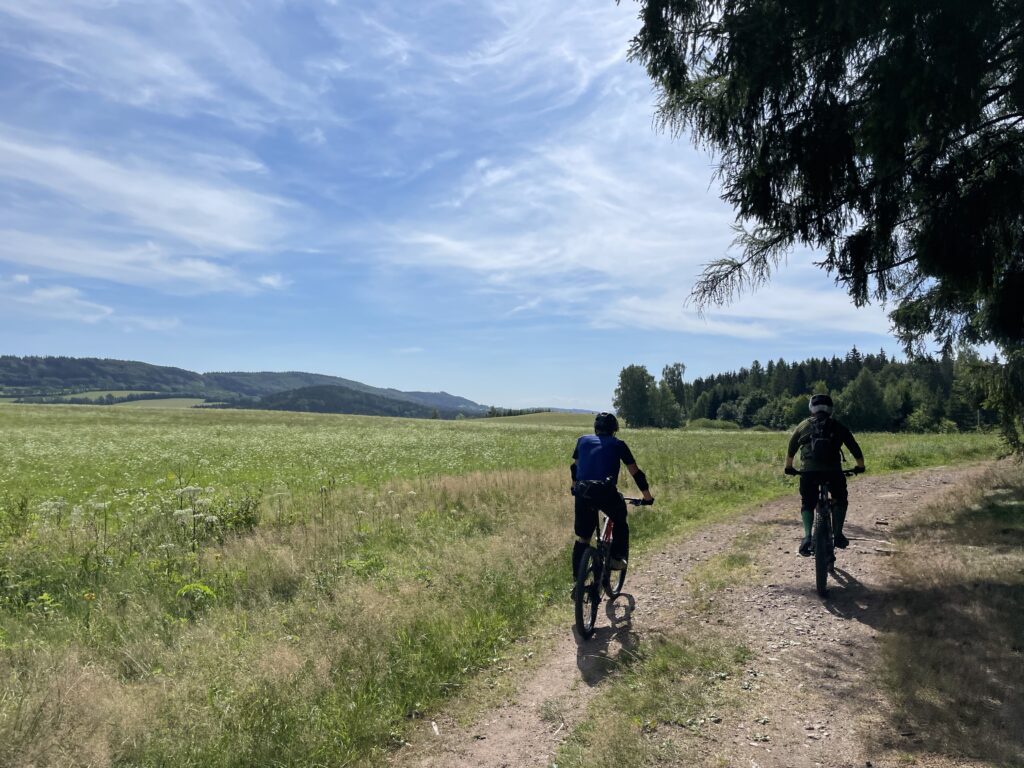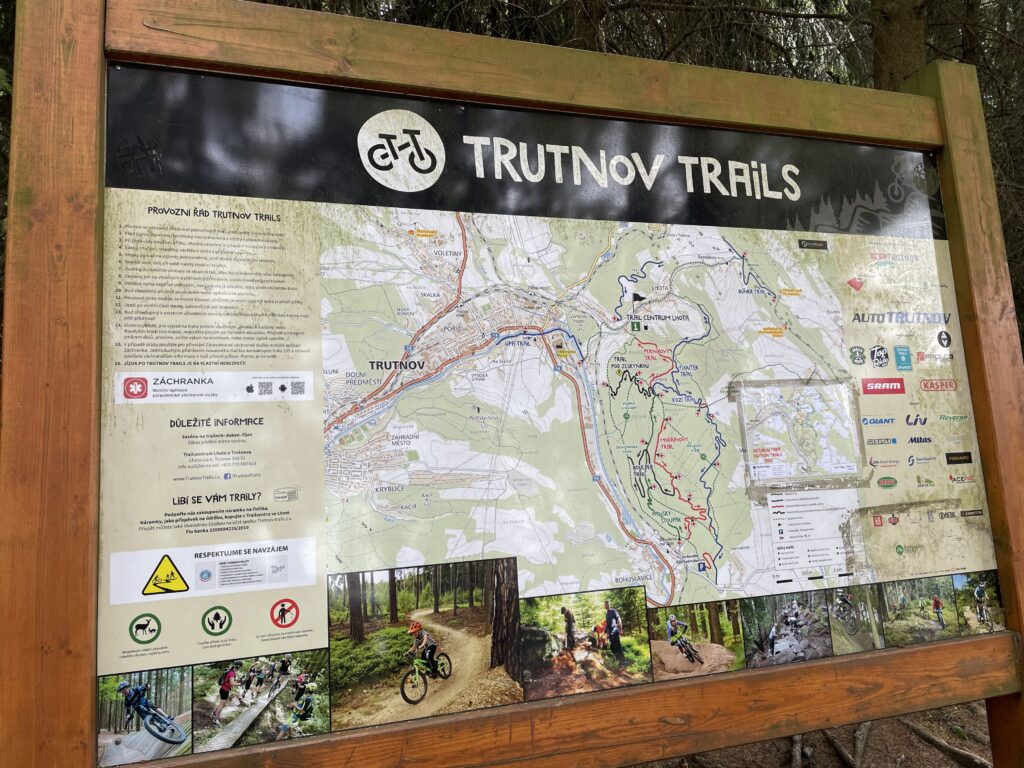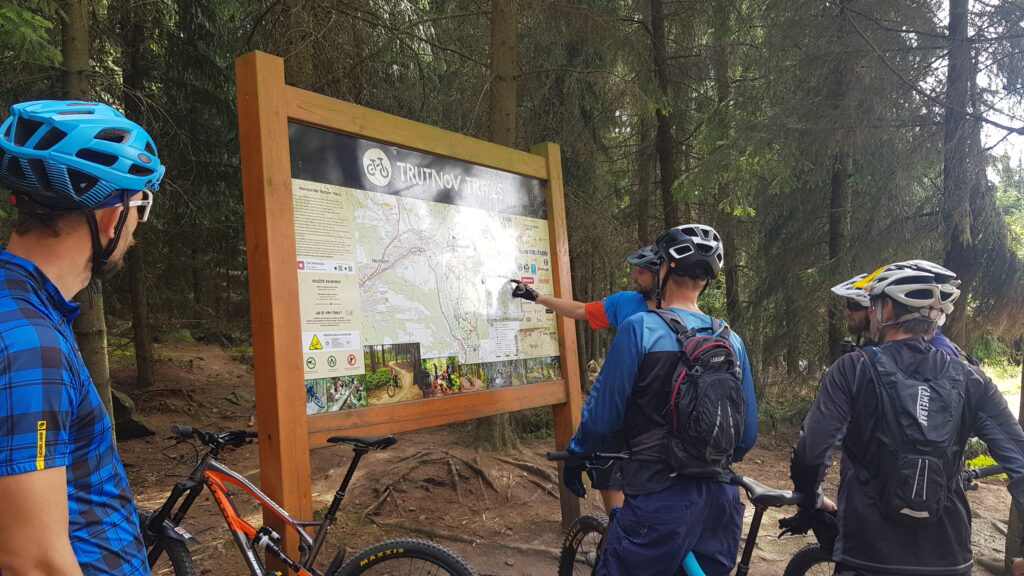 At the top there is a place where you can practice on some rock combinations. Radim is generous enough to also show how it's not done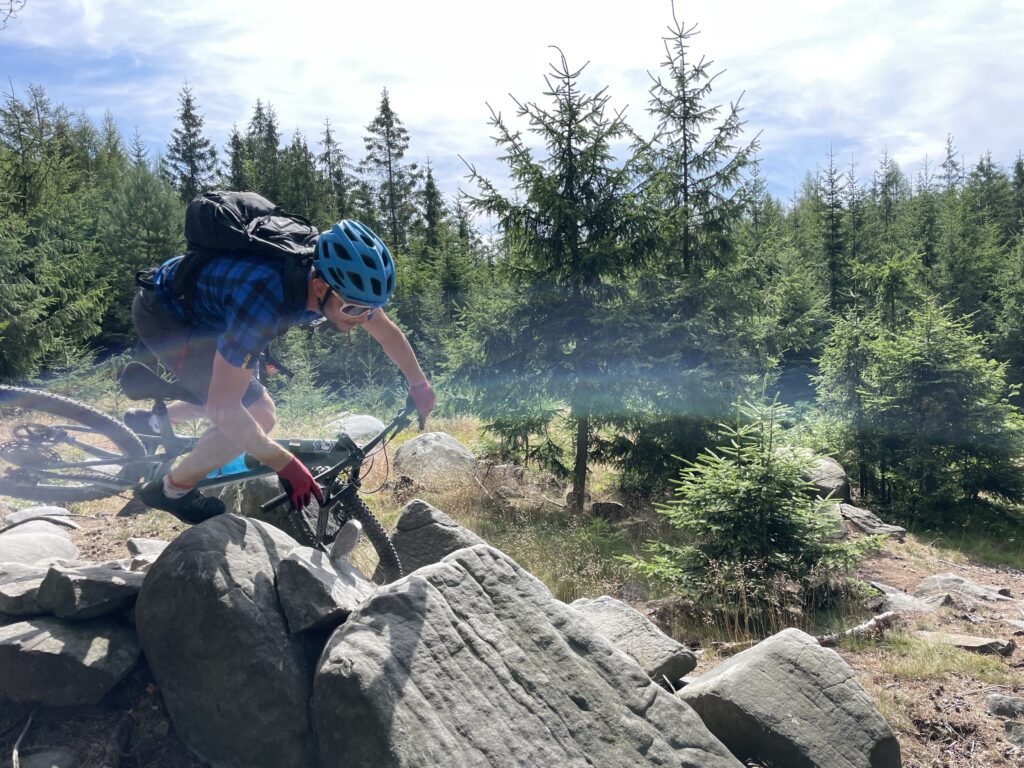 We are all over the place enjoying ourselves up to lunch time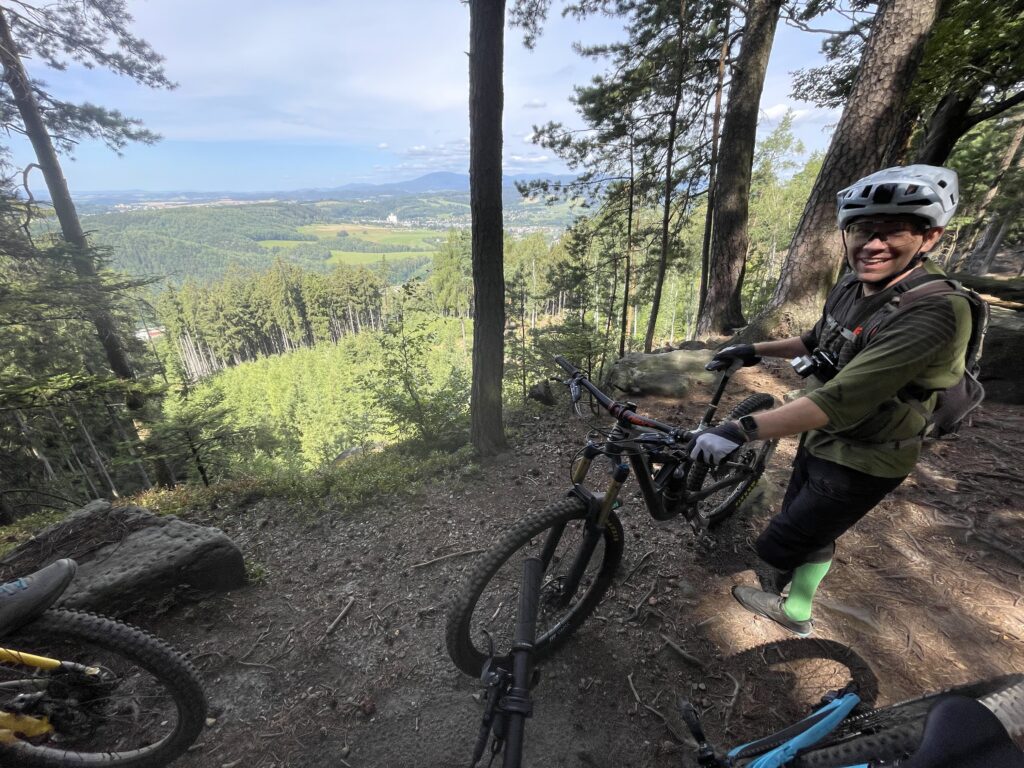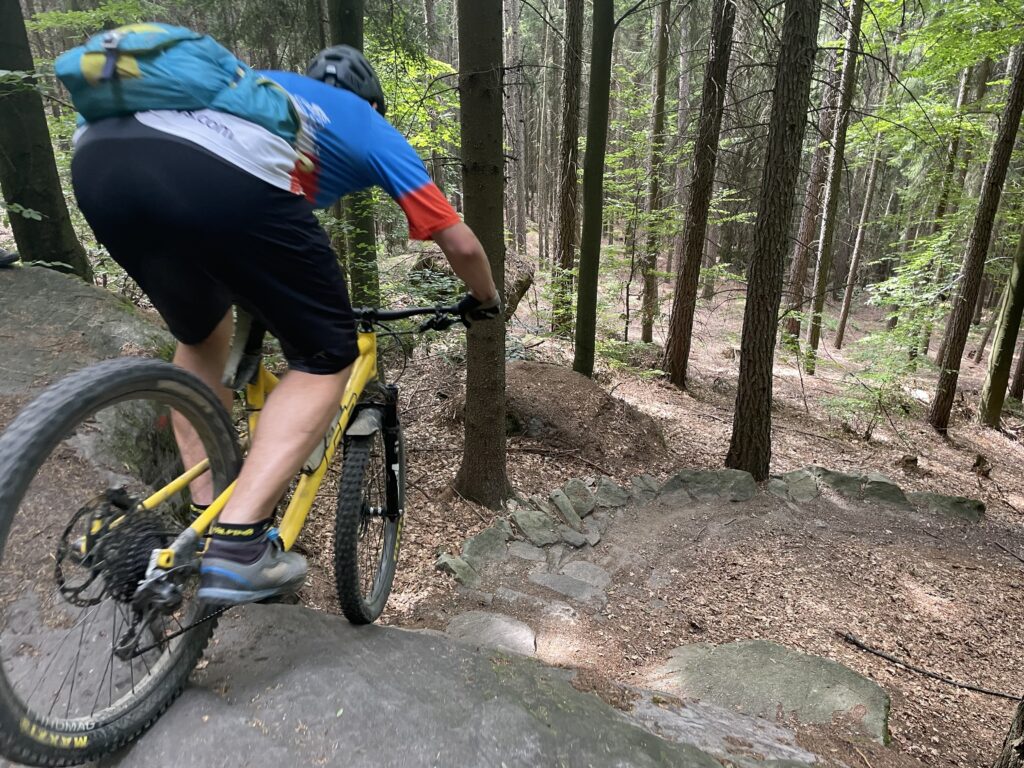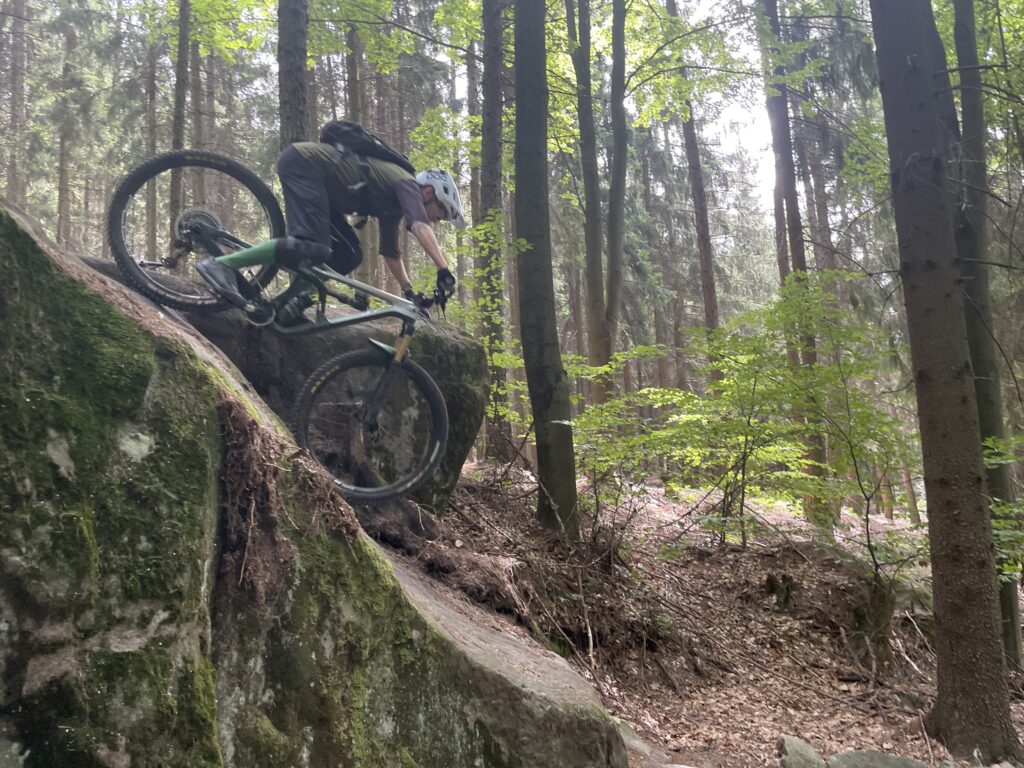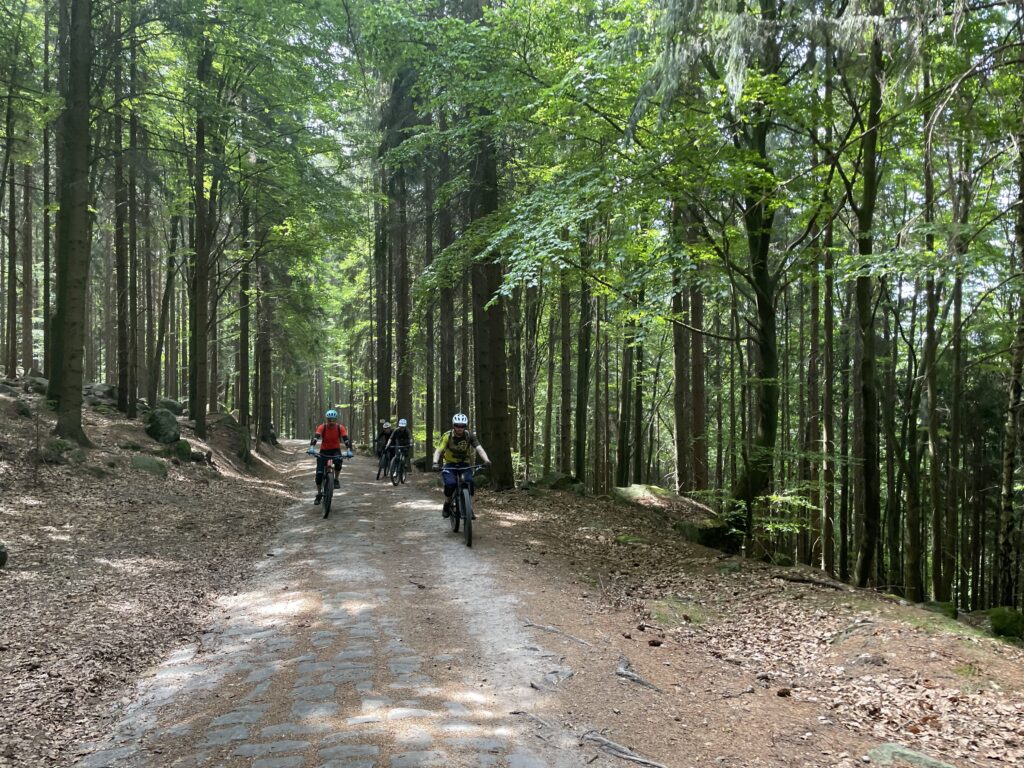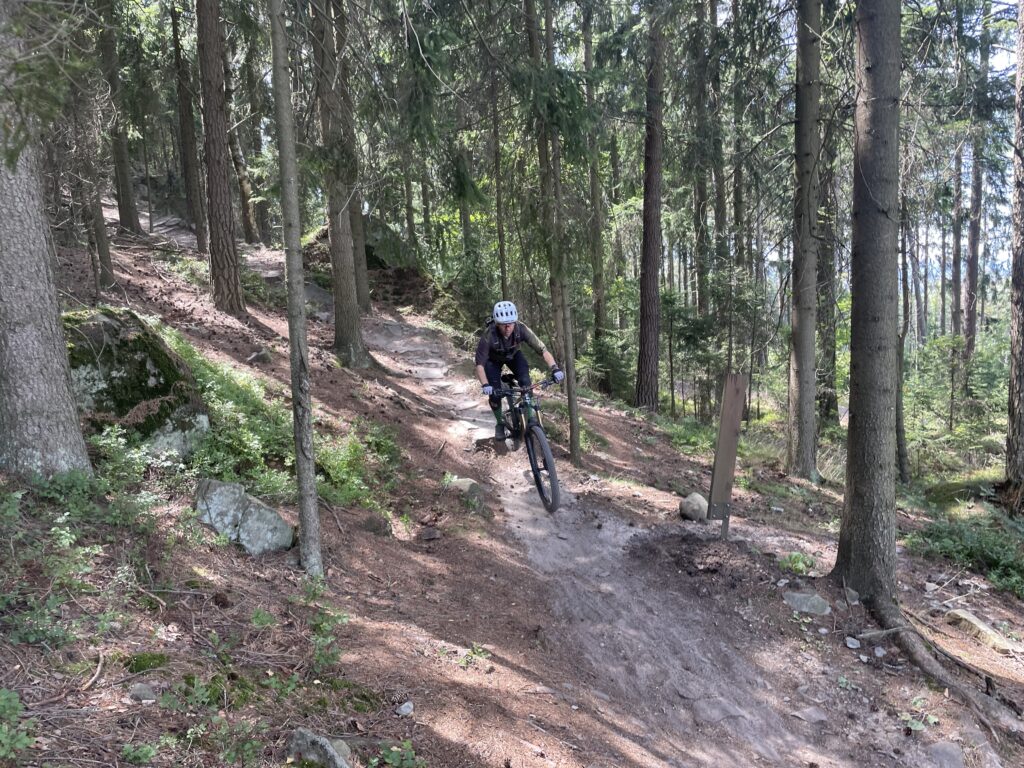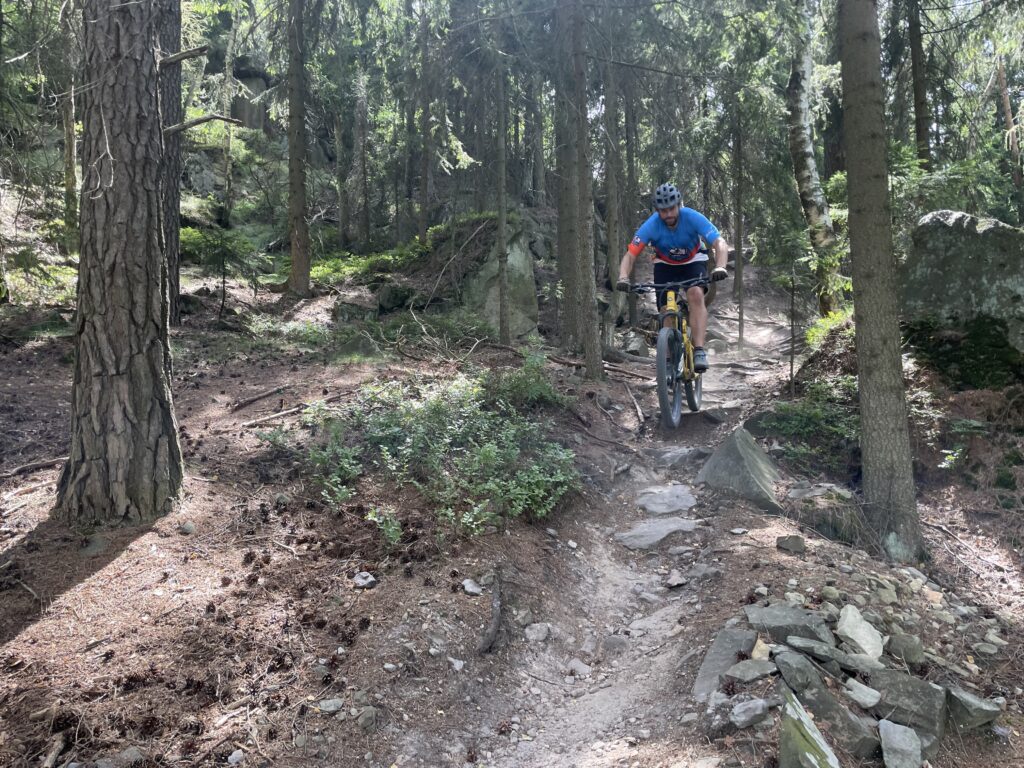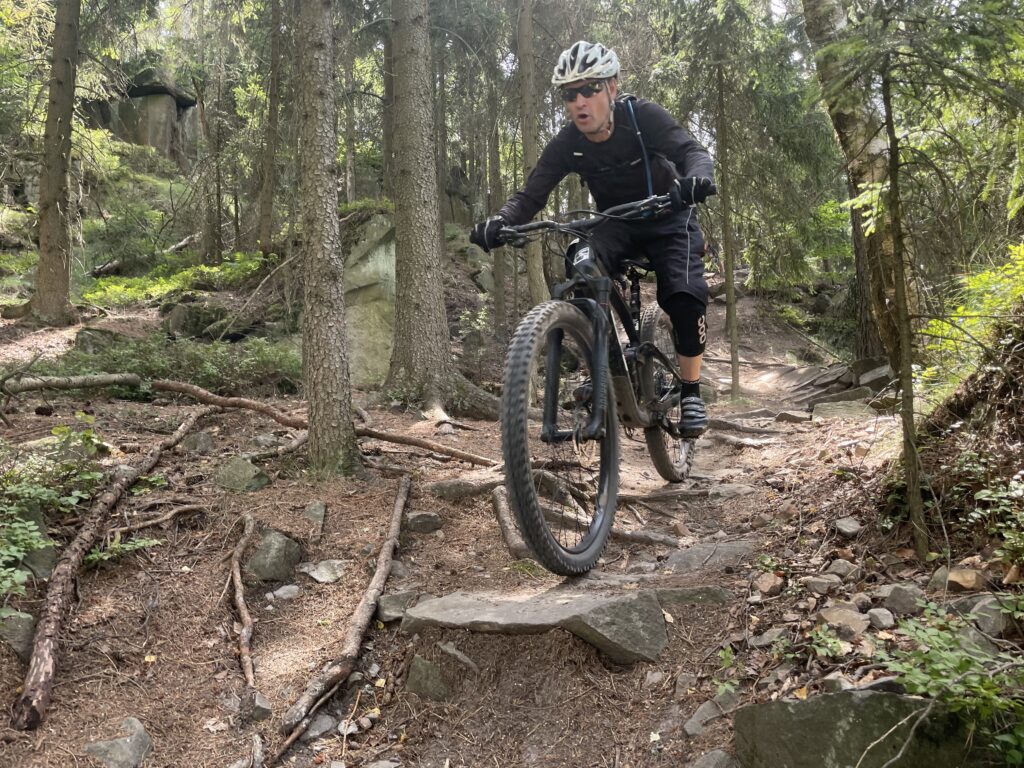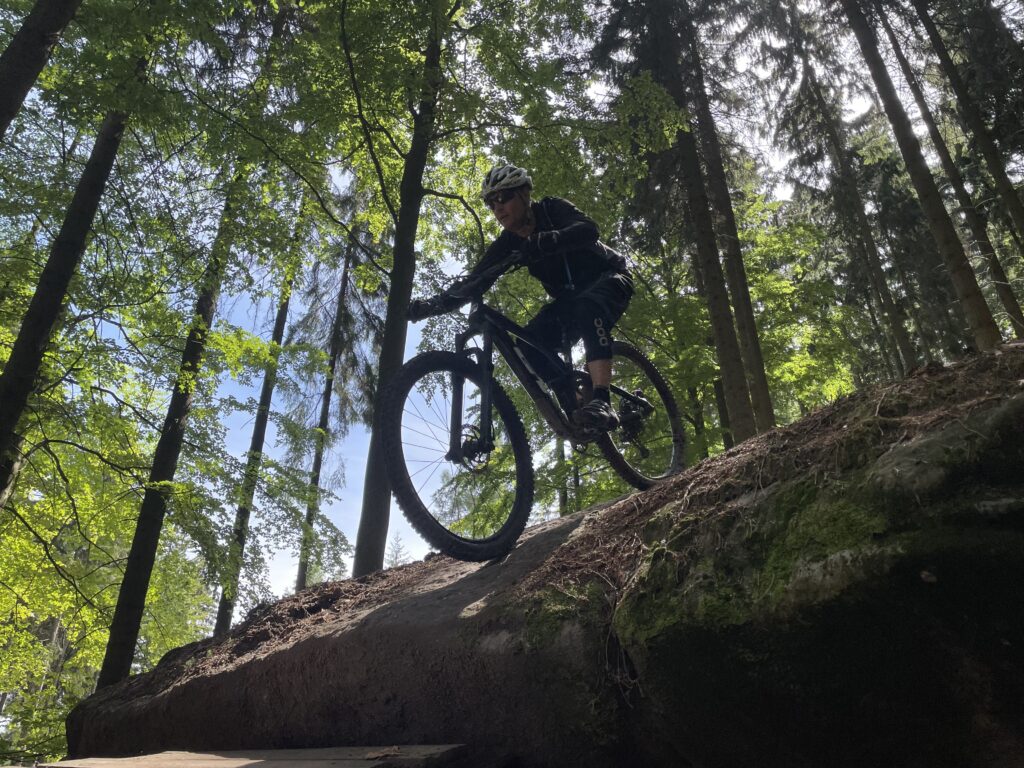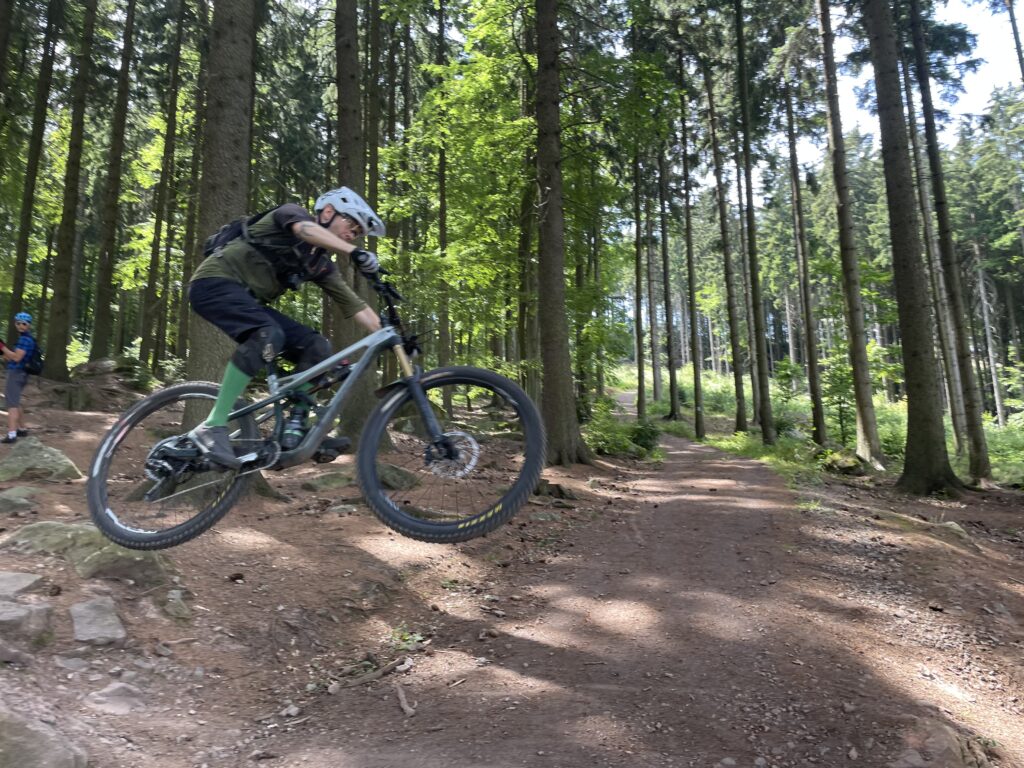 We're back at the trail center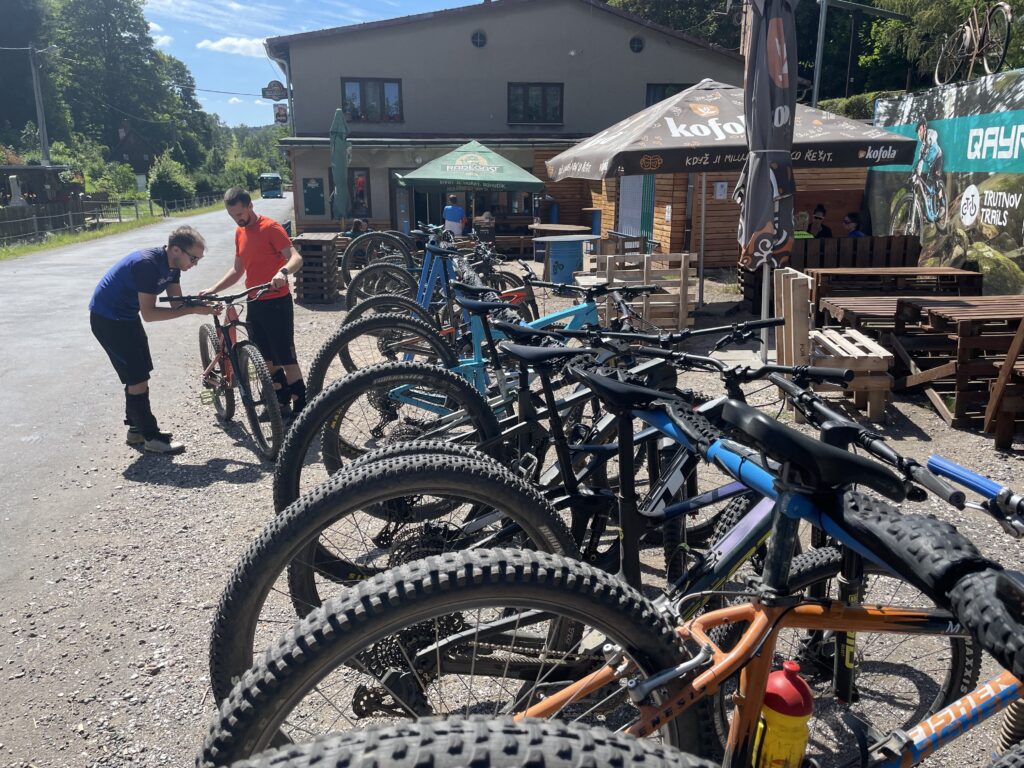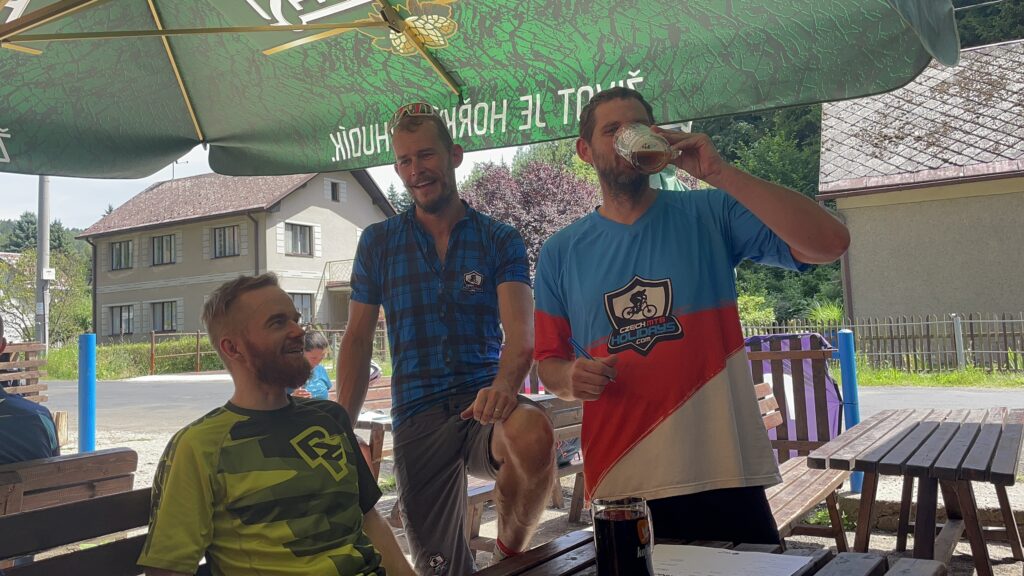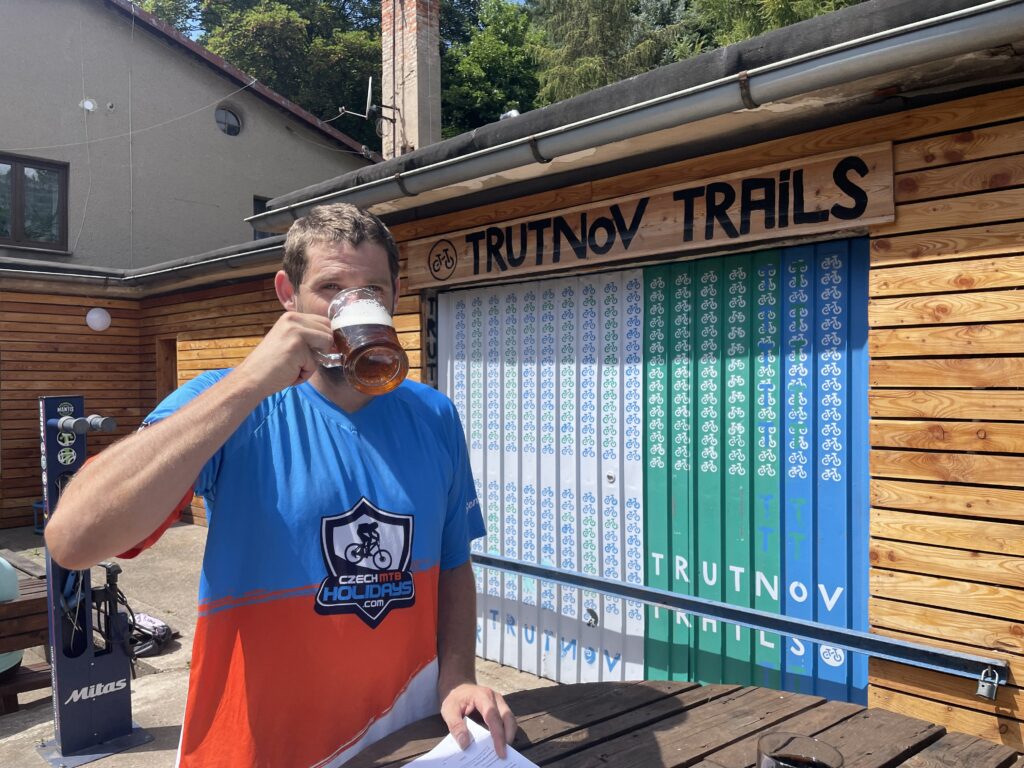 After Lunch we get a special treat. A shuttle ride up the hill.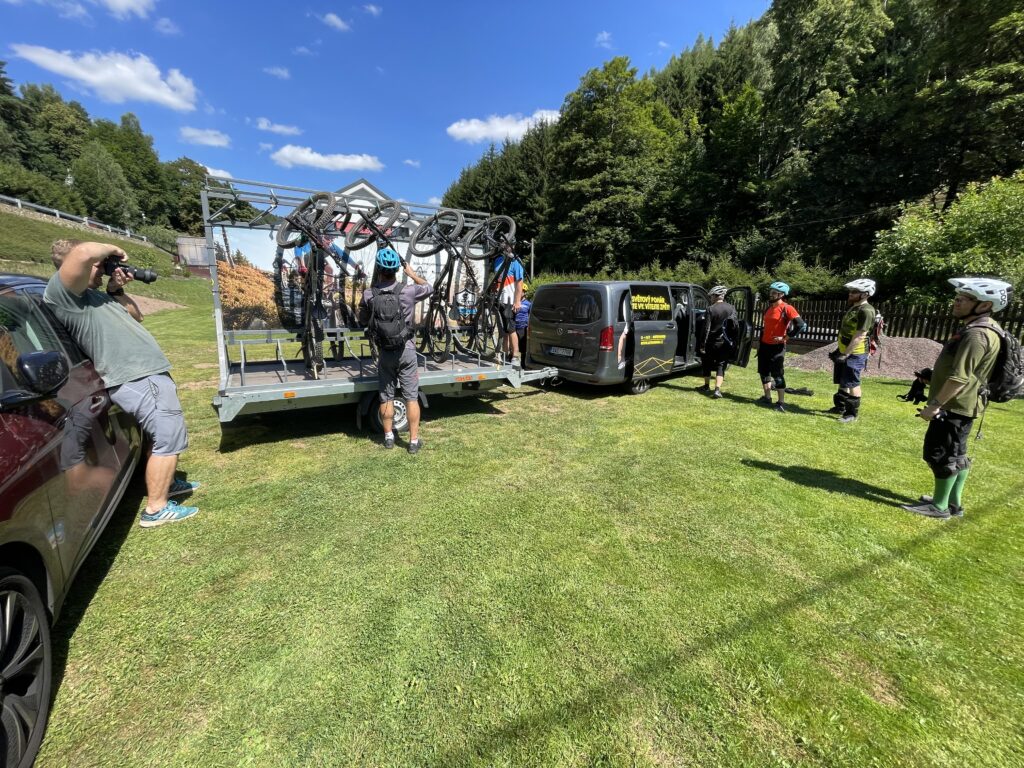 The afternoon ride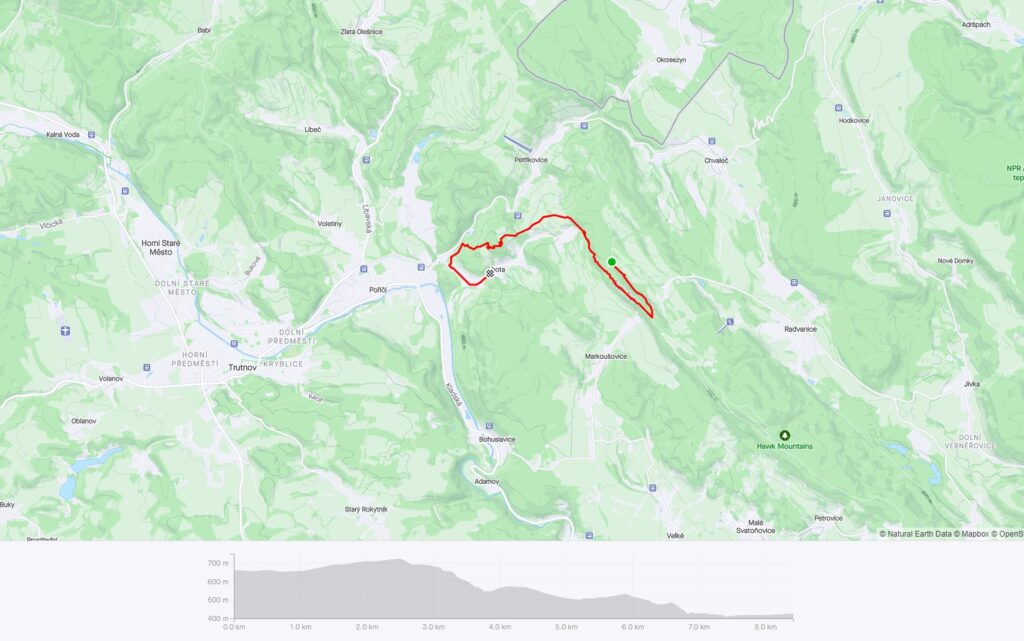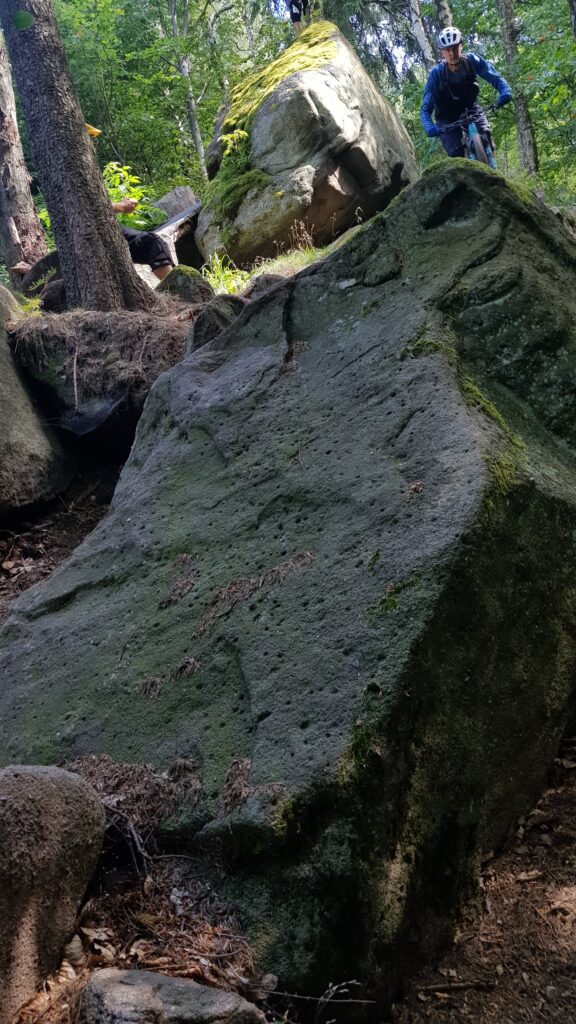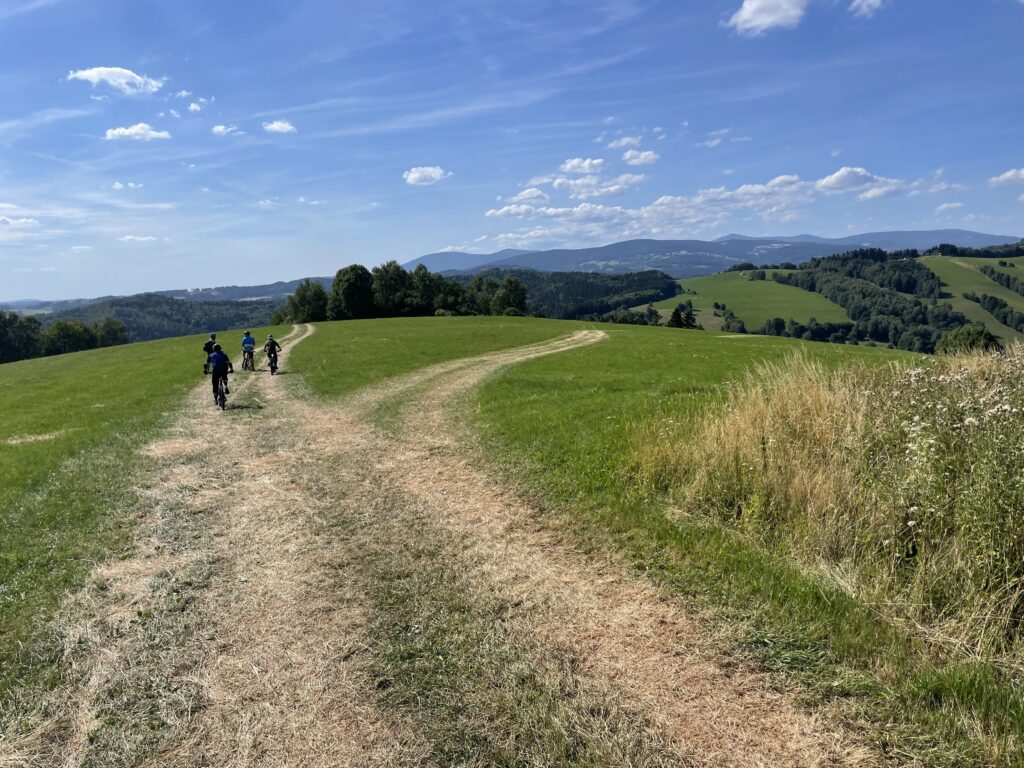 Now check this out… This was one of many features that you have to walk down first to check the line. Maybe a bit hard to see from the pics but check out Jan showing how it's done. This is double diamond – super steep with some gnarly transitions. You can tell how steep it is from the size of Andrei in a yellow helmet taking pictures down to the right.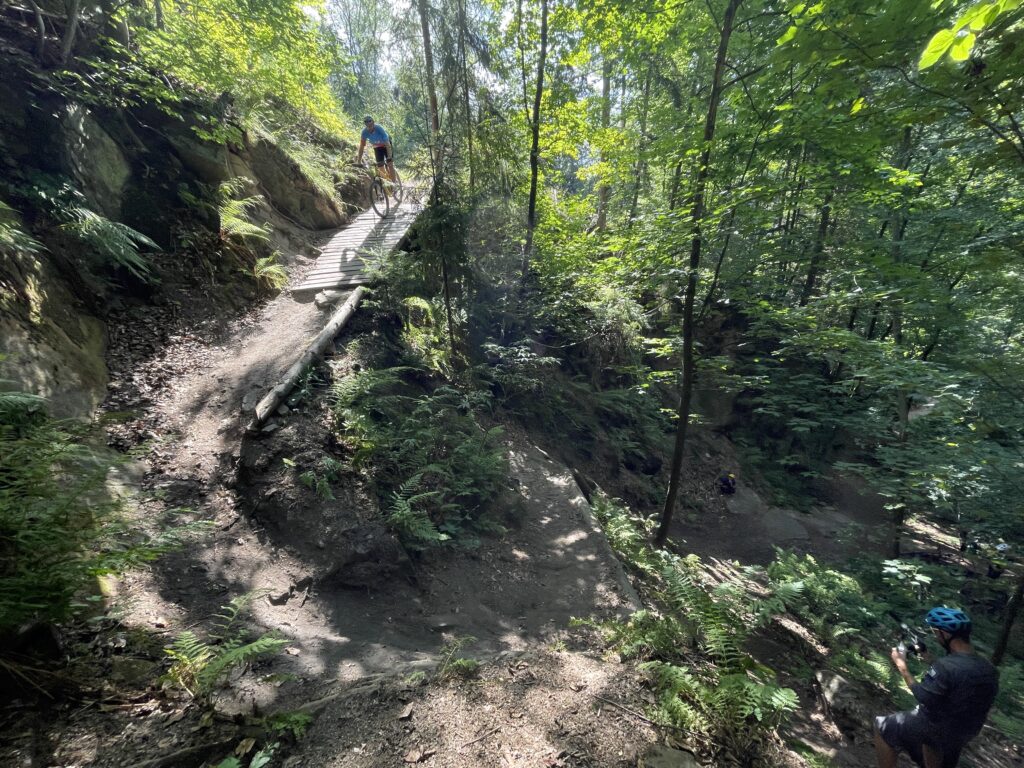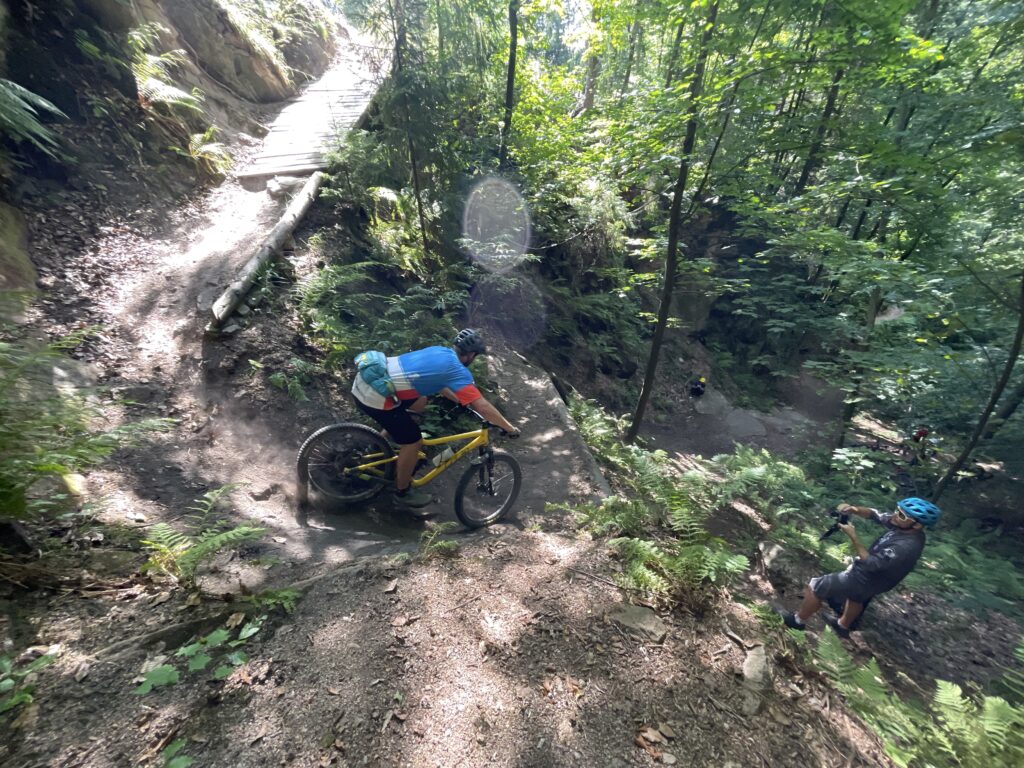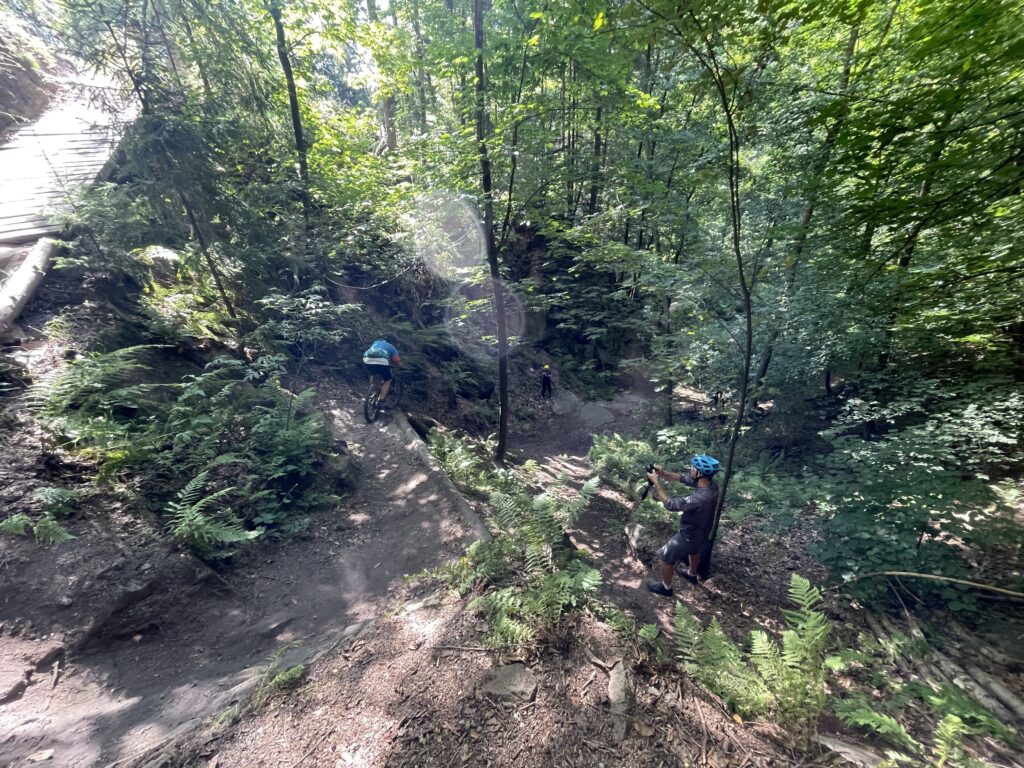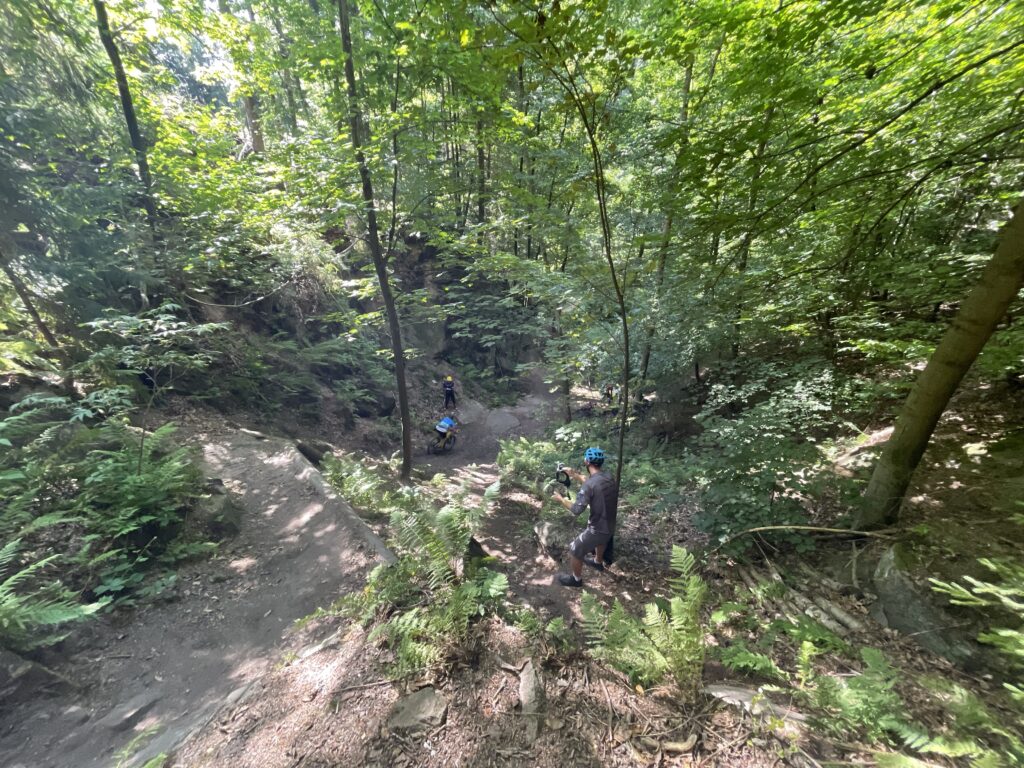 We walk it down first and then we go for it – what a rush. Check out the ladder at the top – another reference point for how steep it is.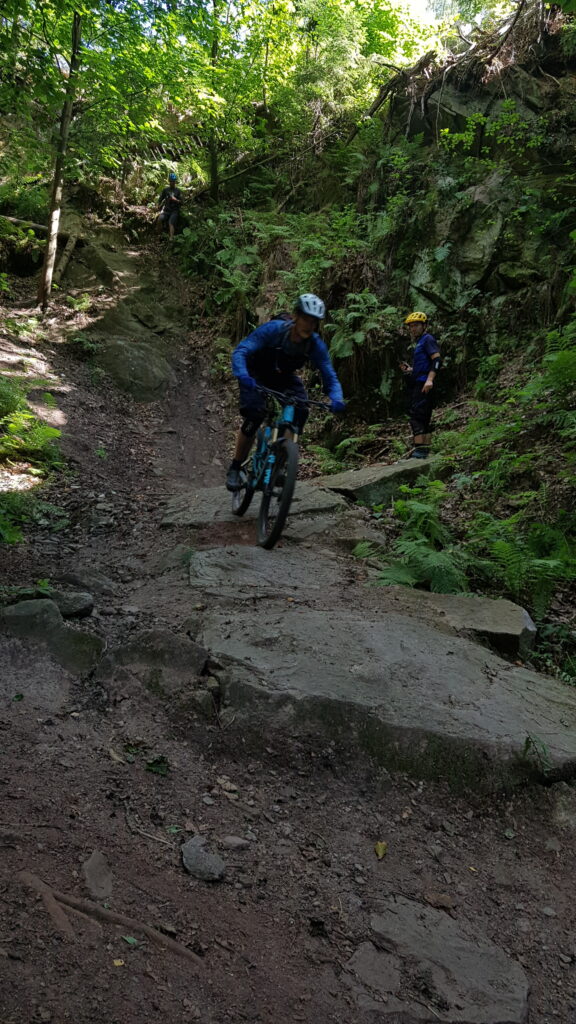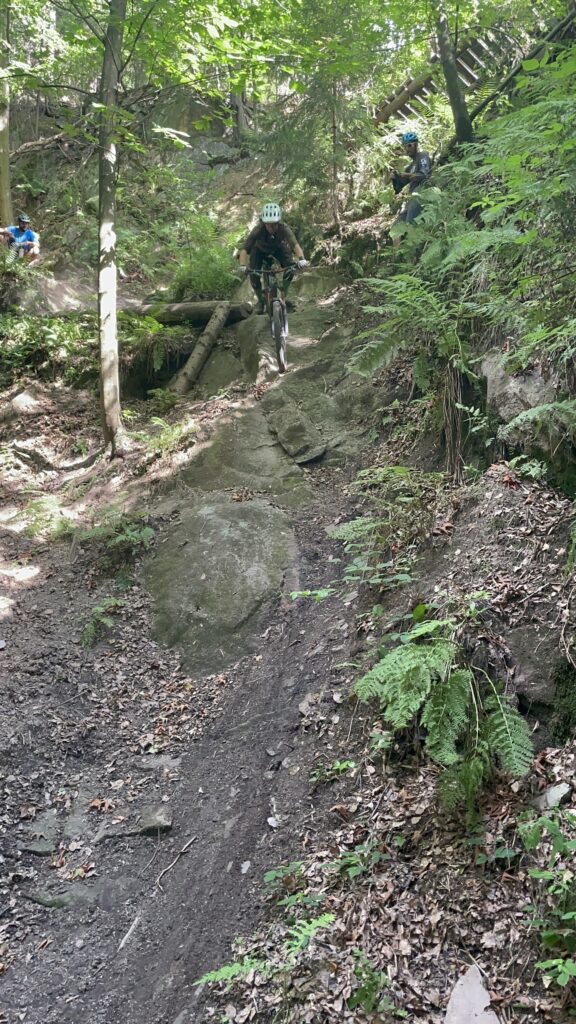 Back again at the trail center. Just look at this. Living history!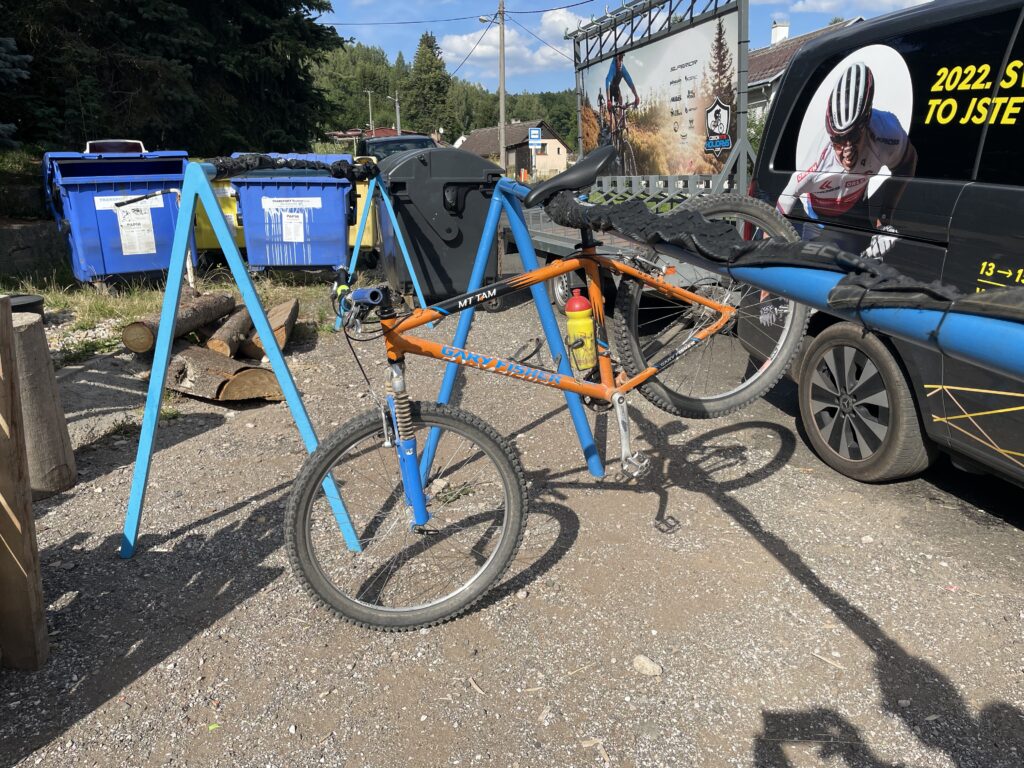 Day 6 – Life continues in Trutnov paradise
It just gets better and better – extremely good planning by Radim and we get a drop off at the top 😊.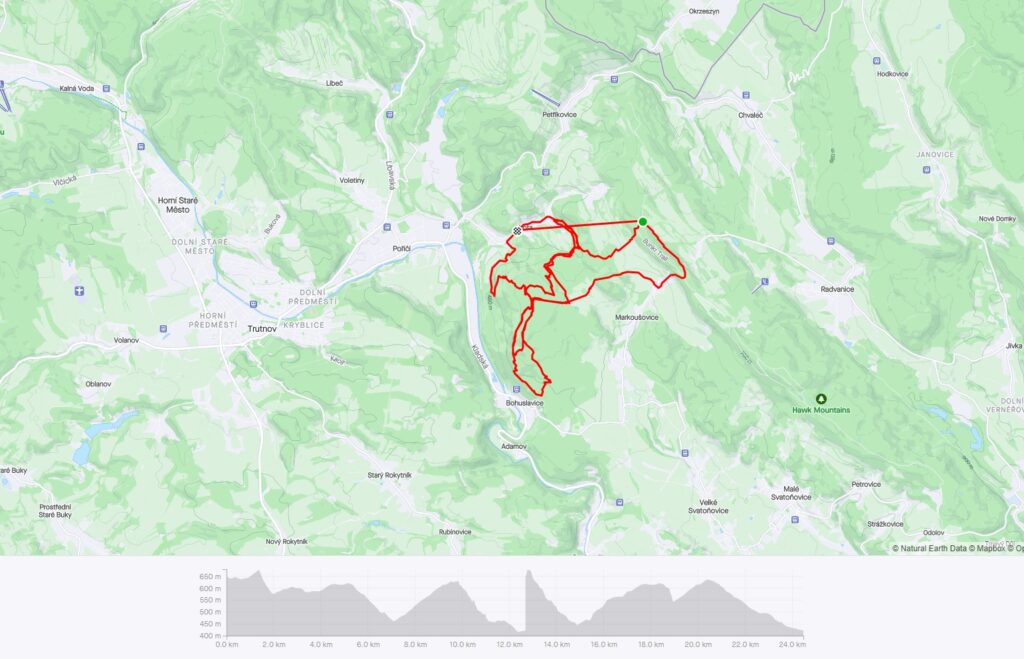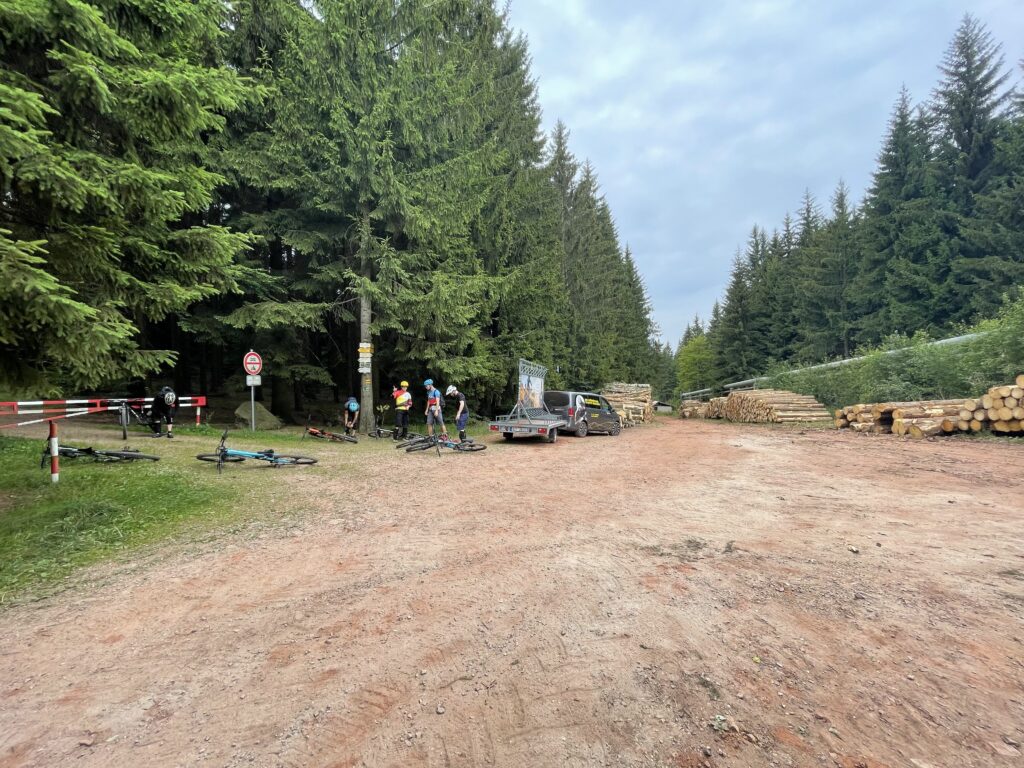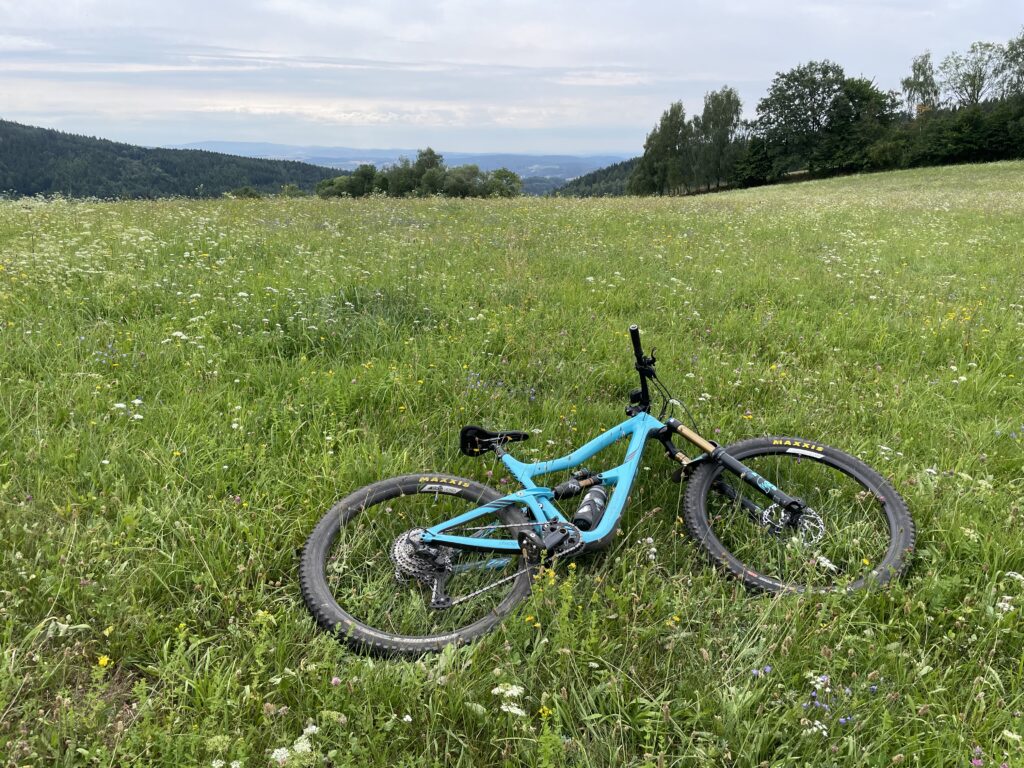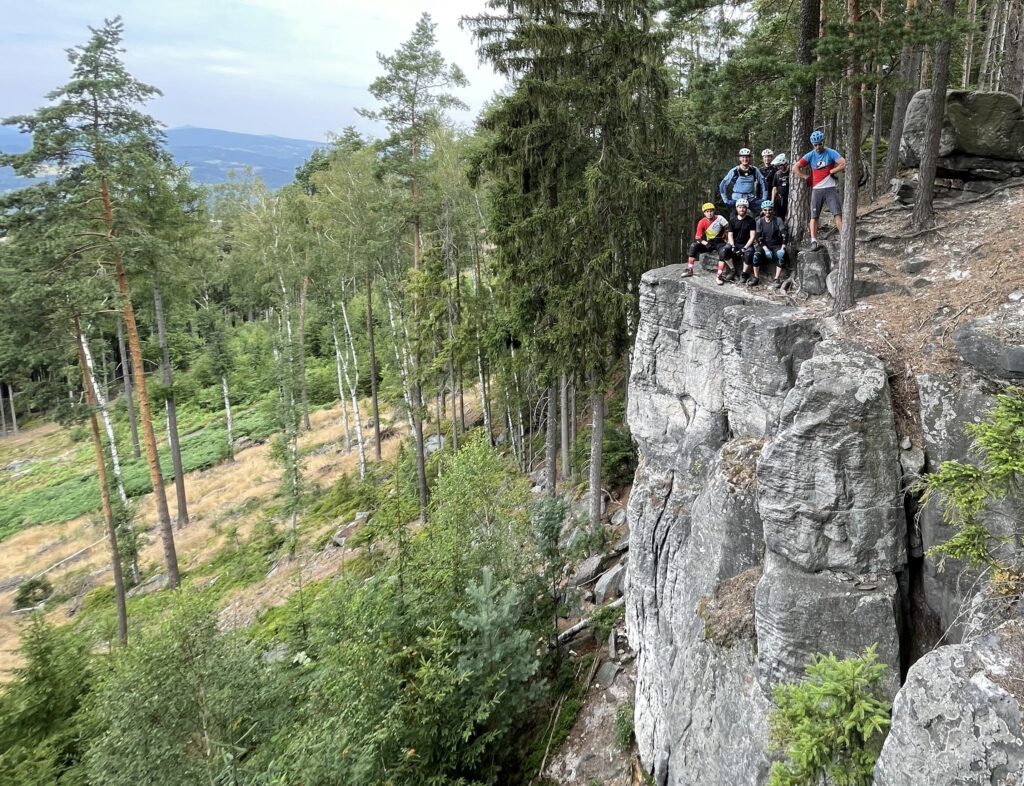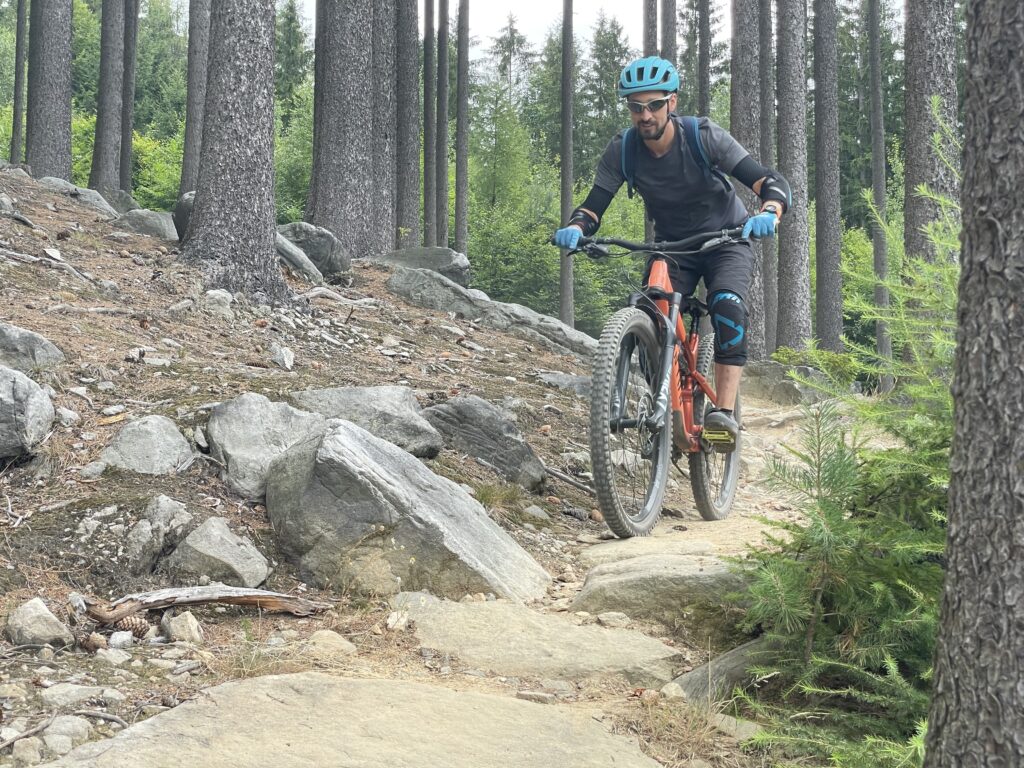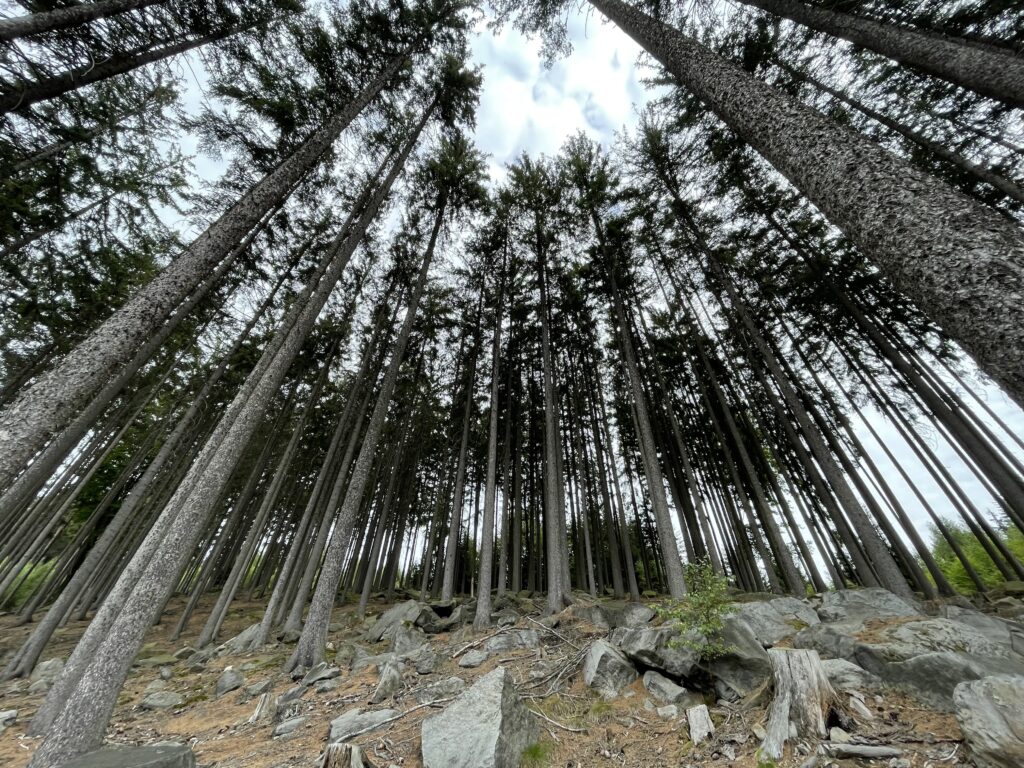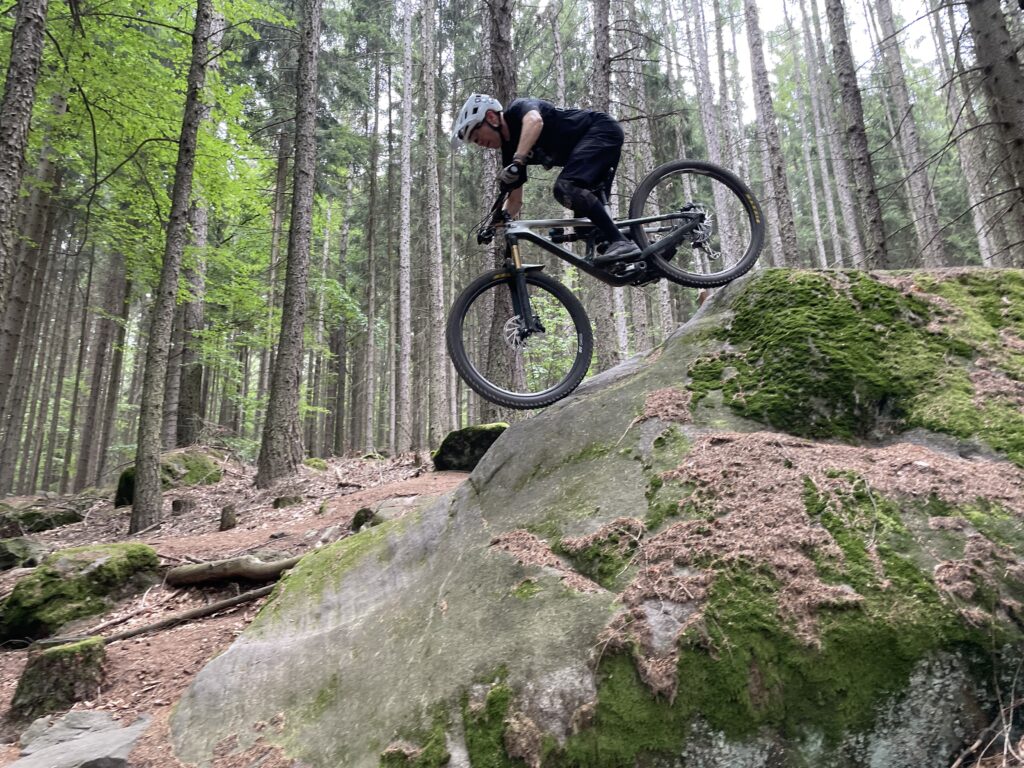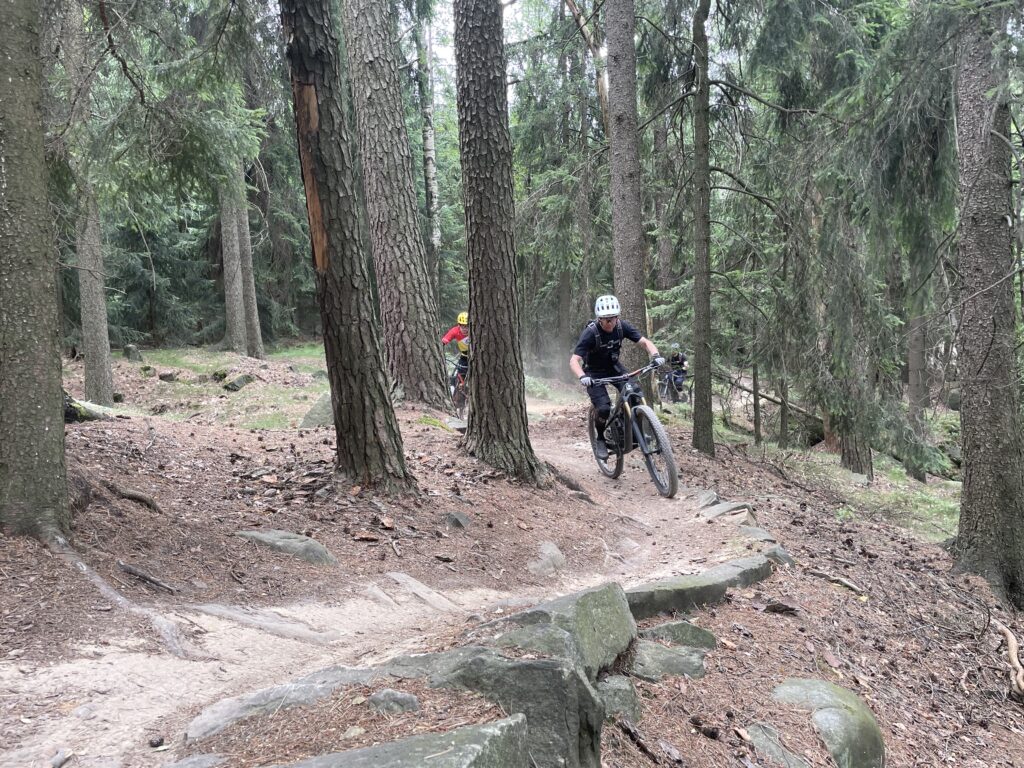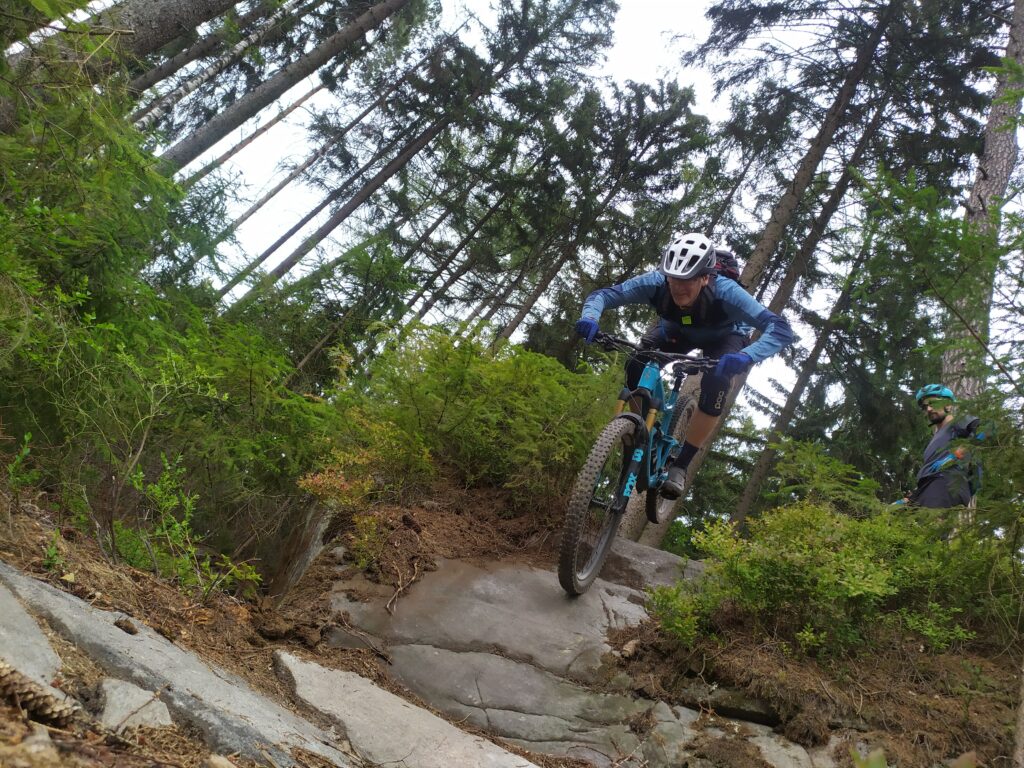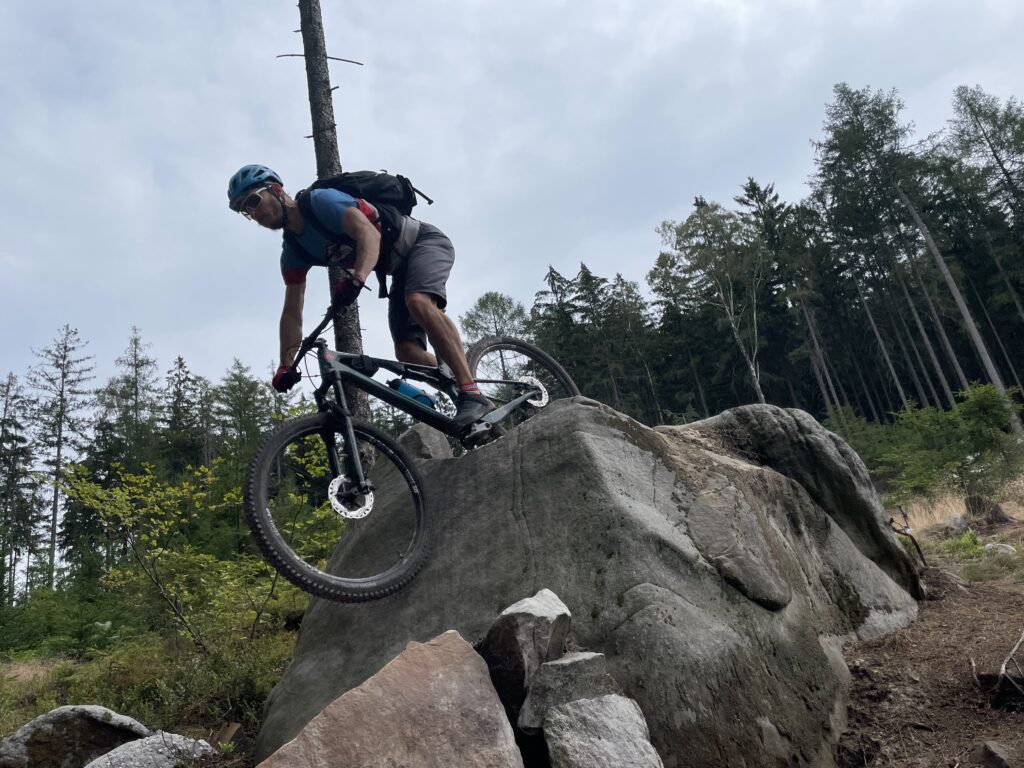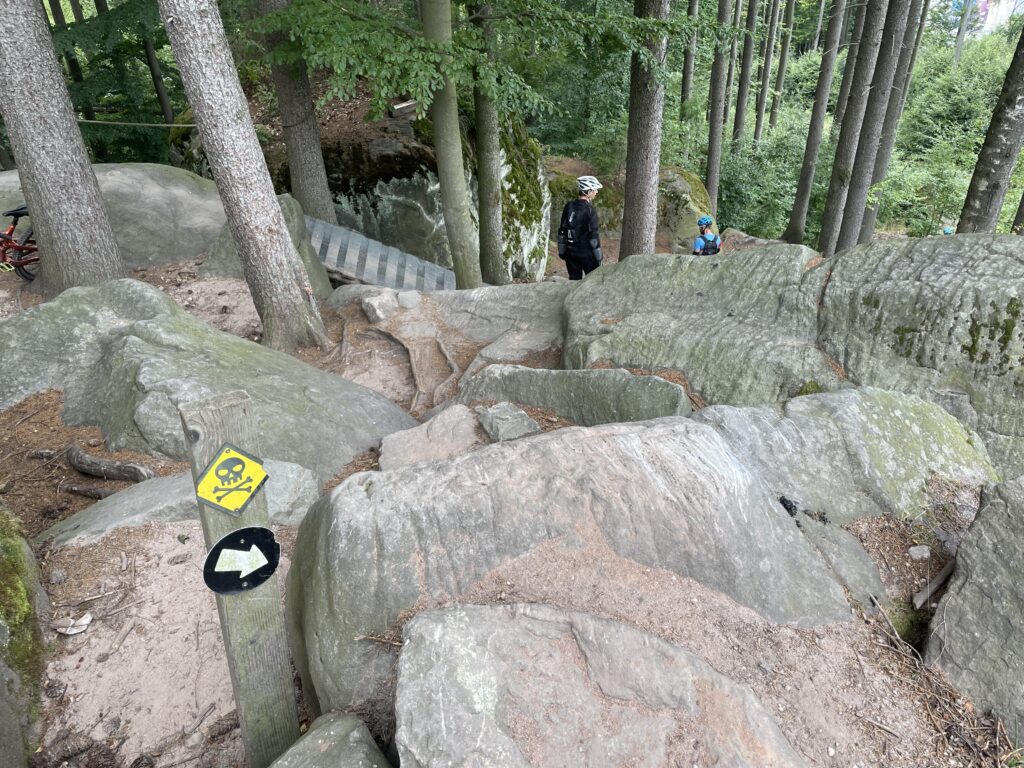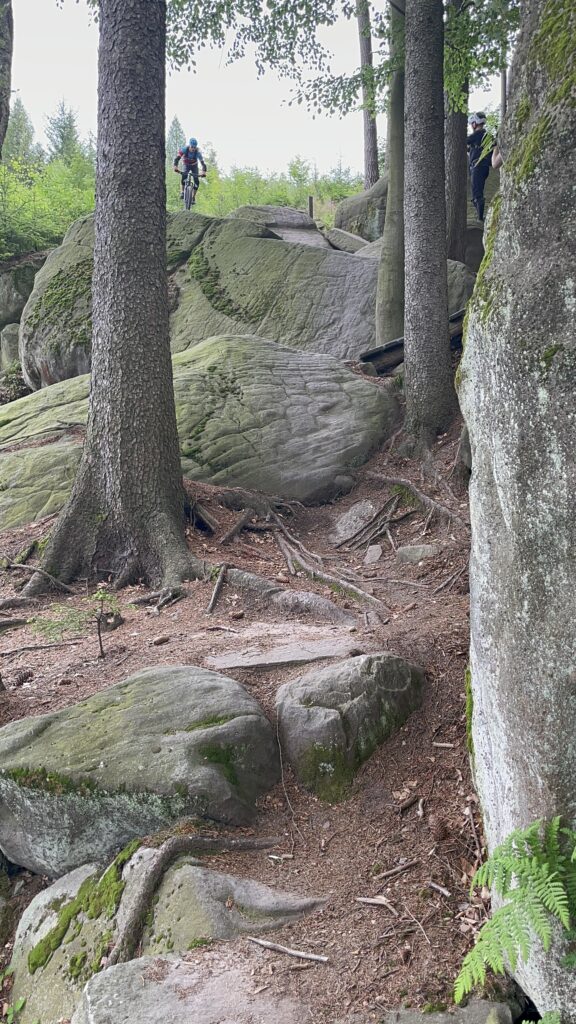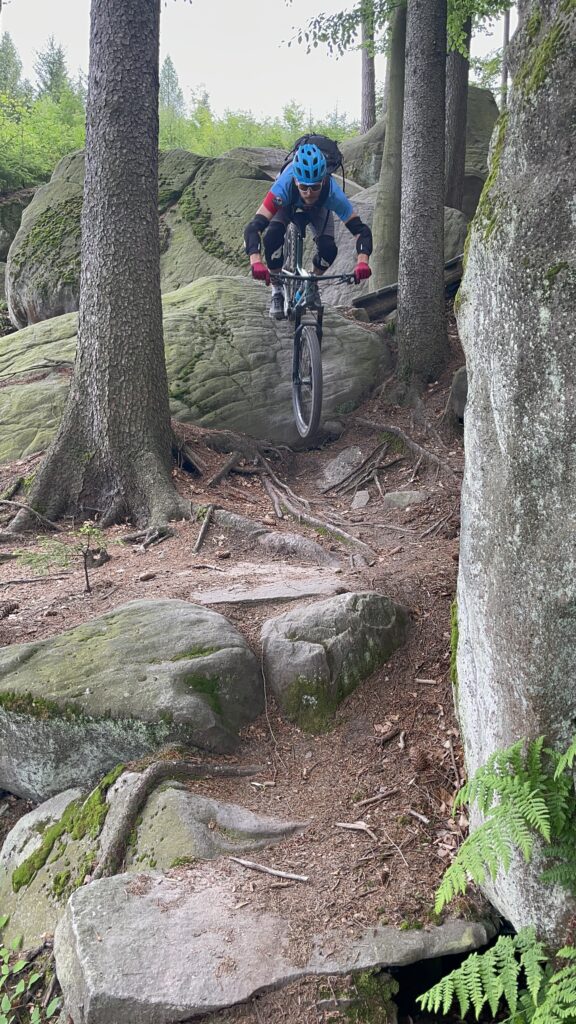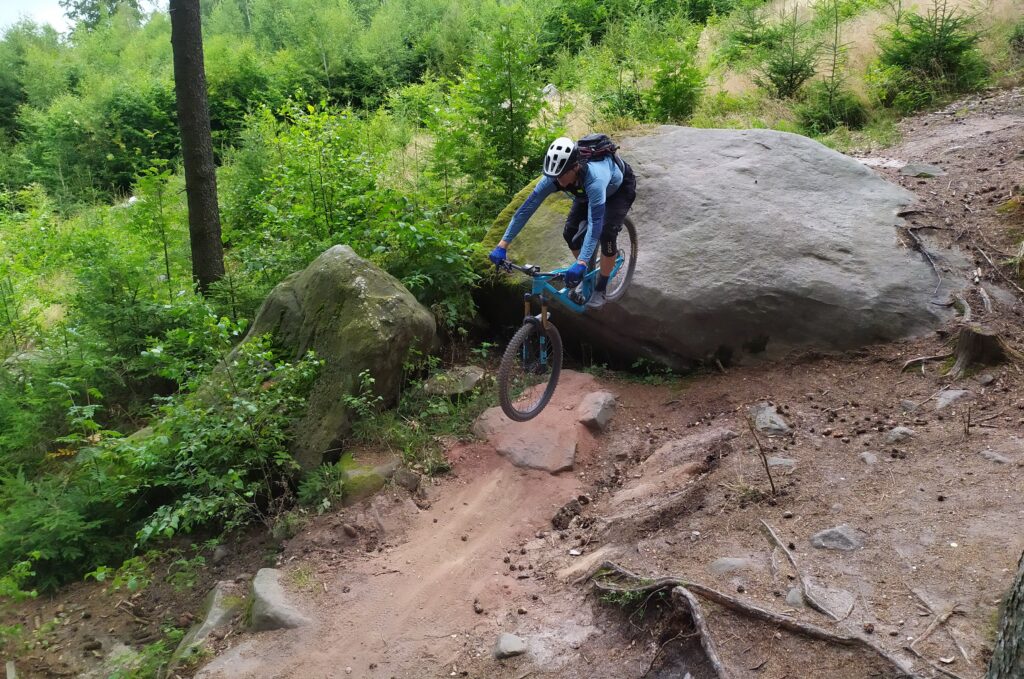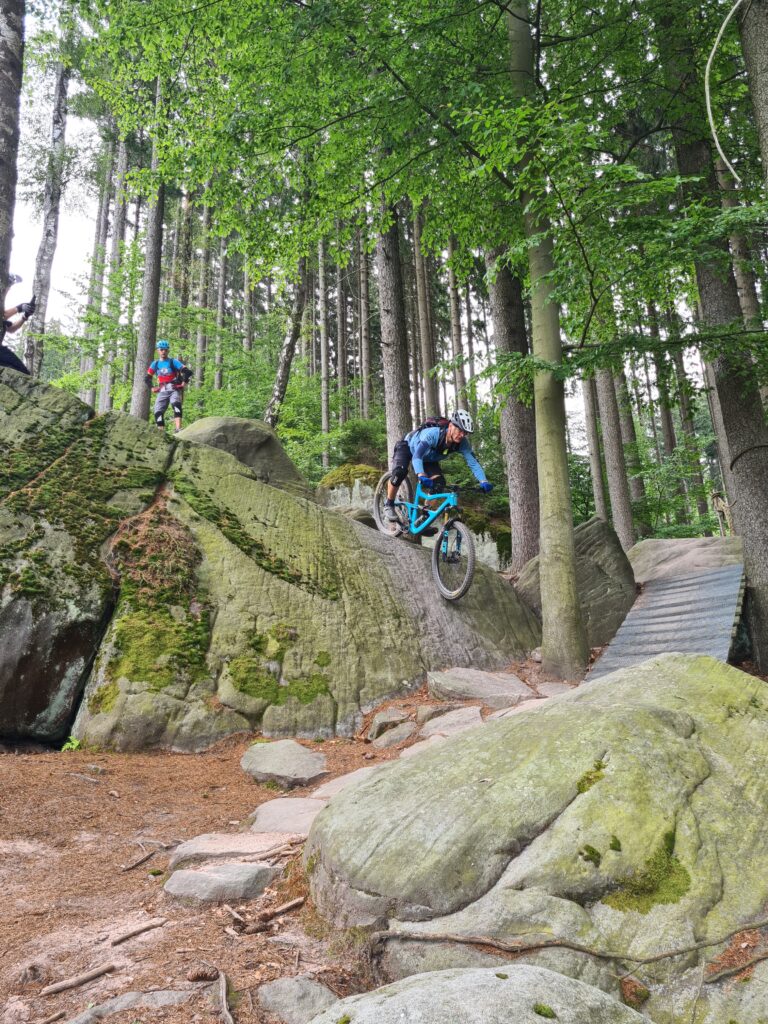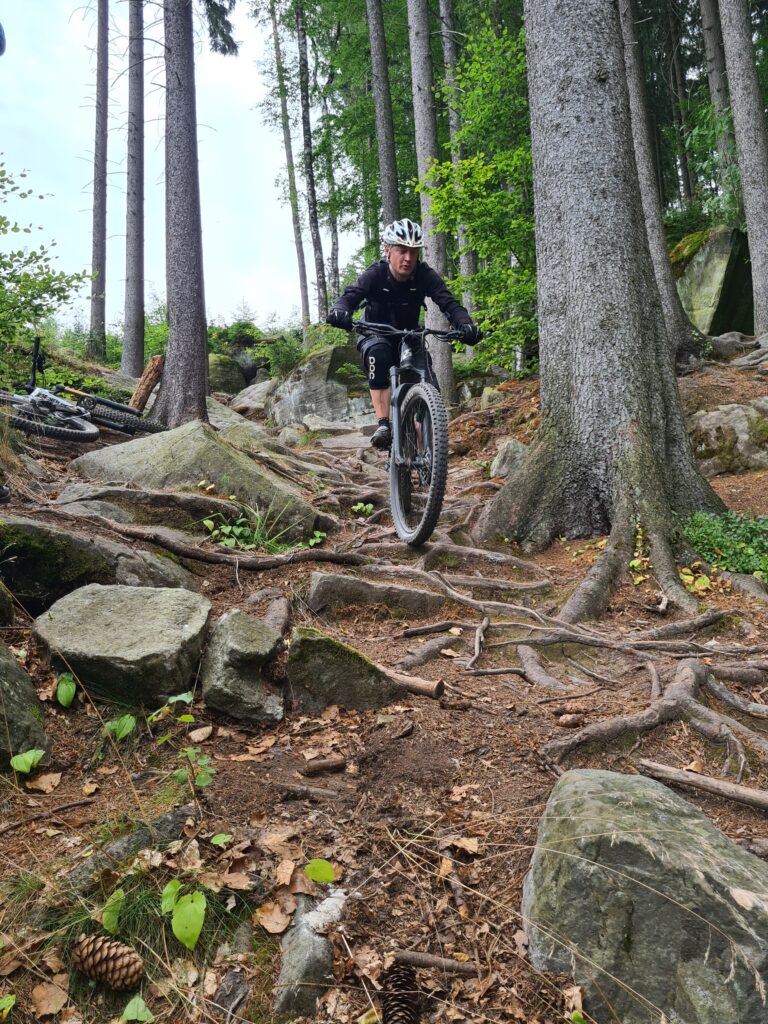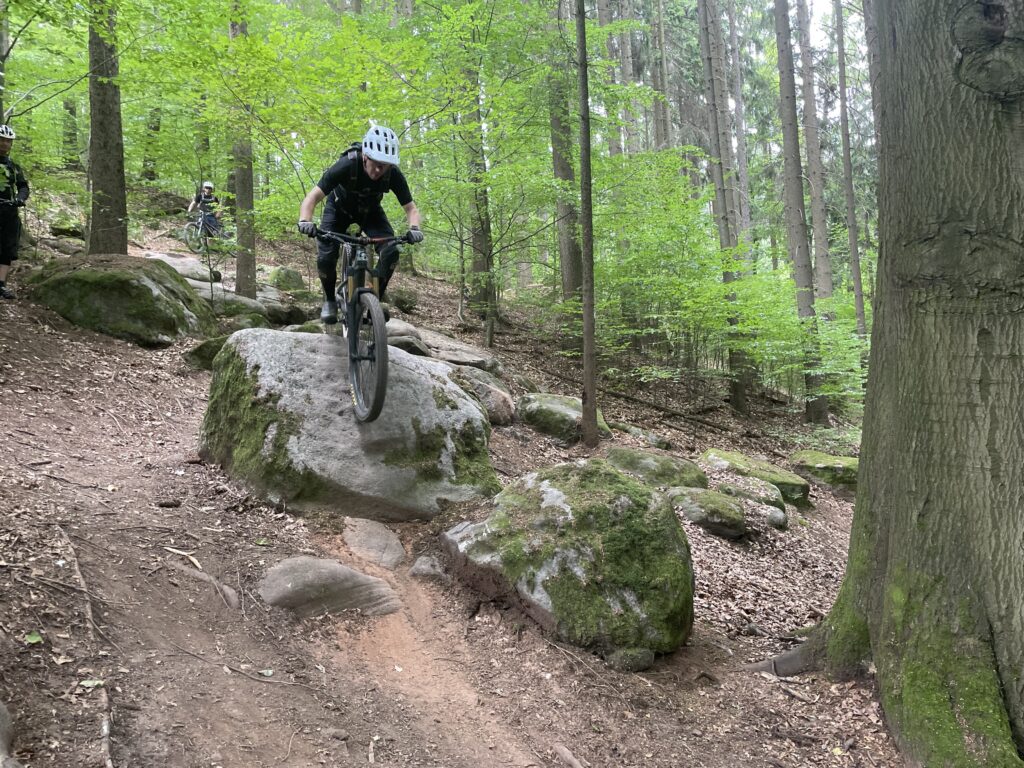 This is the man we love, the soul and mastermind behind it all: Jan (in the middle).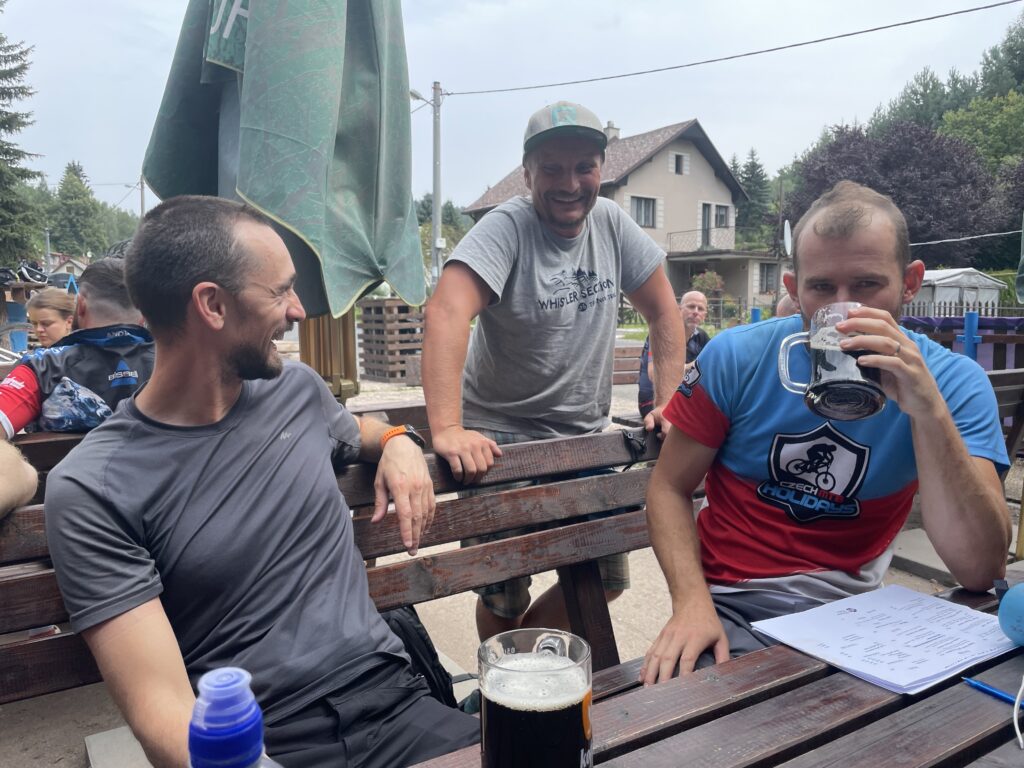 More from paradise: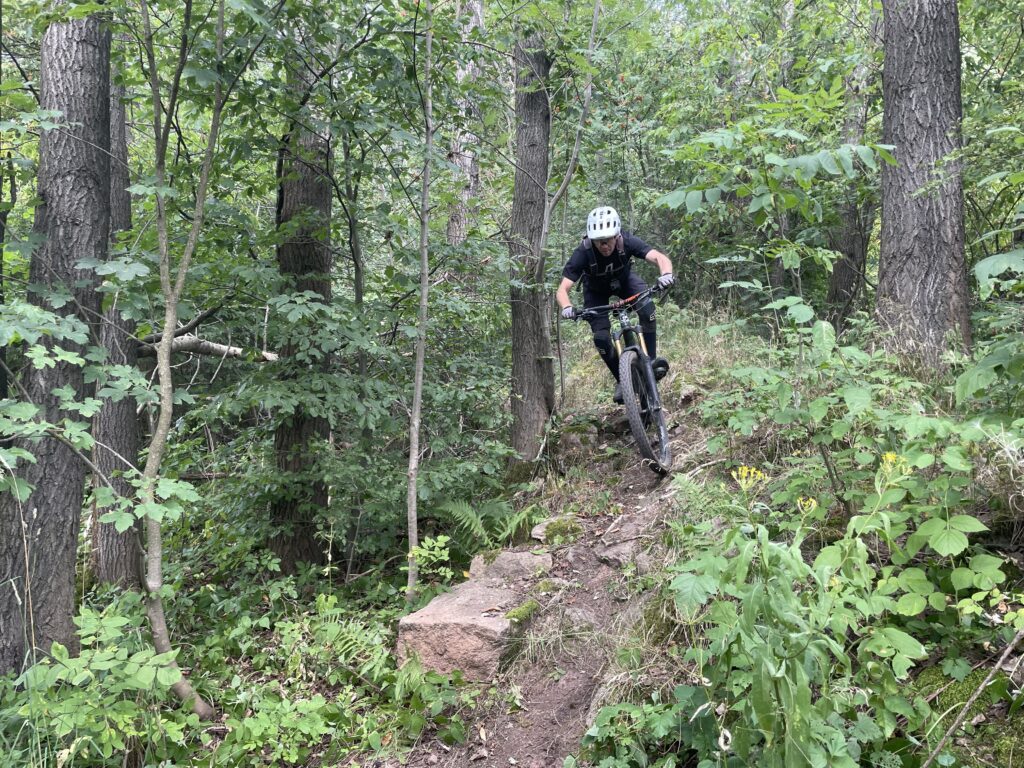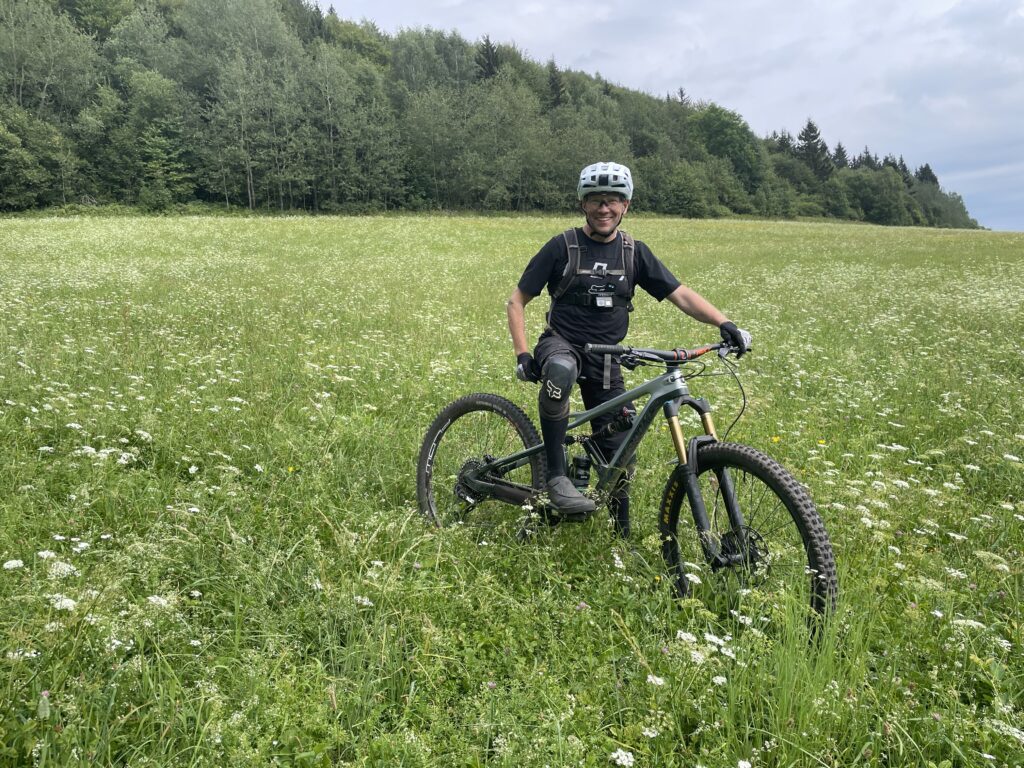 As always when approaching a tricky feature, Radim stops, explains and shows how it's done. This time a section of very steep berms down a gully – designed by Gravity Logics from Whistler.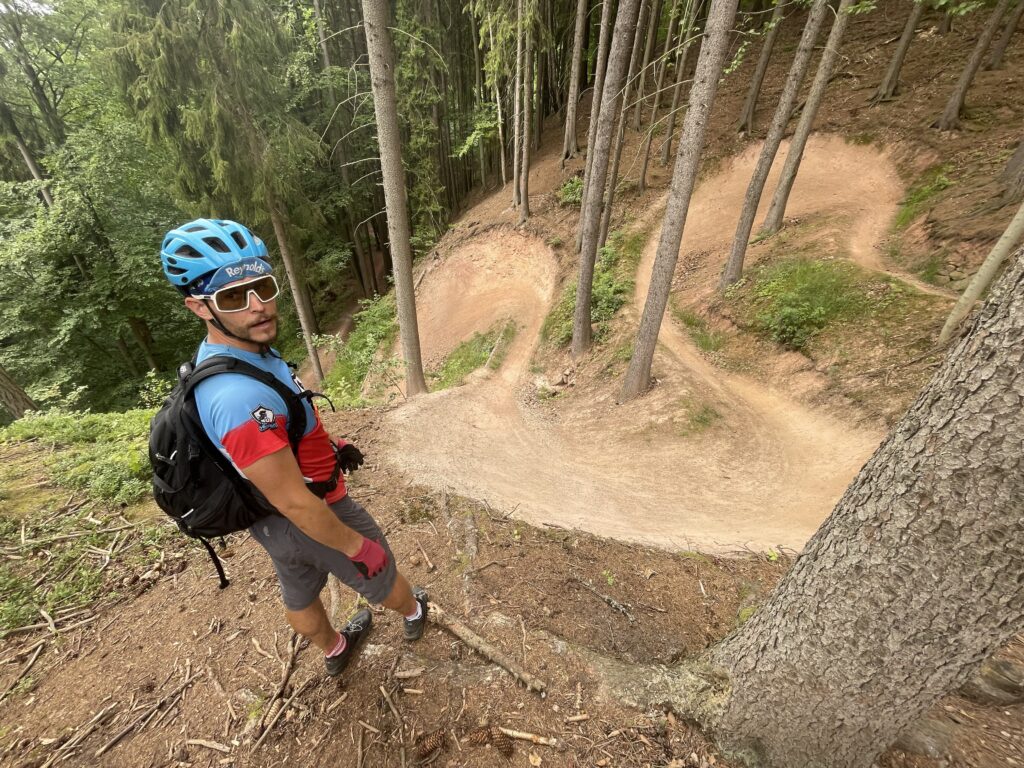 Radim and Micke in action: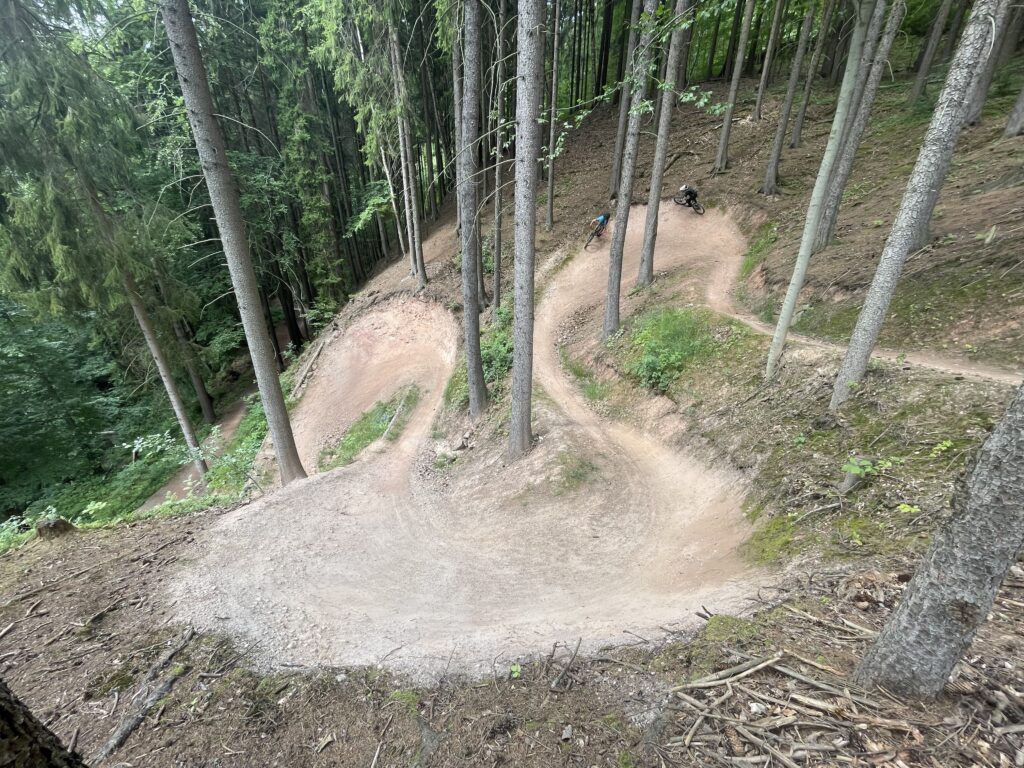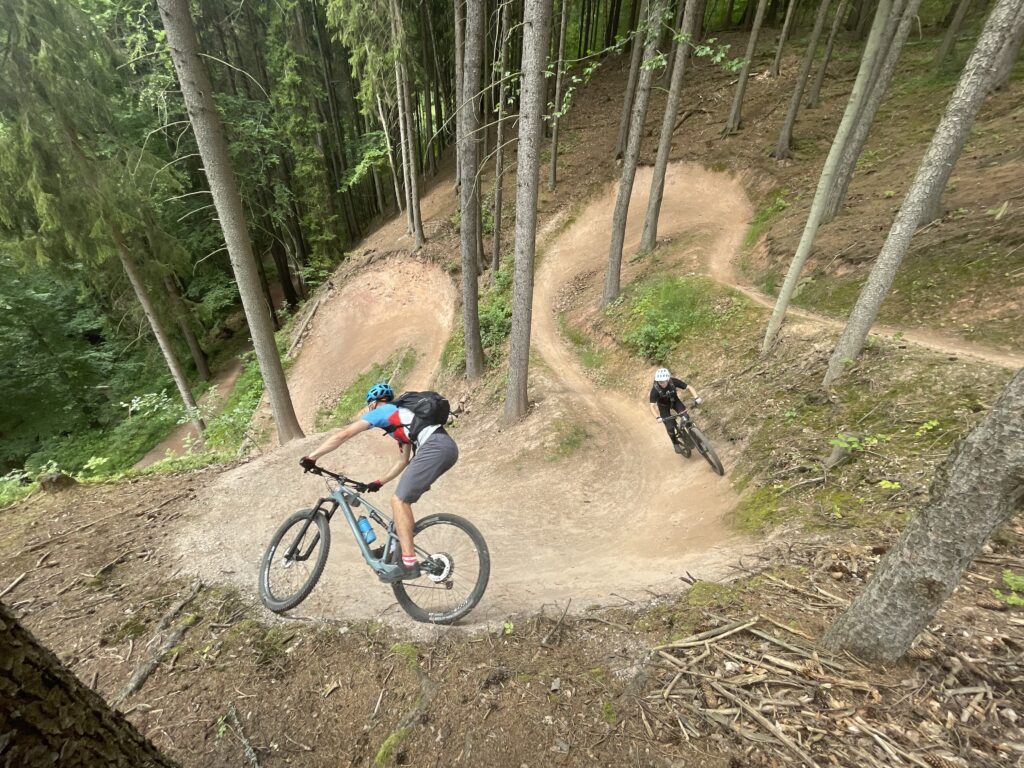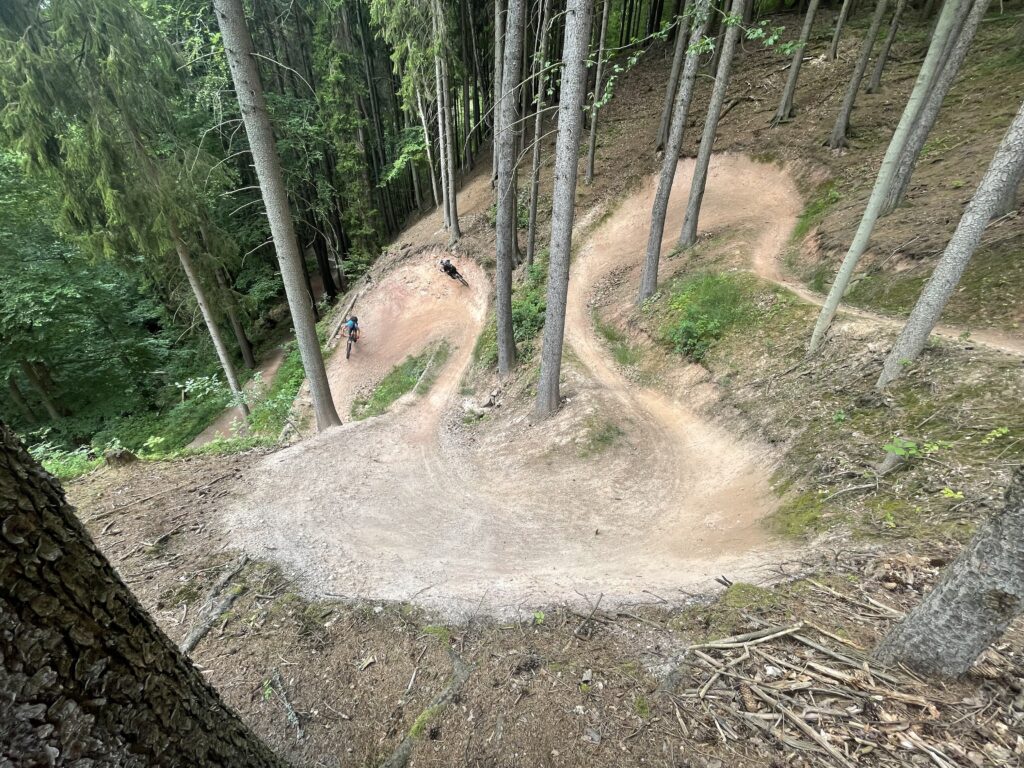 We don't know what it's good for but here they have a pot for every pole…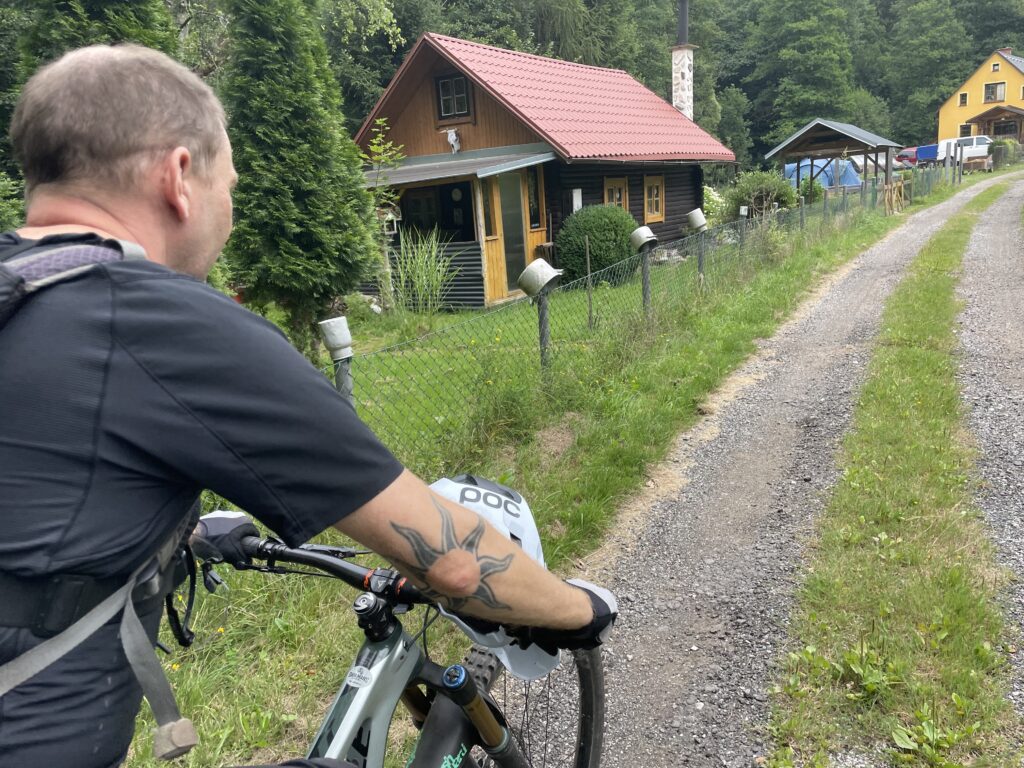 Just to get an idea… This is part of the challenging landscape that Jan has found a line through. You can't even spot it, but it's there!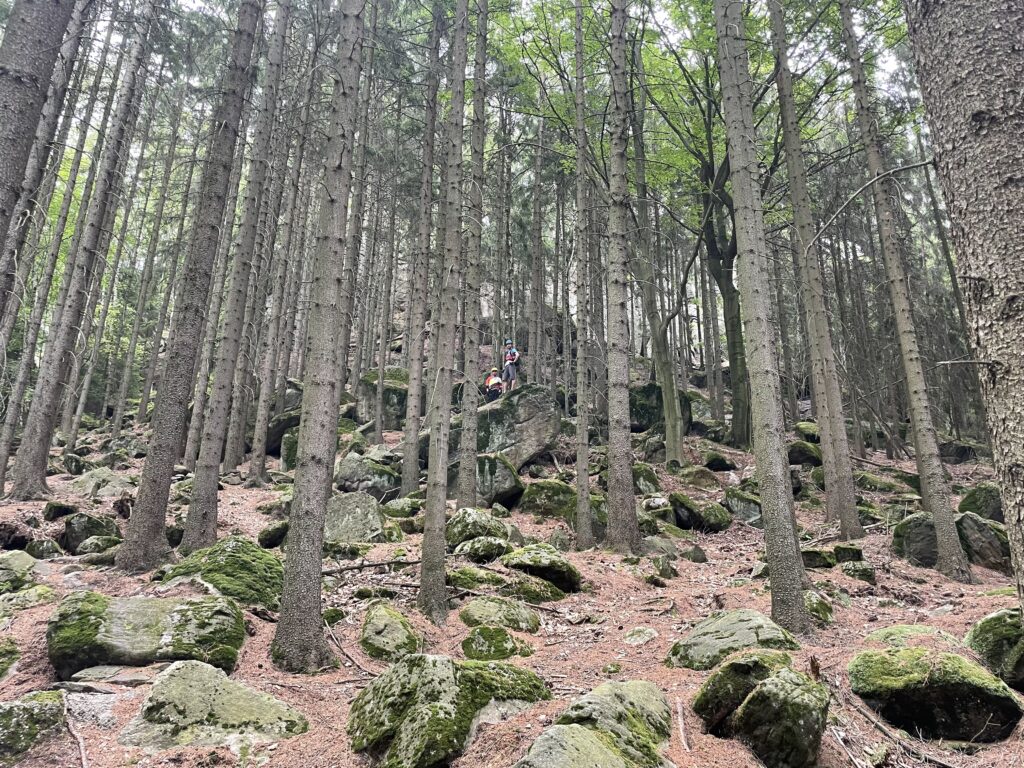 Some of it looks like this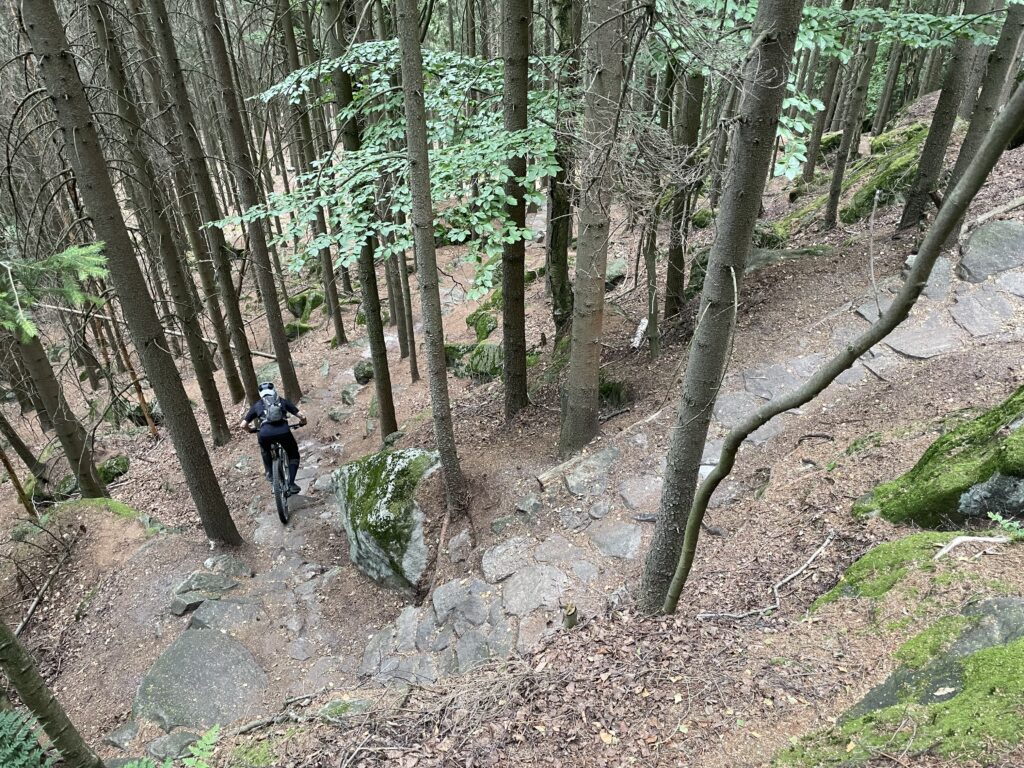 And other lines like this. With a dead superman after going a bit too far back on the bike before the sharp corner.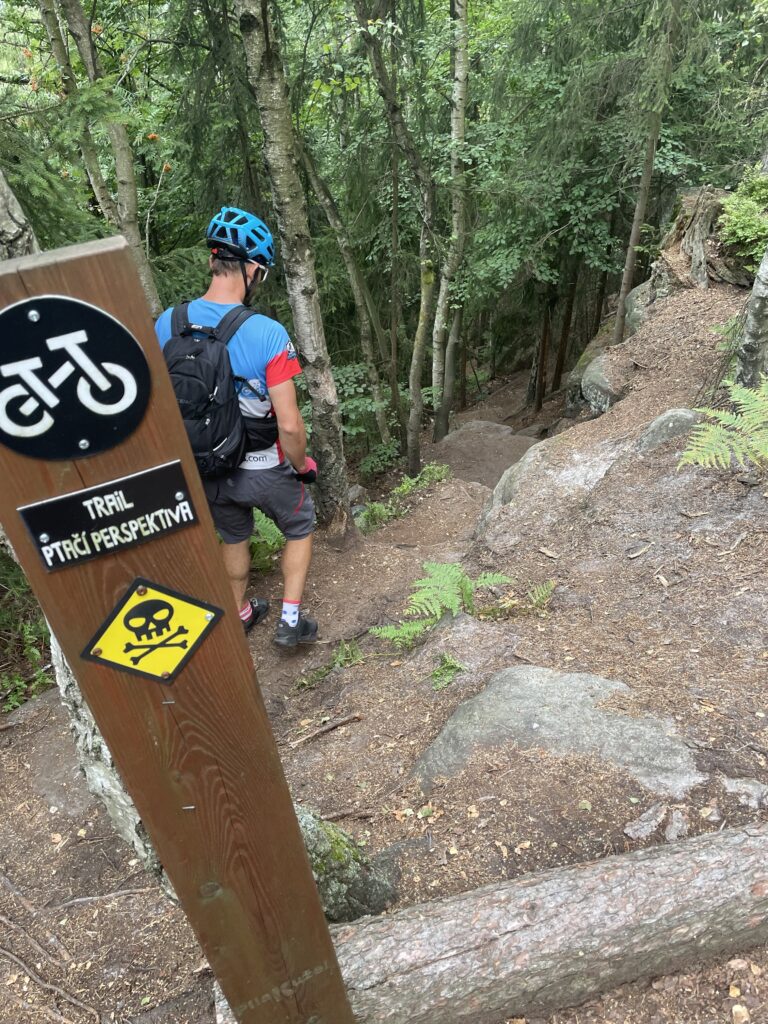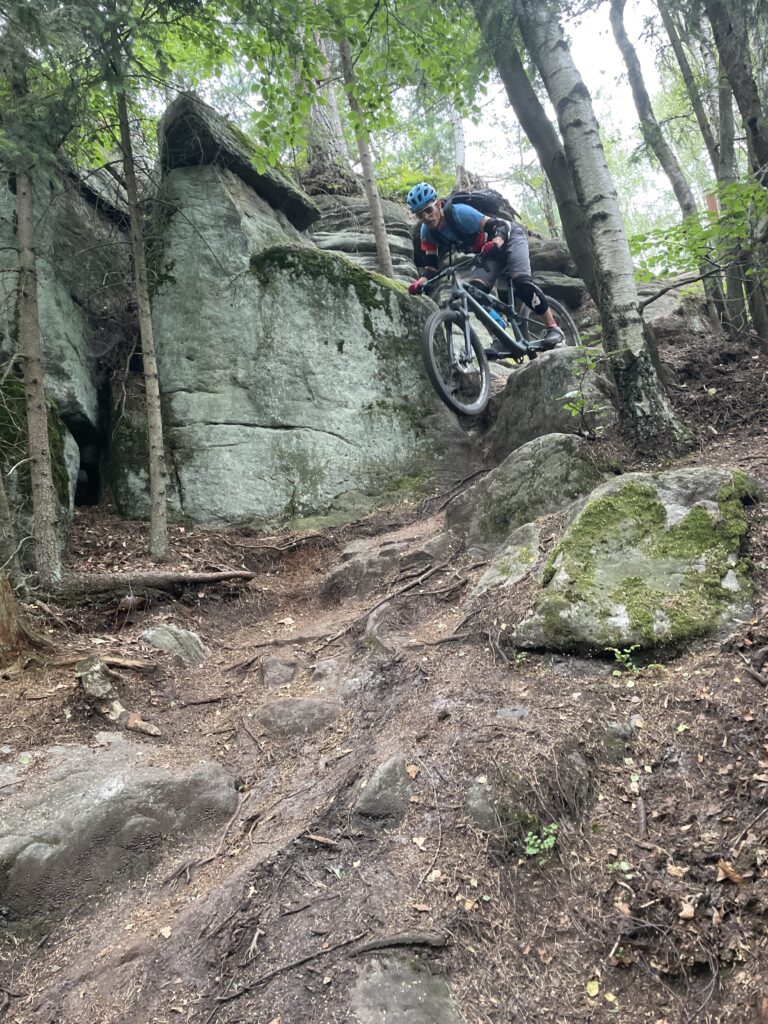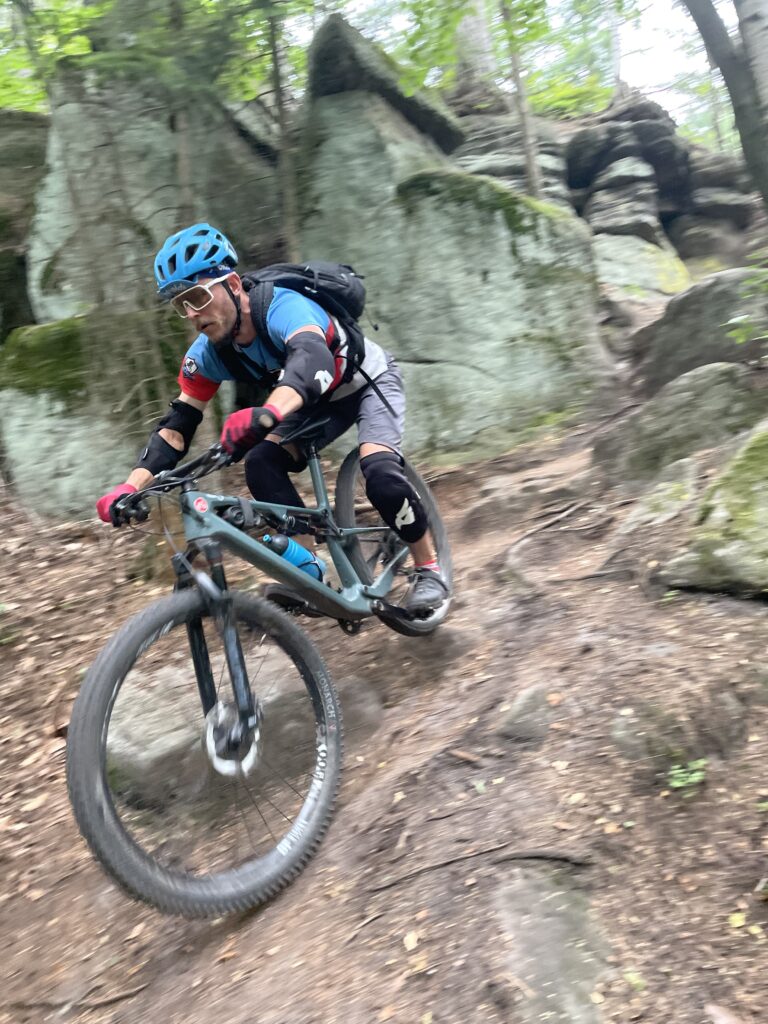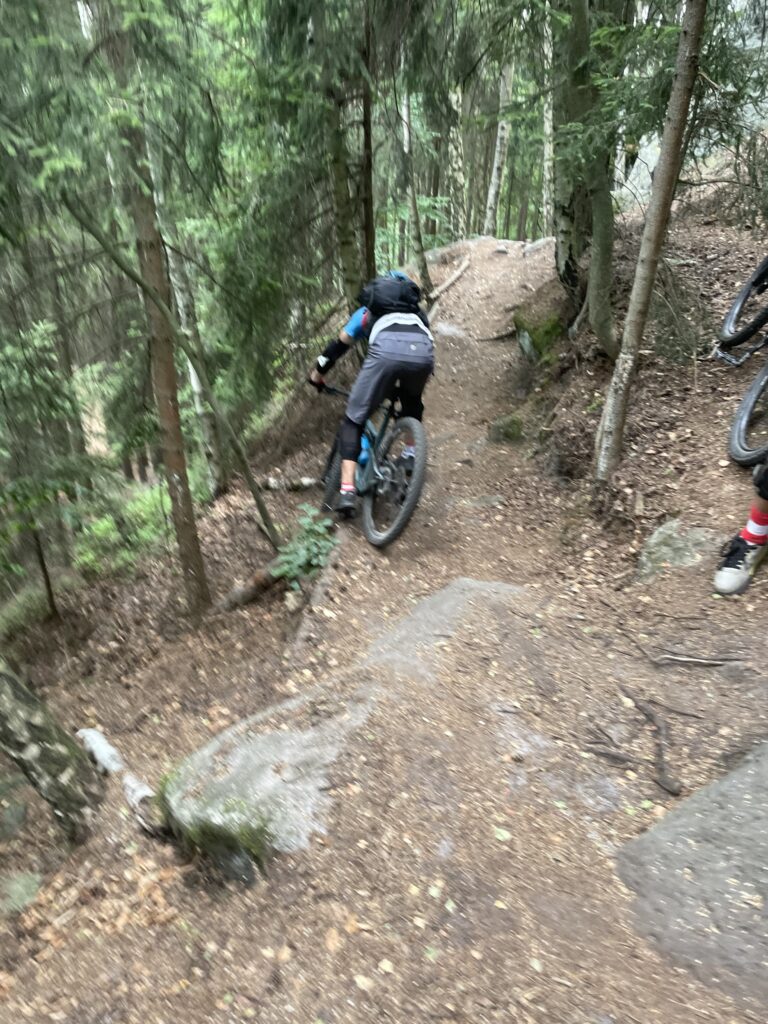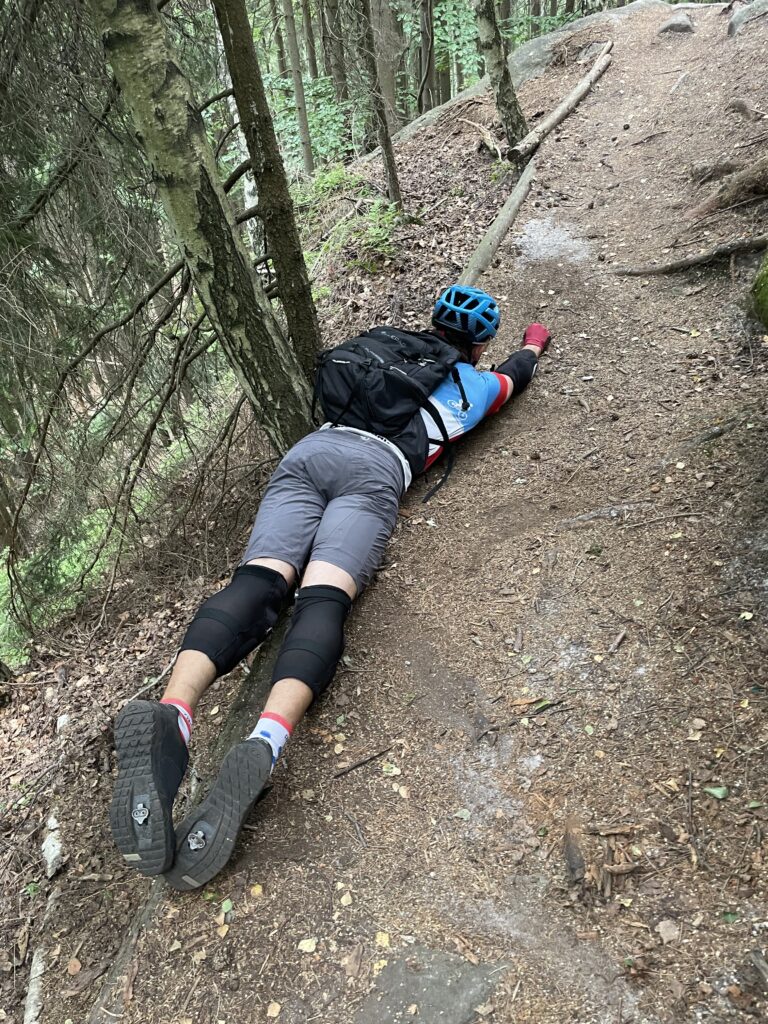 And it just continues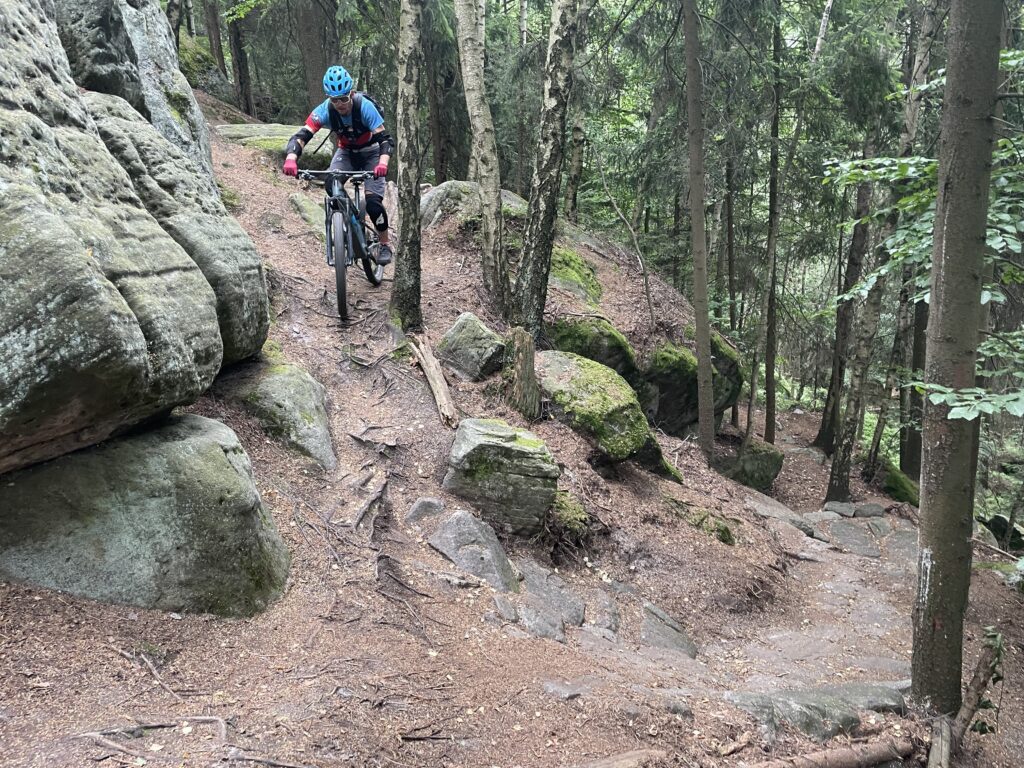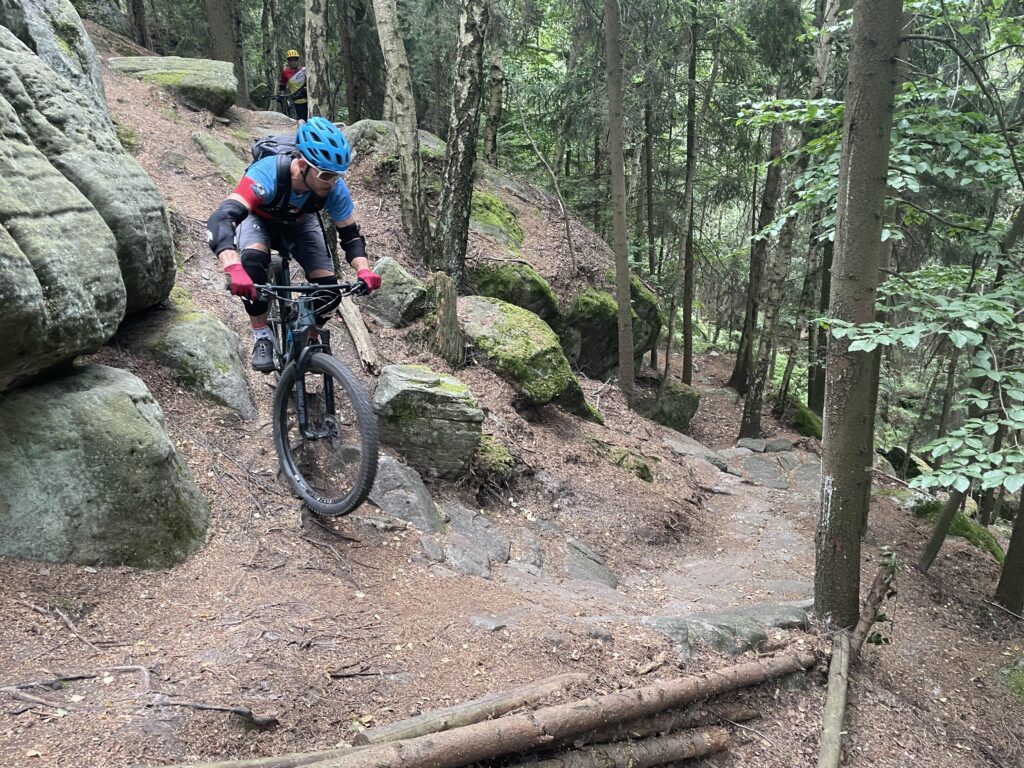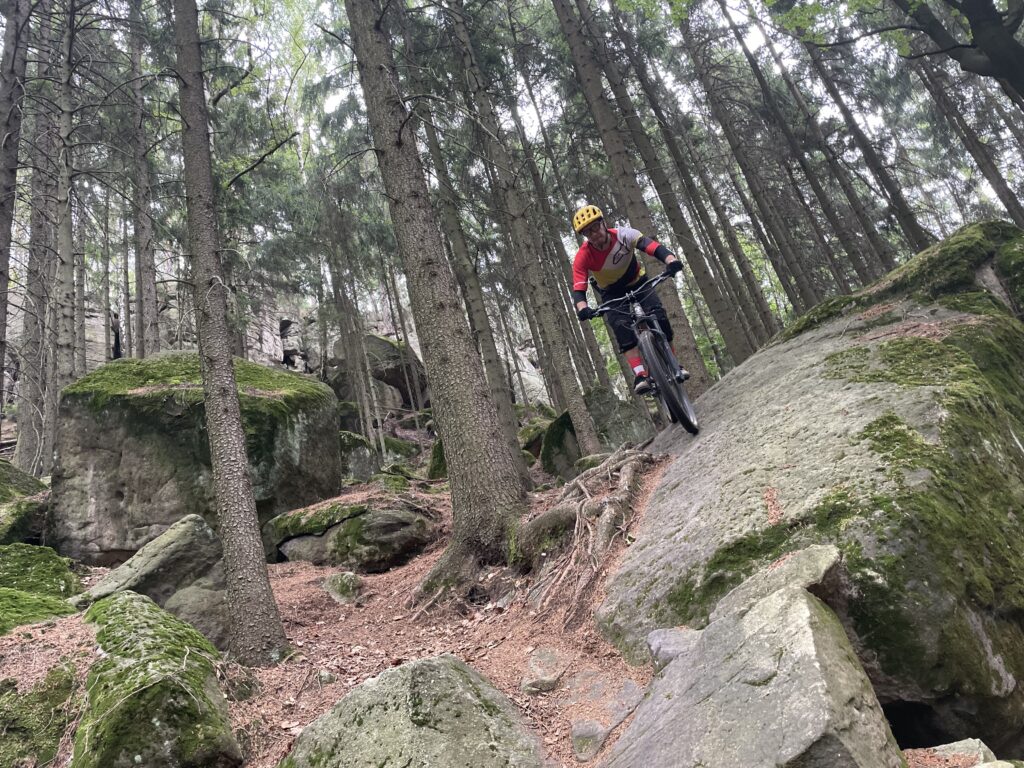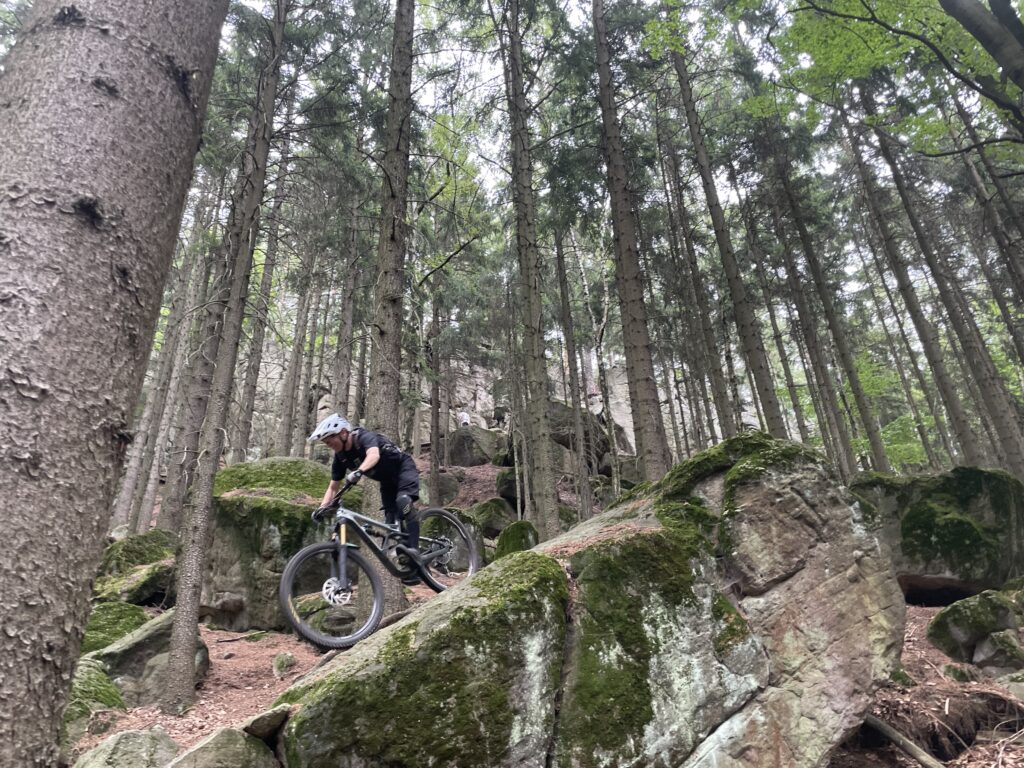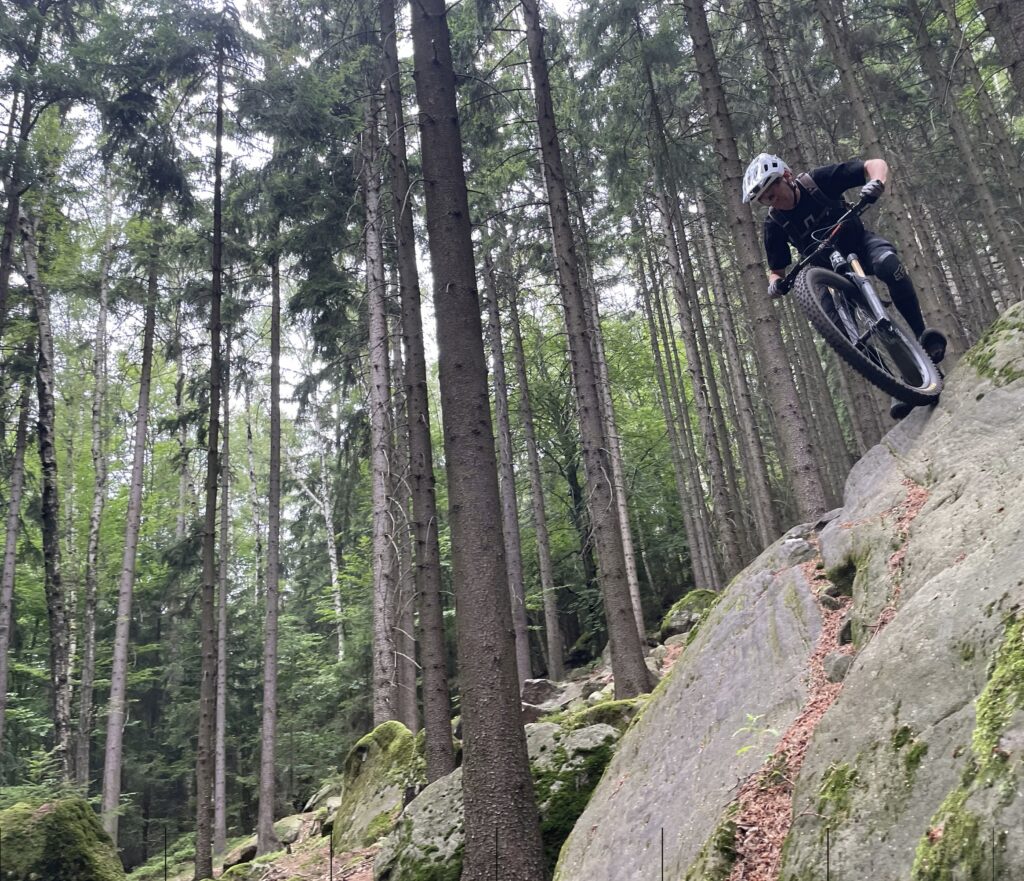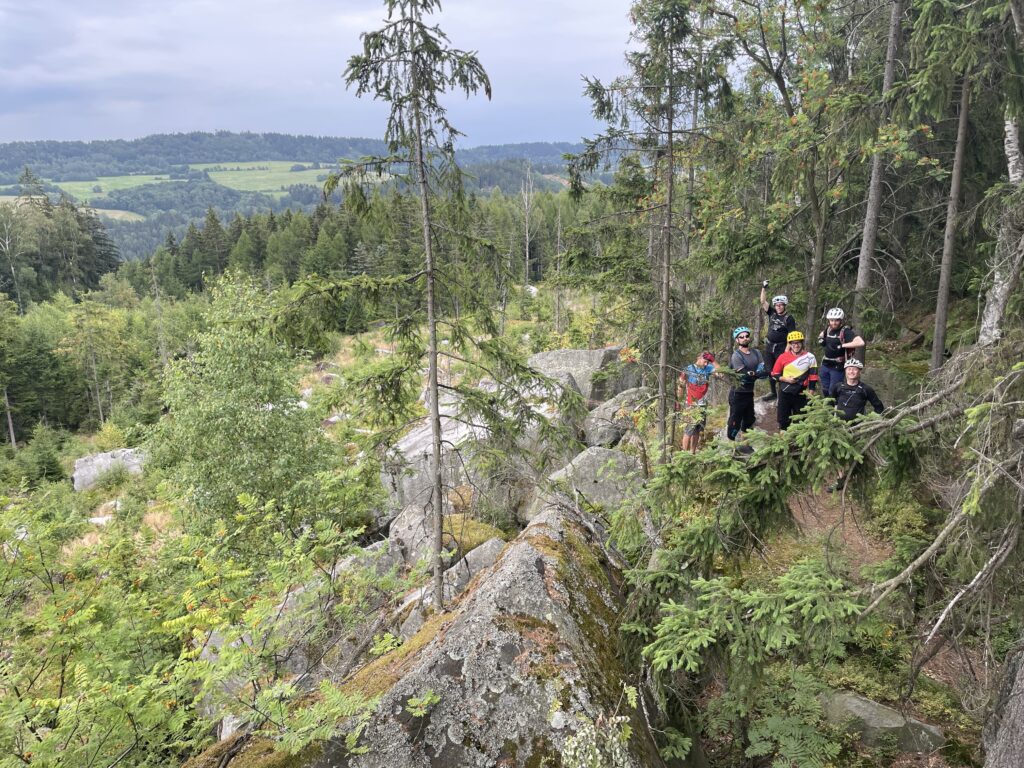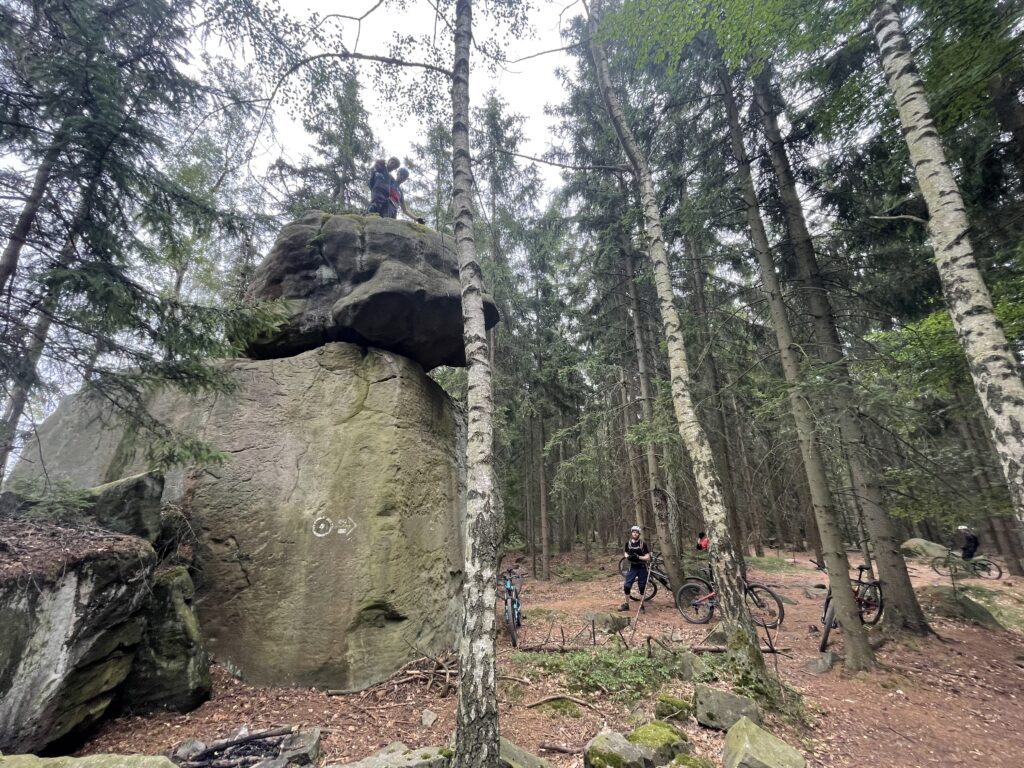 Once back in the town Radim is taking us to a beer place just like they would be back in the communist days.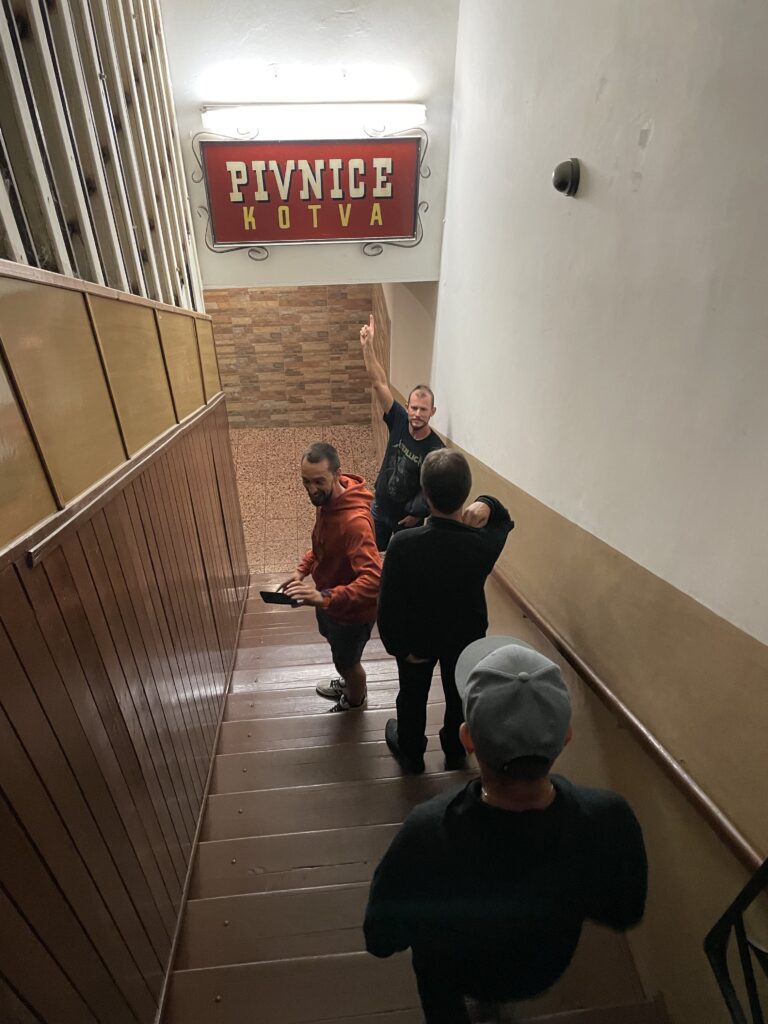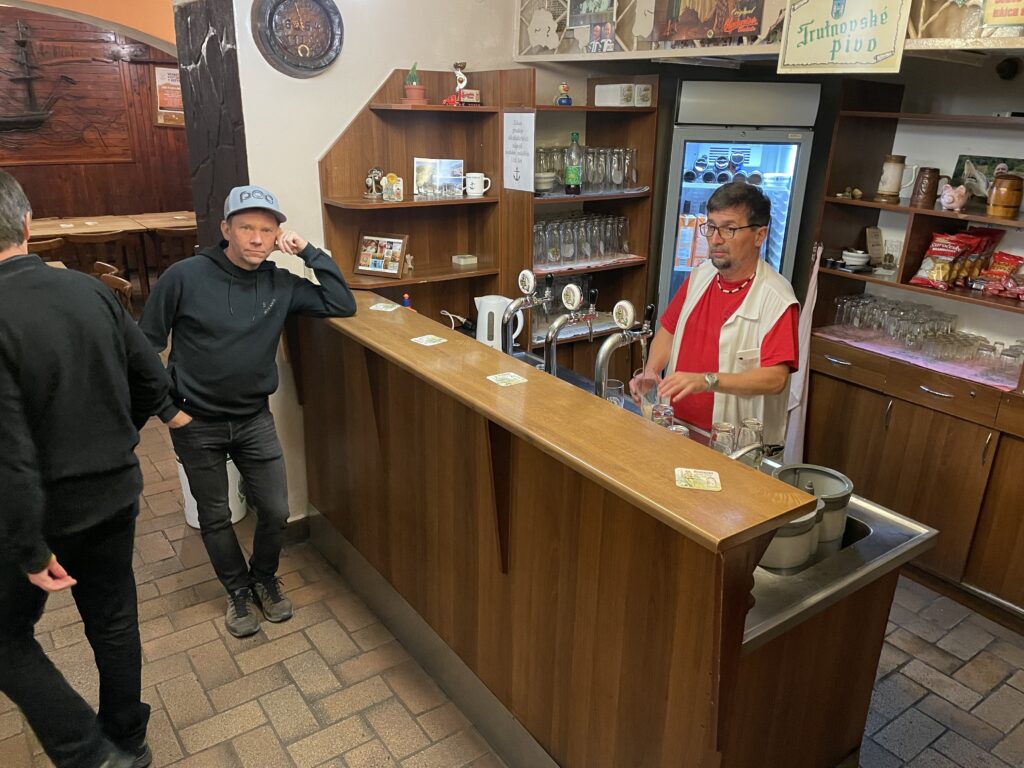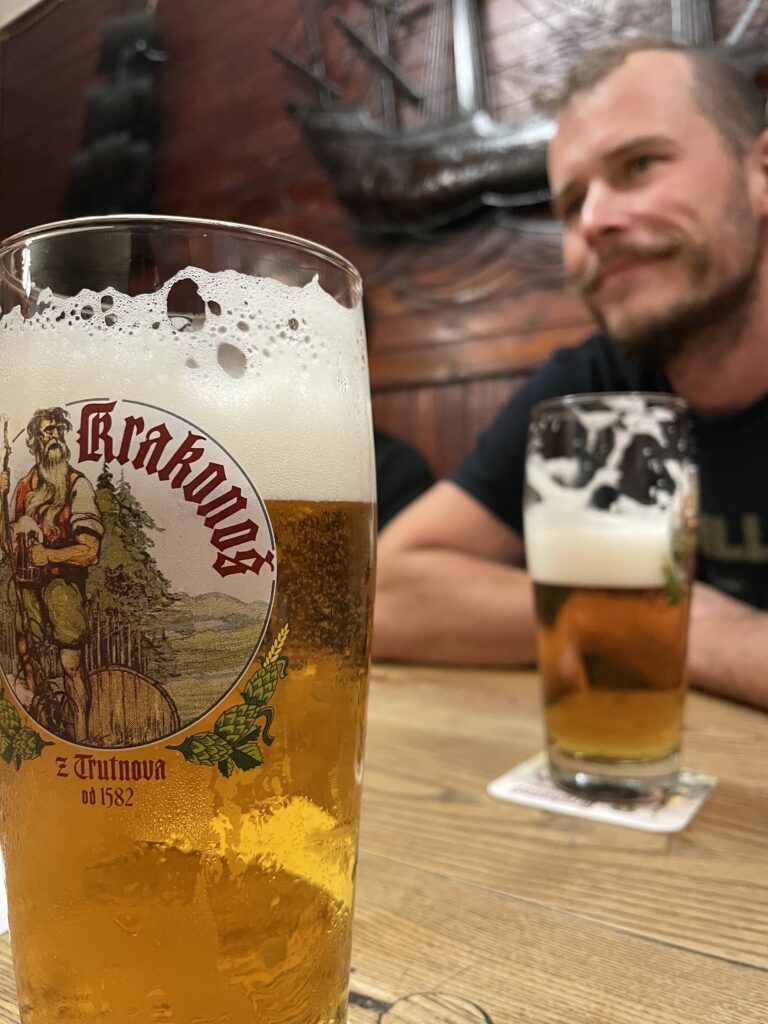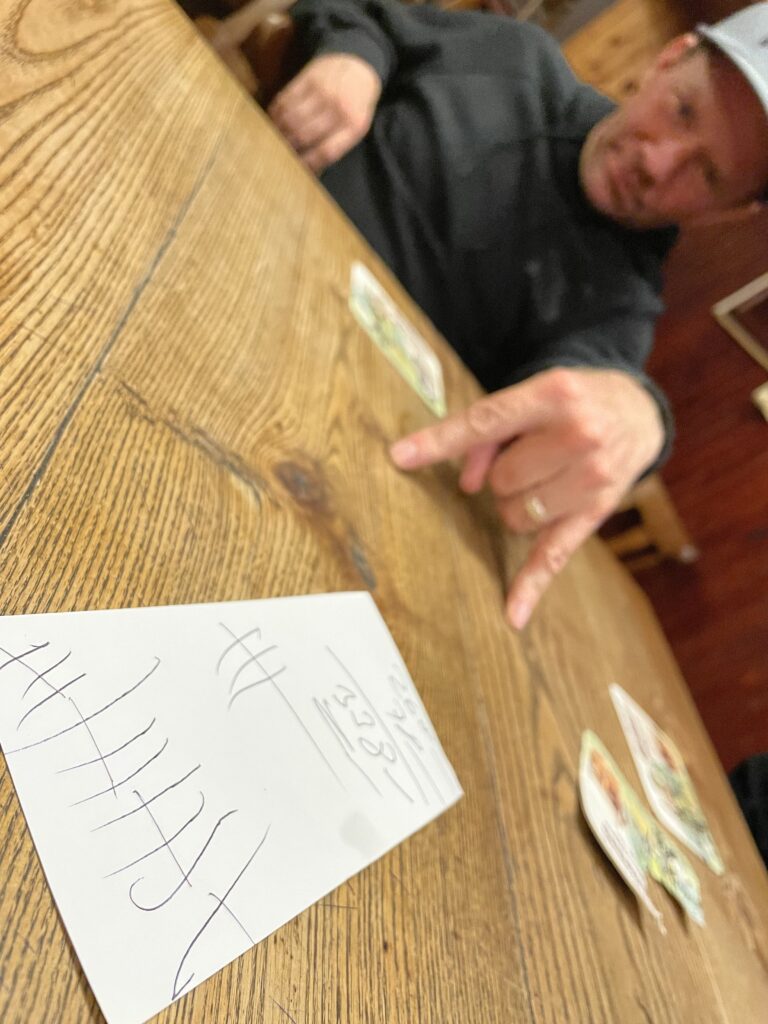 Day 7 – Boarderline riding in Adršpach
It's funny that Radim has been saying lots of times during the sunny days that he wishes that we get to try also the rainy days and how fantastic it is. Being Scandinavian we know what he means and today is the day!
This is where: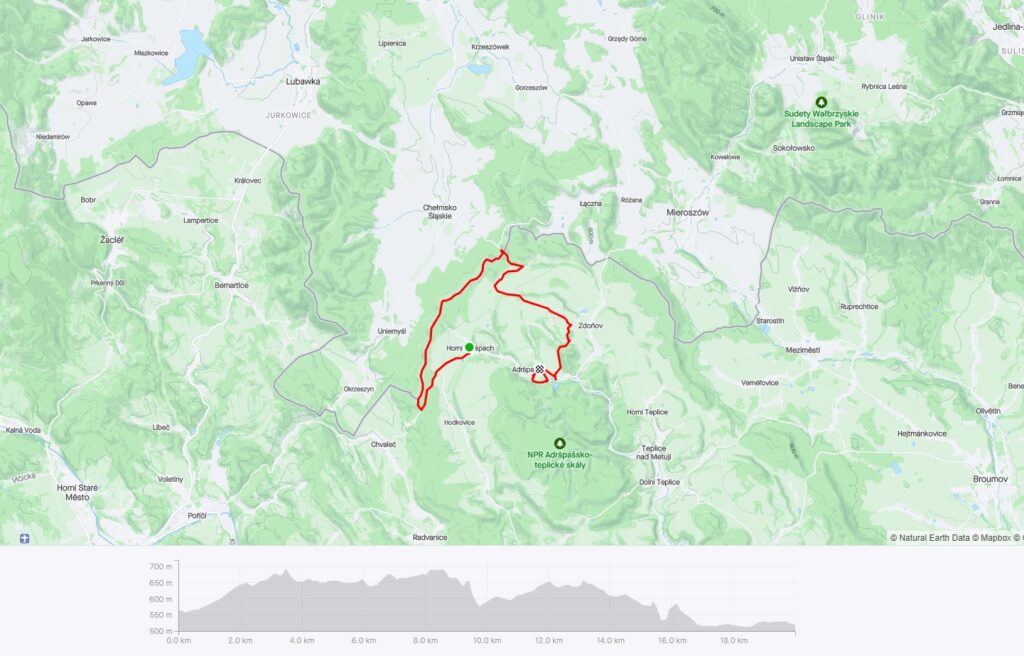 My phone gave up in the wet, but Micke shot some pics from this awesome ride. The trail is actually THE boarderline CZ/PL and very much like the terrain at home for us – with some big boulders added. We are used to the wet and know how not only to ride it but also how to truly enjoy it!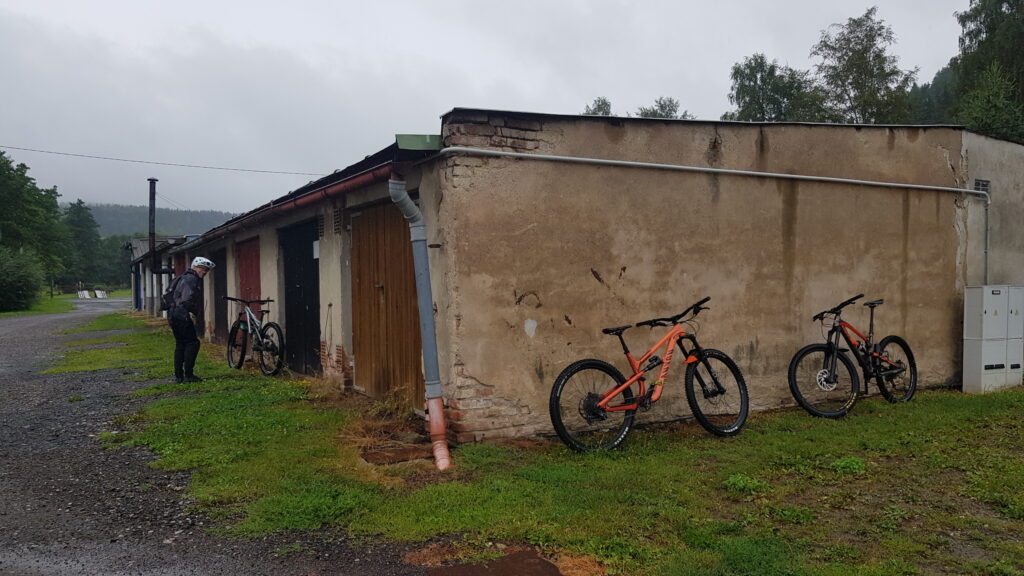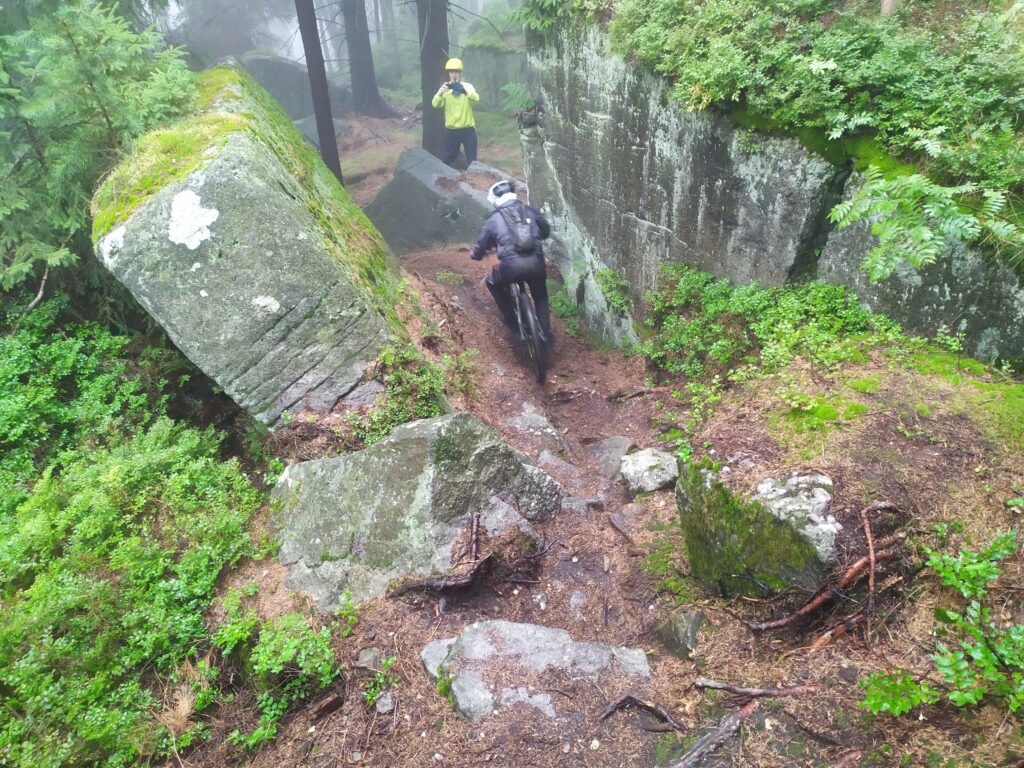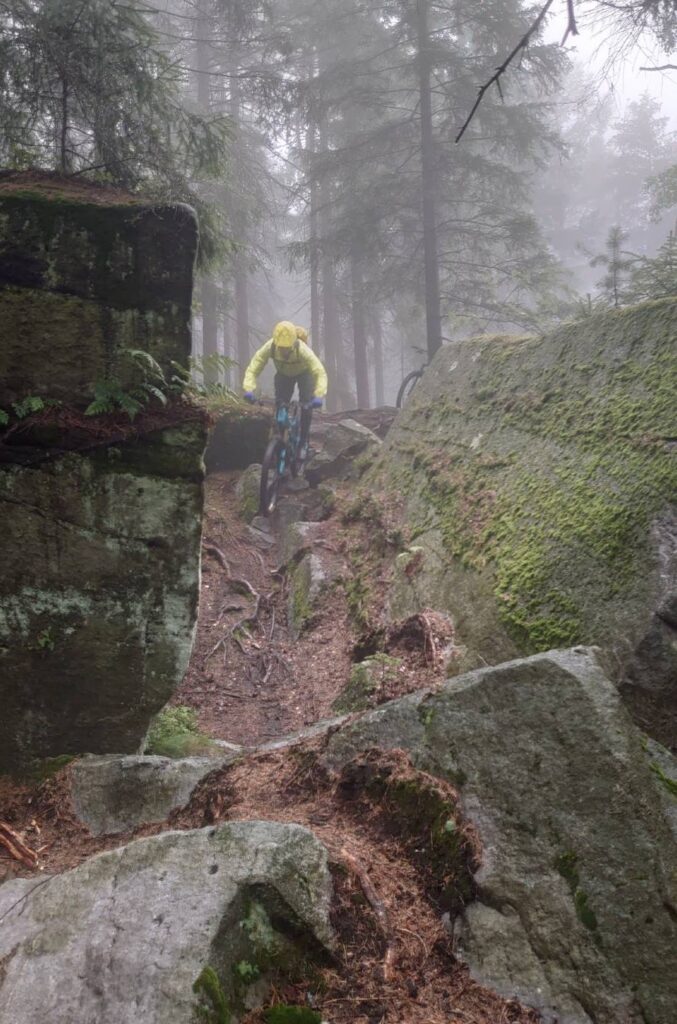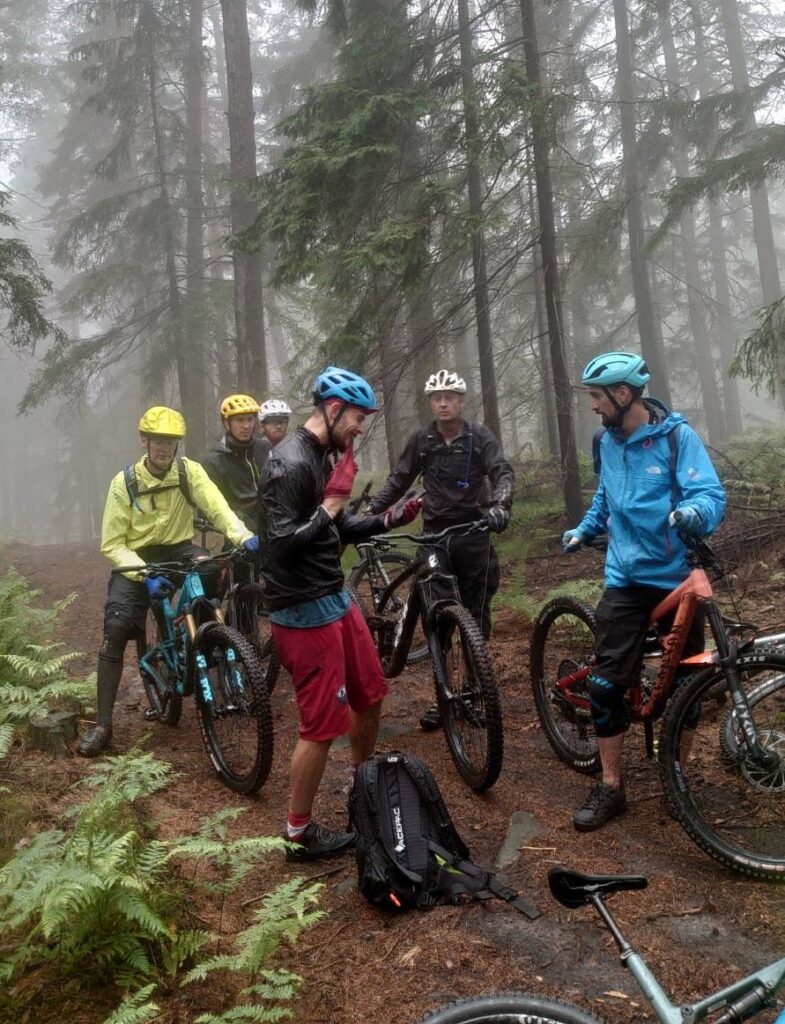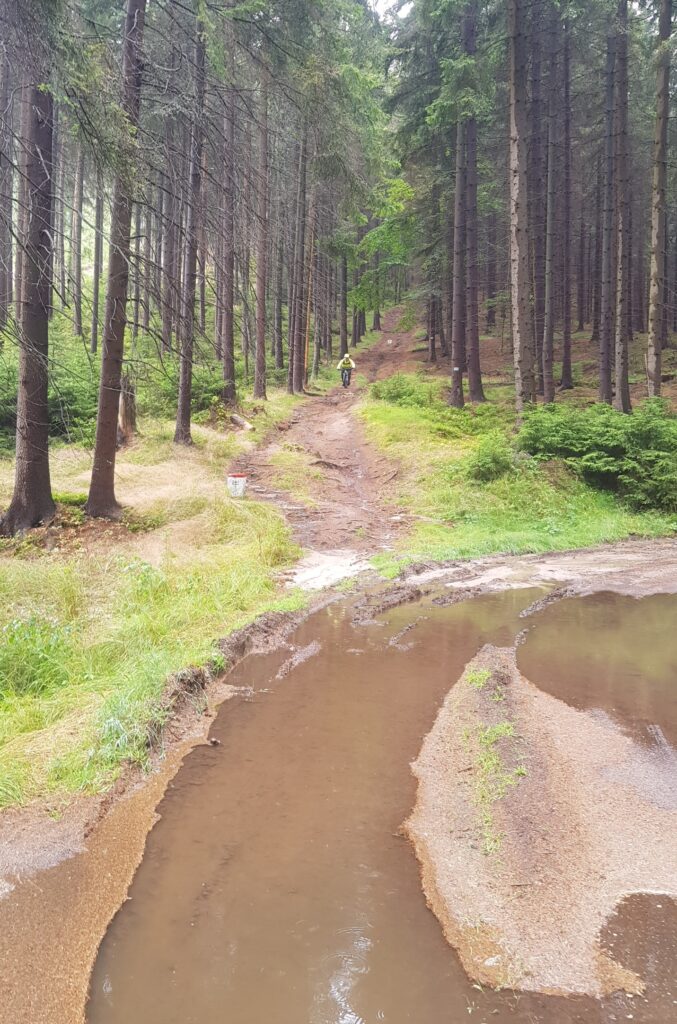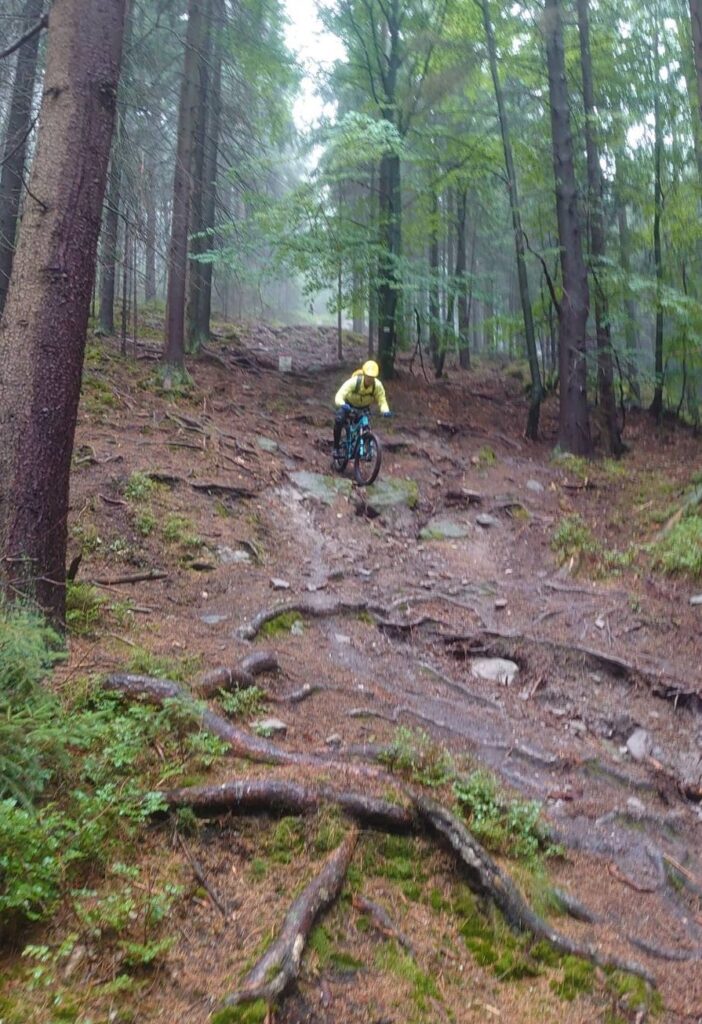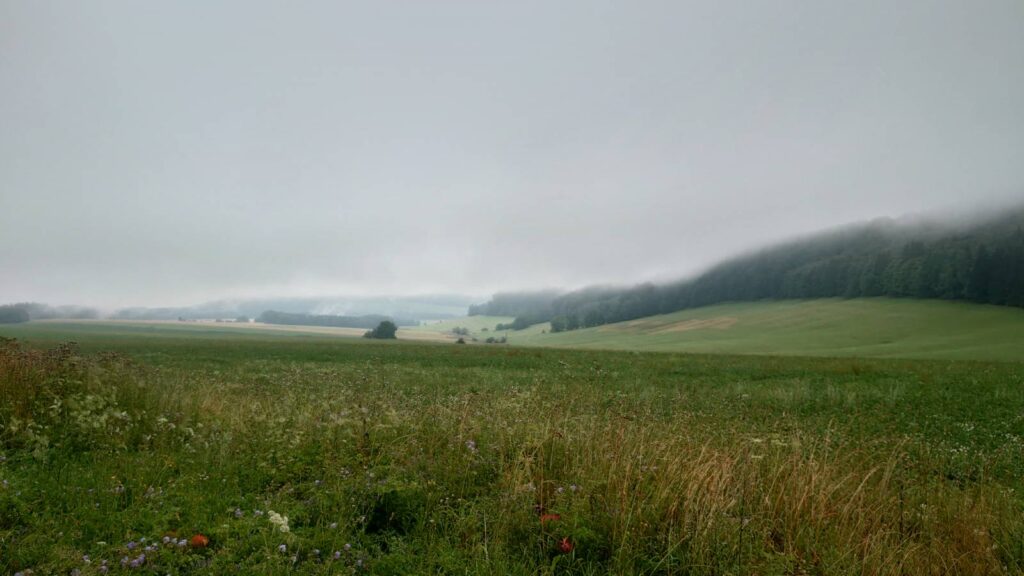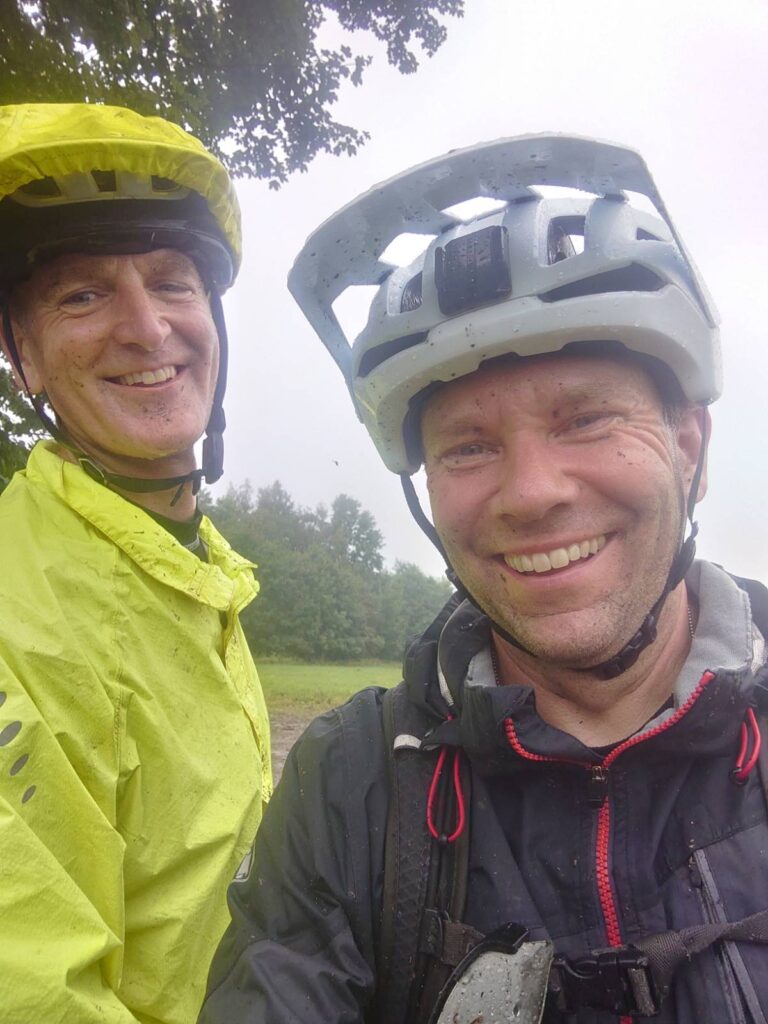 This ride over the meadows I will never forget. I was up there in the front with Radim and it was just so wet, yet so smooth and full of all kinds of flowers. Several time deers were suddenly jumping out of their hiding position in the high grass.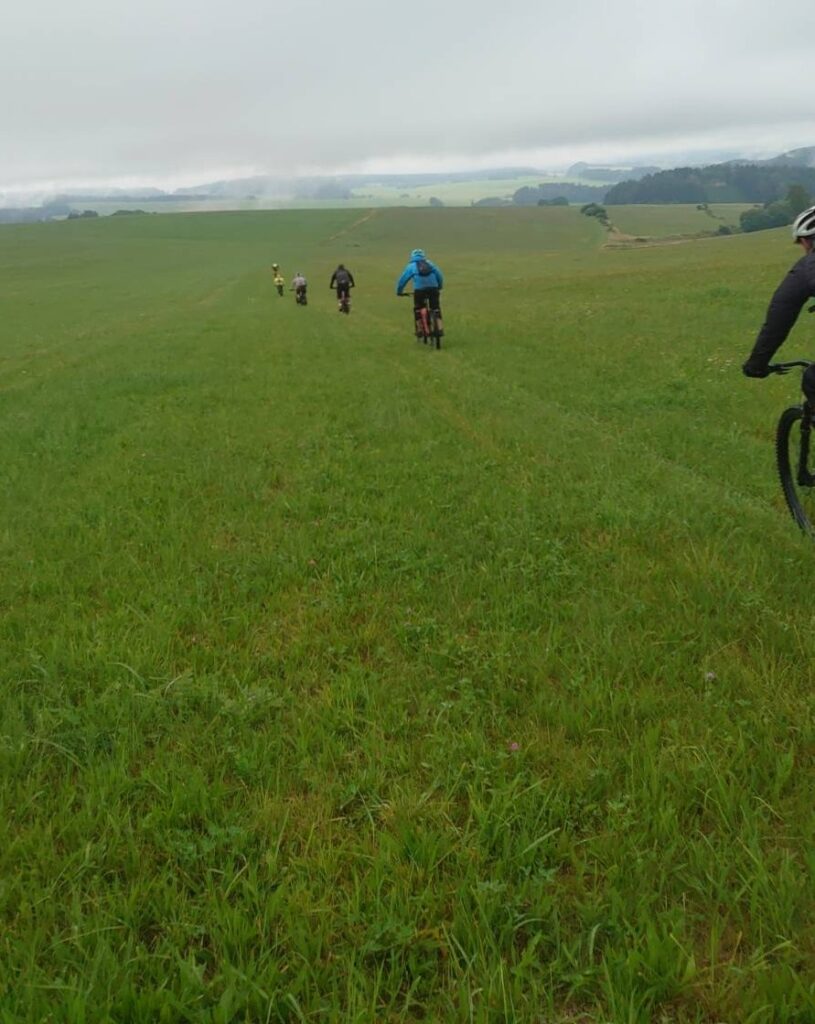 We finally arrive to the area with all the amazing stone formations in Adršpach and finish it off with a lunch totally soaked and stoked.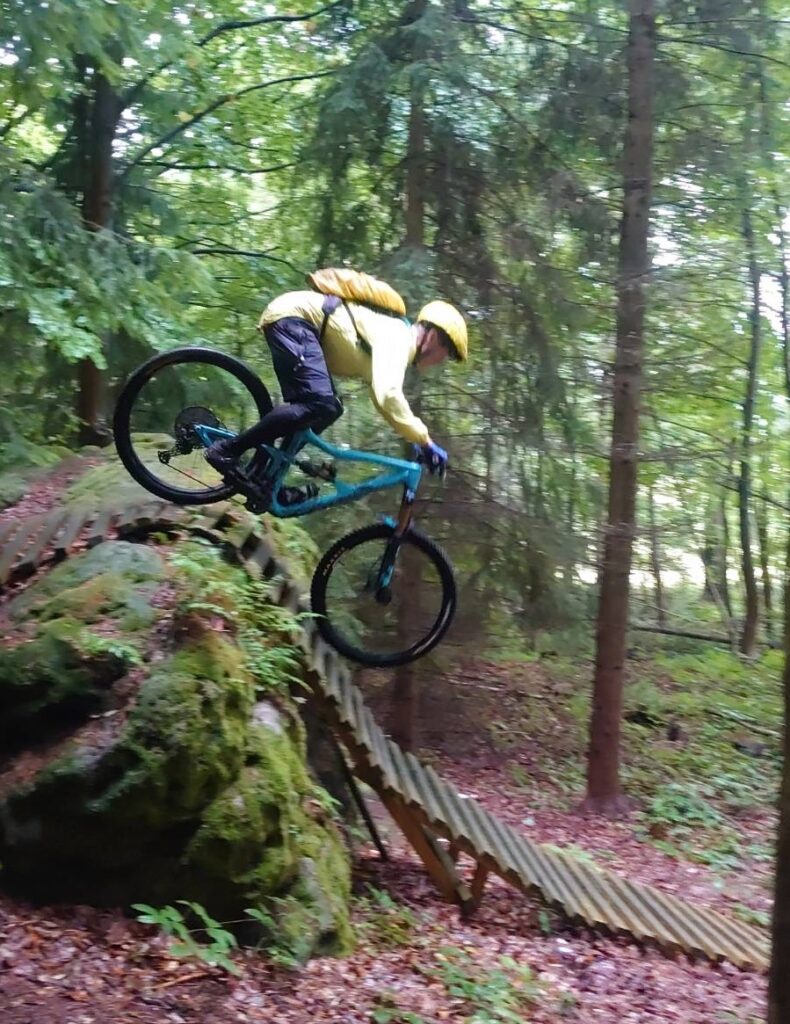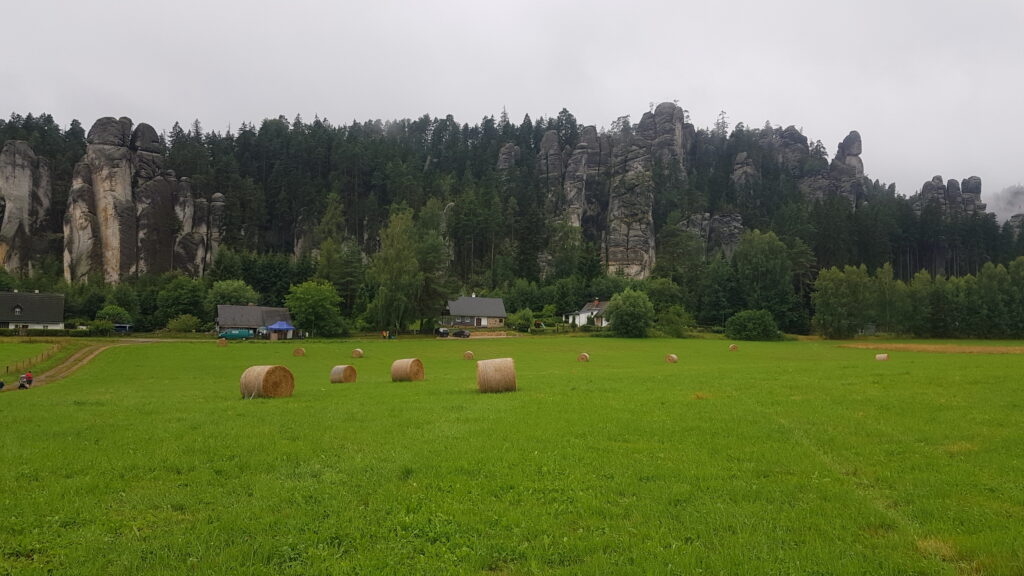 I guess what! In the evening we had some beers. Again… This time we went straight to the source – the old brewery Krakonoš brewing their first beer already in 1582!!!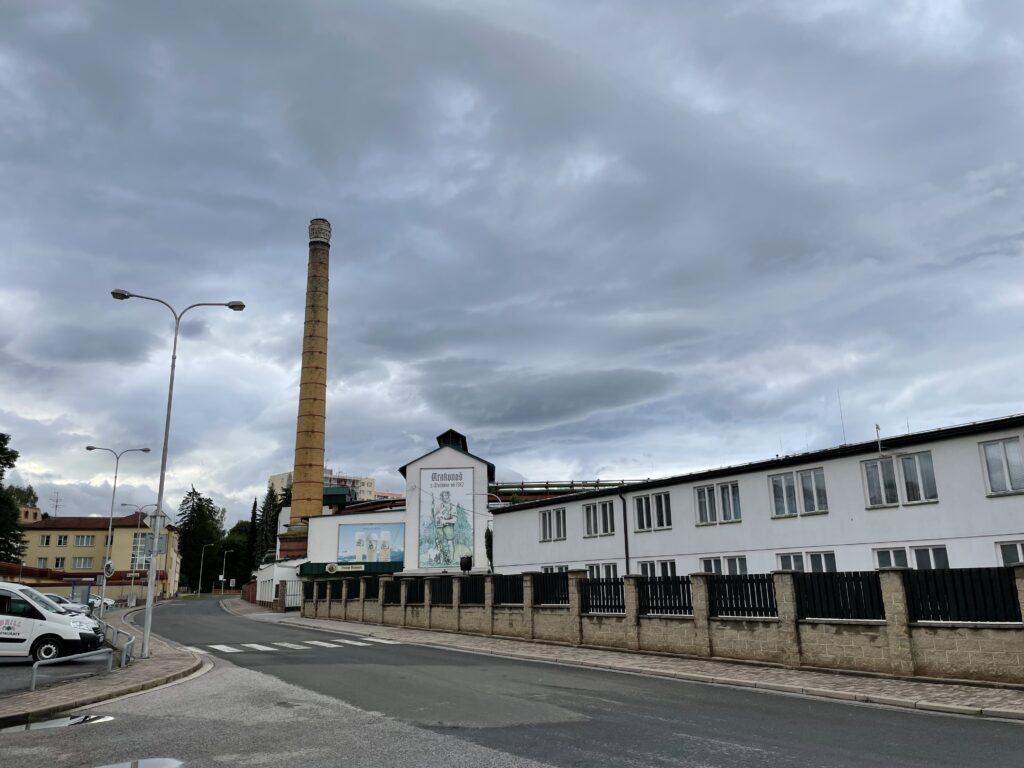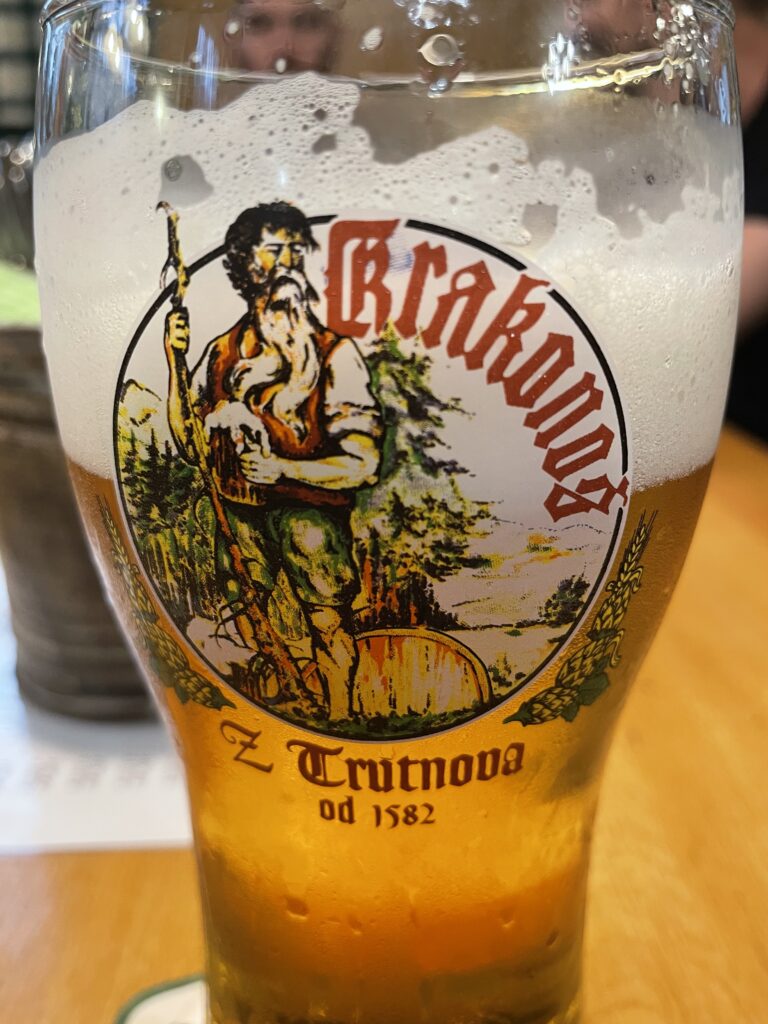 Time to knock it off for this time. It's been a fantastic week beyond all our expectations. One of the best riding week I've had!
---